Between 2007 and 2017, there was a 20 percent overall decrease in crime nationwide, and a 19 percent drop in admission to jails. This did not lead to reductions in local jail spending, however.
Instead, counties and cities spent $25 billion on their approximately 3,000 jails in 2017, 13 percent more than in 2007, and 521 percent more than the $5 billion spent in 1977, according to a new report from Pew Charitable Trusts.
In contrast, prison spending did not decrease during that 10 year period between 2007 and 2017, but the drop in prison populations did at least correspond with a plateau in prison spending.
And while jail admissions dropped by 19 percent, the average number of days individuals spent in jail increased from 22 to 26. Cities and counties spent nearly $34,000 per person for a year in jail. Approximately one out of every 17 county dollars was spent on jails, according to the report.
Additionally, small, rural jurisdictions spent more per capita on jails than larger localities, despite having lower crime rates than big cities and counties.
Nearly half of the nation's $25 billion local corrections tab was spent on employment expenses in 2017.
The report's authors note that law and policy change is often more focused on prison issues than jails, and suggest local officials could cut jail budgets, especially as COVID-19 led to jail population reductions in many jurisdictions in 2020.
The pandemic-led progress toward decarceration is tenuous, however, experts say.
While the first half of 2020 saw dramatic drops in jail and prison populations, months of blocked prison admissions led jail populations to creep back up as the number of people awaiting prison transfers steadily increased.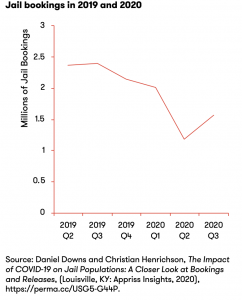 Between June 2019 and June 2020, the U.S. jail population fell 24 percent from approximately 758,400 to 575,500, but rebounded to around 633,200 people by September 2020, the Vera Institute of Justice reports.
In California, county jail populations fluctuated from 69,782 in June 2019, to 51,506 a year later, to 59,666 by last September.
It's also worth noting that these numbers represent population counts in jails on a single given day, not the entire year. In 2018, for example, people were booked into jails nationwide approximately 10.7 million times. There were approximately 1.19 million jail admissions between April and June 2020 — half as many as the same period in 2019.
Bookings hit 1.57 million from July to September, marking a 32 percent increase over the previous three months.
"Many jails have already begun to refill, and prison declines have diminished, showing the fragility of decarceration," said Vera's Jasmine Heiss.
"In recent years, prisons have often been closed and jail construction plans canceled when incarcerated populations dropped by as much as they have in 2020," the report says. But, during the pandemic, previously shuttered (and often dilapidated) facilities have been reopened for quarantining incarcerated people.
COVID-19-related budget shortfalls among states through 2022 are expected to hit $480 billion to $620 billion.
However, state and local spending on operating prisons and building new jails has held steady despite the reduction in the number of people incarcerated, according to the researchers at Vera.
"It is too early to tell whether the same officials who have been slow to heed the concerns of incarcerated people and those who care for them — refusing to take available medical compassionate release and clemency options to scale — will make further releases amidst a worse winter COVID-19 wave." The data, the report says, "is far from promising."