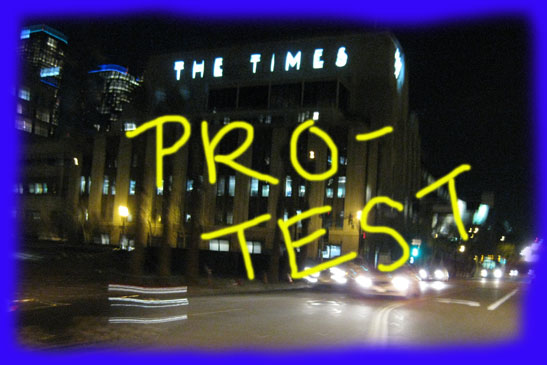 Okay, before we get to the INCREDIBLY STUPID executive bonuses part of the story, first things first:

The LA Times Pressroom employees are holding what they are calling a Rally for Workplace Justice at 11 a.m. today, Monday, February 23, in front of the Los Angeles Times building at First and Spring Streets, downtown.
It seems that the Times' pressroom folks have been working to unionize for almost three years and have finally ratified a contract this past December.
This rally, they say, was organized to call attention to "… flagrant anti-union tactics that management has used against us…"
In response to us exercising our federally protected rights to organize our pressrooms, management has retaliated by intimidating, unjustly disciplining and spying on union members; demoting union members for supporting the union; and, threatening to lay off 63 full-time pressroom employees, thus potentially creating an unsafe and demoralized work environment.

Our union lawyers have recently filed charges with the National Labor Relations Board requesting that it prosecute the company for using these tactics against the hard-working men and women of our pressrooms.
The press workers release makes it clear that the protest is "not a call for anyone to stop working for, or doing business with, the LA Times."
But, they said, the "pressroom employees and their families have been through enough!"
**************************************************************************************************************

Now if the pressworkers were not already extremely unhappy at what they see as management's deliberate attempt to spike their union, there's this:
As the LA Times makes plans for yet another round of news room and press room layoffs, Ed Padgett at the Pressmen's blog notes that the Times' parent corporation, Sam Zell's Tribune Company (which, lest we forget, is in the midst of bankruptcy reorganization) has just won the right to….I'll bet you can guess it…..pay executive performance bonuses!
$8.8 million dollars worth of the things.
(Insert sound of hysterical, maybe even dangerous-sounding laughter.)
So, yeah, if you're anywhere in the vicinity of First and Spring Streets in downtown LA Monday morning, say at around 11 a.m., show the press folks your support.
They deserve it.