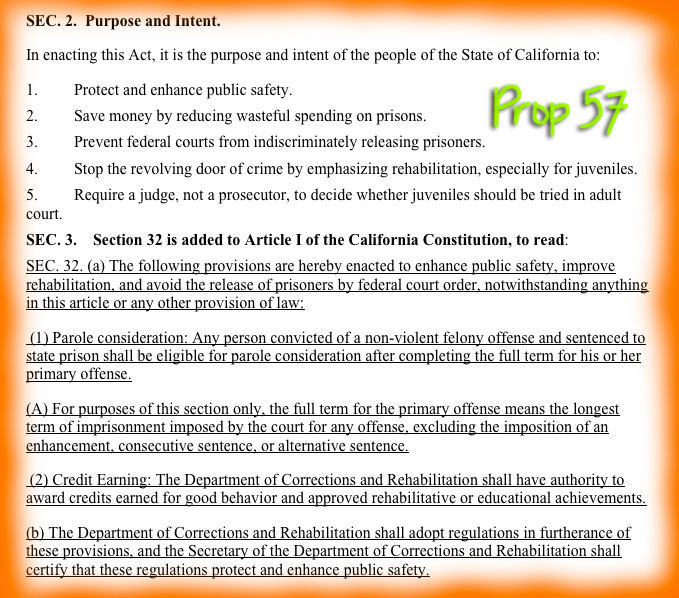 PROP. 57 – A REFORM OF DECADES OLD STATE LAWS THAT PRIORITIZED PUNISHMENT OVER REHABILITATION
Governor Jerry Brown's criminal justice reform measure, Proposition 57, has drawn a large number of both very strong supporters and opponents vehemently opposed to it. Since the elections are just a few days away, we've gathered a handful of worthwhile stories to share about Prop. 57.
Prop. 57, if you're unfamiliar, would take the power to transfer kids to adult court out of the hands of prosecutors and give the control back to judges. If approved by voters next month, the initiative would also increase parole eligibility for non-violent offenders who have completed the base sentence for their primary offense. This means that prisoners would be able to go before the parole board prior to completing time added onto a base sentence via sentence enhancements, consecutive sentences, and alternative sentences. Prop 57 would also boost access to early release "good time" credits.
Prosecutors and police unions have been especially vocal in their opposition to the passage of Prop. 57. Last month, LA County Sheriff Jim McDonnell and LA County District Attorney Jackie Lacey came out in opposition of the measure. San Diego District Attorney Bonnie Dumanis supports Prop. 57, while Orange County Sheriff Sandra Hutchens is against the measure. LAPD Chief Charlie Beck and San Francisco District Attorney George Gascón have remained neutral.
Critics argue that measure could allow for the early release of violent offenders because it is too vague. They point, for example, to first degree burglary, battery with serious bodily injury, and domestic violence which are not classified as "violent" in the one section of the Penal Code that defines violent crime. Governor Brown and Prop. 57 proponents argue that offenders aren't going to get a free pass to get out of prison. The inmates will have to be screened for public security and go before the parole board.
Opponents also argue that the parole board can't be trusted to block dangerous offenders from parole. The governor does, of course, have the final say on parole board decisions, and can block the release of anyone he believes should not be paroled.
Governor Brown says the measure would help the state reduce overcrowding in prisons, and would not lead to the release of dangerous criminals. Brown has backed the ballot initiative with millions of dollars left over from his own campaign fund. Brown also believes Prop. 57 would undo a legislative mistake he made in 1976 when he signed SB 42, which diminished the role of rehabilitation in California prisons by opening the door for the "determinate sentencing" structure—sentences with a fixed length not subject to shortening by the parole board. SB 42 also established that the purpose of incarceration is punishment.
In addition, Prop. 57 would reverse a 2000 voter-approved law, Proposition 21, which gave prosecutors far more power to charge juveniles as adults, allowing prosecutors to bypass judges' transfer hearings. While the number of California kids arrested for felonies dropped 55% between 2003 and 2014, the number of kids transferred to adult court (direct filed by prosecutors) rose 23% during the same years, according to a collaborative report from the W. Haywood Burns Institute, the Center on Juvenile and Criminal Justice, and the National Center for Youth Law. (Read more about the pitfalls of letting prosecutors decide whether kids should be tried in juvenile or adult court: here.)
The LA Times' John Myers has more on the issue. Here's a clip:
"I feel very strongly that this is the correct move," Brown told The Times in a recent interview. "I'm just saying, let's have a rational process."

Prosecutors, though, contend the governor's proposal goes too far after several years of trimming down California's prison population to only the most hardened criminals. They believe the parole board, whose members are gubernatorial appointees, already is swinging too far away from being tough on crime.

[SNIP]

In some ways, Proposition 57 is a proxy for a larger battle over prison sentences. There are sharp disagreements between Brown and many district attorneys over the legacy of California's decadeslong push for new and longer mandatory sentences, a system in which flexibility is often limited to which crimes a prosecutor seeks to pursue in court. The warring sides have painted the Nov. 8 ballot measure in the starkest of terms, a choice for voters between redemption and real danger.

"We're dealing with deep belief systems," Brown said.

Proposition 57 would make three significant changes to the state's criminal justice framework. It would require a judge's approval before most juvenile defendants could be tried in an adult court — reversing a law approved by California voters in 2000. Critics believe prosecutors have wrongly moved too many juveniles into the adult legal system, missing chances for rehabilitation.

What's most in dispute are two other Proposition 57 provisions, either of which could result in adult prisoners serving less time than their maximum sentences. Brown tacked those two provisions onto the juvenile justice measure in January. One would allow an expansion of good-behavior credits awarded by prison officials; the other gives new power to the state parole board to allow early release of prisoners whose primary sentences were not for "violent" crimes.

In an interview last week, the governor argued that his ballot measure would add a dose of deliberative thought to a process too often driven by elected district attorneys playing to the white-hot politics of sensational crimes.

"Do you want the hurly burly of candidates, running for office, being the decision makers in the face of horrible headlines?" Brown asked. "Or would you rather have a quiet parole board, not now but 10 years later, deciding what's right?"
Michael Salerno, a former consultant to the California Senate Select Committee on Penal Institutions, was a major player in the passage of the determinate sentencing law.
In an op-ed for Zocalo Public Square, Salerno, now a law professor at UC Hastings College of the Law, gives a brief but informative history on incarceration from the 1976 passage of SB 42 until now, and urges voters to reform the law he helped to pass.
Here's a clip:
I participated in the negotiations with the Governor's staff and interest groups. The DSL was passed in 1976. Its sentences were based on median time served for crimes under the ISL. It made sentencing predictable and limited discretion. The judge could add or subtract a year based on the circumstances of the crime. The DSL was initially touted as a historic reform and praised by correctional experts.

What went wrong? By increasing transparency around sentencing, the DSL also added to public awareness of the actual lengths of prison sentences. Soon, outrage flared when a heinous crime was considered too lightly punished, and the legislature responded by prescribing ever-longer sentences. The prison guards, who gained power, became organized and advocated for longer sentences and more prison (it was good for their business). And the voters, in their public request for retribution for crimes, adopted initiative measures to add to sentences; most notably the prison industry-funded "Three Strikes." Under that measure, a person convicted of shoplifting a package of cheese as a third strike was given a life sentence.

Today, the number of prisoners serving Three-Strike sentences rivals the total number of prisoners incarcerated in 1976. Indeed, before DSL, California had nine prisons holding approximately 30,000 prisoners. Those numbers eventually increased to 33 prisons with a population at times exceeding 150,000.

This rising prison population resulted in growing expenses and significant overcrowding, which in turn led the federal courts to intervene and demand a reduction in the number of prisoners. Even after that reduction, the high costs (around $60,000 per year per prison) remain. The 2016-17 California budget appropriates 8.1% to prisons, a greater percentage than the 5.3 combined percentage appropriated for both the University of California and the California State University.

Our budget-constrained era thus presents a difficult choice: Should the taxpayers maintain the greatest public universities or the biggest and costliest prison system? Voters are beginning to conclude, not just in California but in places like Texas and Georgia, there can be too much punishment, which isn't cheap.

Proposition 57 is straightforward. The initiative measure simply allows parole consideration for non-violent offenders who have already served their base sentences. It gives prisoners an incentive to earn an earlier release after serving a substantial portion of their sentences. It's not radical, and not a complete reversal of DSL. Those not granted parole will continue to have their cumulative DSL sentence as a cap on how long they serve. If the initiative were to pass—and the parole authority were to adopt effective regulations—the changes would be a long overdue refinement of DSL.
In California, a number of faith leaders—a group that has been criticized in recent years for its silence on issues of racism and criminal justice reform—have spoken out in favor of Prop. 57. News Review's Scott Thomas Anderson reports that 56 churches in Sacramento County, the California Catholic Conference of Bishops, and the Religious Action Center of Reform Judaism have thrown their support behind the measure.
At Temple Israel of Hollywood (TIOH), Rabbi Jocee Hudson moderated a panel to discuss Prop. 57. Attendees included members of the synagogue, as well as other faith communities, and advocates. TIOH is just one of a number of synagogues that have held community meetings to discuss Prop. 57. The initiative has also garnered the support of the Jewish organization Bend the Arc, as well as the National Council of Jewish Women's California Chapter, and Reform CA.
The Jewish Journal's Eitan Arom has the story. Here's a clip:
In advance of the election, Prop. 57 made its way into High Holy Days sermons across the city, including that of TIOH's Rabbi Jocee Hudson, who moderated the Oct. 18 panel.

While critics have raised safety concerns, the proposal sponsored by Gov. Jerry Brown has earned the support of Reform CA, the progressive Jewish organization Bend the Arc, and the California chapter of the National Council of Jewish Women.

The measure would allow nonviolent offenders to earn parole after they serve the sentences for the primary offense that landed them in prison. In addition, it instructs the California Department of Corrections and Rehabilitation to consider educational and rehabilitative achievements when weighing a prisoner's early release.

But perhaps the most important step Prop. 57 would take, Hudson said, relates to juveniles being sent to adult court. When the synagogue adopted criminal justice reform as one of its initiatives and she began learning more about the prison system in California, she said, "I didn't realize that juveniles could be sentenced to life — I mean, without parole."

For every six youths sent to adult court, California's Legislative Analyst's Office (LAO) estimates that five of them are there at the sole discretion of a prosecutor, contributing to harsher sentences and longer prison terms.
---
SETTLEMENT REPORTEDLY REACHED IN DEATH OF EZELL FORD
The city of Los Angeles has reportedly come to a tentative settlement agreement with the family of Ezell Ford, an unarmed, mentally challenged man who was fatally shot by LAPD officers in 2014. If you'll remember, Ford allegedly grabbed for one of the officers' guns during an "investigative stop" in South LA, and was shot three times by the two officers.
The conditional settlement, the terms of which have not yet been made public, still has to go before the city council for approval.
KPCC's Chris Keller and Frank Stoltze have the story. Here's a clip:
The agreement was reached late last month, and L.A. County Superior Court Judge Rita Miller signed the order on Oct. 27, according to court documents obtained by KPCC.

"Any settlement with the city of Los Angeles has to be approved by the City Council and until that is accomplished, there is no settlement," said Federico Sayre, the attorney representing the Ford family.

"It's been a very long road for the Ford family, and this understanding (between the parties) gives them hope that matter is coming to an end and they will be relieved of this ongoing stress and pressure in their lives," Sayre said. "They were not looking to rehashing this in court."

Terms of the agreement were not disclosed in court records.