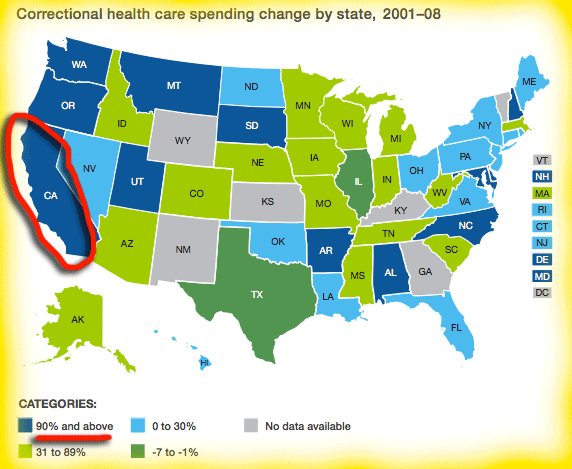 STUDY SHOWS HUGE JUMP IN STATES' PRISON HEALTH CARE COSTS
In 44 states, prison health care spending rose an average of 52% from 2001 to 2008, according to a new Pew study. California was one of a dozen states in which spending jumped 90% or more (102% in CA, to be exact).
Here are a few clips from the study's overview:
— Spending increased in 42 of the 44 states, with median growth of 52 percent.

— In a dozen states, prison health expenditures grew 90 percent or more. Only Texas and Illinois experienced inflation-adjusted decreases in this spending area.

— Per-inmate health care spending rose in 35 of the 44 states, with 32 percent median growth.

[SNIP]

…the number of Americans in prison nearly tripled from 1987 to 2007. The dramatic increase was driven in part by tougher sentencing laws and more restrictive probation and parole policies that have put more people in prison and held them there longer.

This trend, however, has recently begun to reverse in about half of the states as sentencing and corrections reforms have spurred reductions in prison populations. The sheer number of state prisoners does not explain all of the increased spending. Higher per-inmate expenses and the expanding slice of corrections budgets devoted to health care suggest that other factors are also pushing costs up,
including:

— Aging inmate populations.

— Prevalence of infectious and chronic diseases, mental illness, and substance abuse among inmates, many of whom enter prison with these problems.

— Challenges inherent in delivering health care in prisons, such as distance from hospitals and other providers.
---
SCATHING OP-ED IN DAILY NEWS RE: BACA'S REACTION TO RECENT JAIL ABUSE LAWSUITS
Two weeks ago, WLA reported on a federal jury's decision to hold Sheriff Lee Baca liable for the beating of a Men's Central Jail inmate, Tyler Willis.
In a sharply-worded op-ed for the LA Daily News, SoCal ACLU executive director Hector Villagra says Baca's response to the jury's decision and his intent to appeal it show the sheriff are consistent with a pattern of negligence and an inability to take responsibility. Here are some clips:
A federal jury's decision earlier this month to hold Sheriff Lee Baca personally liable for the savage beating of an inmate provides yet more proof of the deep-seated culture of violence in Los Angeles County's jails. The jury took the extremely rare — and courageous — step of finding Baca personally responsible for the actions of deputies who punched, kicked, Tasered and battered Men's Central Jail inmate Tyler Willis with a metal flashlight in 2009, leaving him with broken bones and head injuries. The jury's message is clear: The savage violence that has plagued L.A.'s jails is rooted in deficient leadership, and Baca must pay for his failure.

But just as telling as the jury's decision was Baca's response, as expressed by Sheriff's Department spokesman Steve Whitmore. "We respect juries, but they made a mistake," Whitmore said. Baca plans to appeal.

[SNIP]

In holding Baca liable for punitive damages, the jury had to meet an extremely high bar, finding that Baca's actions were "malicious, oppressive, or in reckless disregard" of Willis' rights. Moreover, unlike ordinary damages, which compensate the victim for his or her injuries, punitive damages are intended to punish the defendant.

Peeling back the curtain on L.A.'s jails has brought profound, but long overdue, change to the system. LASD has implemented some new policies, and use of force against inmates has declined. Until Baca remembers and acknowledges the past, it is unlikely that the full scope of reform necessary in the jails will occur. And we will all lose out.
---
AMERICANS "TRAGICALLY MISINFORMED" ABOUT THE DEATH PENALTY, SAYS ANDREW COHEN
A Gallup poll of 1028 random adults across the country was released Tuesday regarding support of capital punishment in the United States.
The survey found that support is at its lowest since 1972. The Atlantic's Andrew Cohen said this is heartening news (we agree), however, two other particularly interesting results from the poll had quite the opposite effect on Cohen.
The first, was that 52% of those surveyed believed that the death penalty is applied fairly (60% overall favor it). Here's what Cohen had to say about the statistic:
This means that more than half of those surveyed are—let me be delicate—still tragically misinformed about the nature of capital punishment in America in 2013. The truth is that race plays an enormous role in determining who is and who is not sentenced to death in America. If you are black you stand a far higher chance of getting the death penalty, especially if your victim is white. The evidence and analysis of this fact are so pervasive that it should be beyond debate: 52 percent of Americans are dead wrong in their perception of the fairness of the application of capital punishment.

We can applaud the fact that nine percent of those surveyed—from 61 percent to 52 percent—evidently have changed their minds about this since 2004. That's also some good news. And we can speculate about why the rest haven't. Some people simply haven't taken the time to study the matter and are content to take the easy path and say that the criminal justice system is fair. Some people probably think that it is fair that more blacks are sentenced to death when they kill whites than whites are when they kill blacks. And what about those addled folks—eight percent, according to Gallup—who believe that the death penalty is unfairly applied but who still support it? Yikes.
The second, was that 44% of the surveyed group felt that the death penalty was not imposed often enough, and just 22% believe it is imposed too often.
So twice as many Americans believe the death penalty should be imposed more often than those who believe it should be applied less often. It seems to me these people—let's call them the "40 percent"— represent the core of support for capital punishment today. These folks are likely never going to be dissuaded that current capital punishment regimes, in states like Texas or Florida or Alabama, violate core constitutional values of due process and equal protection. For them, the frustration is not that judges and juries and prosecutors tip the scales of justice against capital defendants but that they don't tip the scales enough.

In a perfect world, the United States Supreme Court years ago would have conducted a searing review of the core of capital punishment laws. The justices would have moved to end (or limit) racial disparities in capital sentencing and ensured that murder suspects were given competent defense counsel…
(Read on.)
---
LA COUNTY SUPES VOTE TO TERMINATE CONTROVERSIAL JAIL BED CONTRACT WITH TAFT
The LA County Board of Supervisors voted Tuesday on Supe Gloria Molina's motion to end a formerly agreed upon contract to move 500 LA County inmates to a correctional facility in Taft, CA. (Here's the backstory.)
The LA Times' Abby Sewell has the story. Here's a clip:
The supervisors voted last month to approve a $75-million, five-year plan to send about 500 county inmates serving lengthy sentences to the correctional facility run by the city of Taft. The plan was touted as a cost-effective way to free up local jail beds and increase time served by the most serious offenders.

Supervisor Gloria Molina, one of the three who initially voted in favor of the contract, said last week that she had changed her mind after learning that there is ongoing litigation between Taft and the state's Department of Corrections.

The Taft facility housed state prison inmates until the corrections department terminated its lease in 2011. Taft sued last year, saying the state should reimburse the city for unemployment benefits paid to former employees after the facility closed. The city also sought to bar the state from exercising a contract clause that would have given it the right to lease the facility for $1 a year after 2017.

Molina said in an interview that she did not want the county to get dragged into the dispute and was concerned that the state might have sought to stop the county from leasing the beds or try to take the facility over in 2017.
The vote was 3-2 with Supes Michael Antonovich and Don Knabe dissenting. Here's what Antonivich had to say:
Supervisor Michael D. Antonovich, who — along with Supervisor Don Knabe — voted against halting the county's deal with Taft, said lawyers had found that the county was on "strong legal grounds" to lease the beds at least through 2017.

In the meantime, Antonovich said, it would help relieve overcrowding in the county's jails and increase time served by serious and violent offenders.
---
LAPD LAPEL CAMERA TRIAL PROGRAM TO START IN NOVEMBER
The LAPD pilot program to test 60 officer body cameras will officially begin in November and run for 90 days. The hope is that the cameras will bring about increased accountability on the part of officers during encounters and lower the number of civilian complaints.
Newly appointed Police Commission President Steve Soboroff raised almost $900,000 of the $1M necessary to fund 500 lapel cameras after the initial trial. (Read one of our previous posts on the cameras here.)
The Associated Press' Tami Abdollah has the story. Here's a clip:
The Los Angeles Police Department's chief information officer, Maggie Goodrich, provided the update Tuesday to the Police Commission, the LAPD's civilian oversight board.

Goodrich said the department will receive different styles of cameras on loan from two companies — Arizona-based Taser International Inc. and Coban Technologies Inc. of Houston. After 90 days, the department will recommend one type of camera and draft policies to govern its use.

The department plans to meet with the union that represents police officers, which supports the use of the on-body cameras, the American Civil Liberties Union, city councilmembers and the Police Commission's inspector general in creating its policies. Sgt. Dan Gomez said he's been filling a binder with "best practices" and manuals from other departments using the technology to help inform the LAPD's plans.