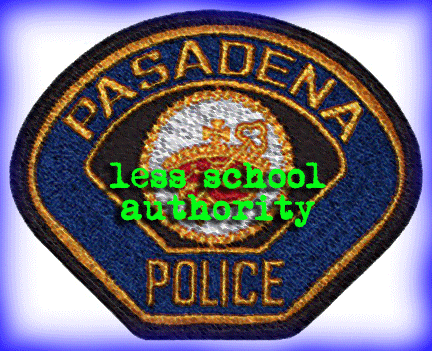 PASADENA SCHOOLS PUT DISCIPLINARY POWER BACK IN THE HANDS OF TEACHERS
The Pasadena City Council last week unanimously passed an agreement to limit and clearly define student disciplinary situations in which Pasadena police intervene. (WLA hopes LAUSD and other California districts will take note of PUSD's ground-breaking lead and shift further away from "zero tolerance" policies.)
The LA Times' Teresa Watanabe has the story. Here's a clip:
As school districts in Los Angeles, San Francisco, Oakland and elsewhere grapple with rising concerns about police actions on campuses, Pasadena officials have agreed to handle all but the most serious offenses with school-based disciplinary actions rather than citations and arrests. Police officers will intervene only in cases involving assault, weapons, narcotics sales and other major offenses that state law requires them to handle.

David Sapp, an attorney with the American Civil Liberties Union of Southern California, said the pact was "unlike anything we've seen" statewide.

"No other school district has attempted, in such a clear and defined manner, to identify the exact circumstances when police may engage," Sapp said. "There was a shared understanding that minor things shouldn't lead to police citations and arrests."

The agreement, unanimously approved last week by the Pasadena City Council following passage by the city school board in July, runs counter to the "zero tolerance" policies that took hold after the 1999 school massacre in Littleton, Colo. The mass school shooting in Newtown, Conn., last year amplified calls to expand campus police, whose numbers grew nationally by 40% between 1997 and 2007, according to federal data.
(For further reading, Pasadena Now's Caroline Mays had a good article on PUSD's passage of the agreement before it headed to the city council.)
---
DETERRENTS FOR POTENTIAL FOSTER PARENTS: MANDATORY ADOPTION CERTIFICATION, MEDIA, AND MORE
Foster care journalist/advocate Daniel Heimpel, in his publication, The Chronicle of Social Change, highlights myriad reasons for the crisis of declining available foster homes, including requiring foster parents to also become certified for adoption. Forcing caregiver candidates to undergo, undergo a qualification process that is in some ways may be unnecessarily onerous, might be deterring some potential foster parents who don't intend to adopt. (For WLA's earlier post on the foster care shortage, go here.)
Here's a clip from Heimpel's story:
…I ran into Leslie Heimov, the executive director of the Children's Law Center of California, which provides legal representation for all the children who pass through L.A.'s juvenile dependency system.

Heimov pointed to the county's insistence on dually certifying caregivers for both foster care and adoption as dissuading many, by setting up yet another onerous step in an already daunting process.

"At the time it was proposed we voiced the view that we thought it was a bad idea," she said. "It limited the pool of foster parents and we think it is a piece of the problem in the shortage of placements we are seeing."

In an interview later the same day, DCFS Director Philip Browning sympathized, at least in part, with Heimov's point. "I do think that it is an inhibiting factor," Browning said.

Two problems he pointed to were the requirement that potential foster parents run two separate criminal background checks, often on their own dime; and that the adoption certification process forces them to dig back through their marriage histories even if they don't intend on adopting in the long run.
Heimpel also points to the effects of the media—both pro and con—on foster home recruitment:
Another inhibitor to foster parent recruitment that Browning cited is the chilling effect de-contextualized media coverage around child deaths — particularly accidental deaths in foster homes — can have on the general public's willingness to take children in. "The news media has caused some people [to] ask, is this worth it? Is this a risk worth taking?"

But, the media can also impel the public to step up. In a recent Los Angeles Times story, columnist Sandy Banks visits a foster parent orientation. In addition to cogently describing the hurdles that prospective foster parents face, she took an active role in joining in the solution by directing readers to information on how to become foster parents themselves.
---
PRIVATE PRISONS' ALARMING MONEY-MAKING CONTRACT CLAUSES
A recent report by In the Public Interest compiled data on major private prison corporations like Corrections Corp. of America and GEO Group's inclusion of "lock-up quotas" and "low-crime taxes" in states' contracts. These profit-boosting tactics penalize states for not filling prison beds—most often to 80-100% capacity. The report shows that all but one of California's recent and current contracts with CCA and GEO had lock-up quotas of 90%(!!!).
(And, if you missed it last week, we pointed to CCA's run-in with contempt of court in Idaho for understaffing.)
If the federal three-judge panel does not approve California's request for more time to ease prison overcrowding, Gov. Jerry Brown plans to enter into contract with CCA to meet the year-end deadline.
We sincerely hope the state of California is not forced to use its precious budget surplus to further support costly contracts with private prisons that fine for empty beds, lobby against needed sentencing reform policies, and cut corners on safety.
Here's a clip from the report's intro:
In 2012, Corrections Corporation of America (CCA), the largest for-profit private prison company in the country, sent a letter to 48 state governors offering to buy their public prisons. CCA offered to buy and operate a state's prison in exchange for a 20-year contract, which would include a 90 percent occupancy rate guarantee for the entire term. Essentially, the state would have to guarantee that its prison would be 90 percent filled for the next 20 years (a quota), or pay the company for unused prison beds if the number of inmates dipped below 90 percent capacity at any point during the contract term (a "low-crime tax" that essentially penalizes taxpayers when prison incarceration rates fall). Fortunately, no state took CCA up on its outrageous offer. But many private prison companies have been successful at inserting occupancy guarantee provisions into prison privatization contracts, requiring states to maintain high occupancy levels in their private prisons.

For example, three privately-run prisons in Arizona are governed by contracts that contain 100 percent inmate quotas. The state of Arizona is contractually obligated to keep these prisons filled to 100 percent capacity, or pay the private company for any unused beds.

These contract clauses incentivize keeping prison beds filled, which runs counter to many states' public policy goals of reducing the prison population and increasing efforts for inmate rehabilitation. When policymakers received the 2012 CCA letter, some worried the terms of CCA's offer would encourage criminal justice officials to seek harsher sentences to maintain the occupancy rates required by a contract. Policy decisions should be based on creating and maintaining a just criminal justice system that protects the public interest, not ensuring corporate profits.
(Catch the nutshell version on this accompanying infographic.)