A few hours before the execution of Julius Jones was to be carried out today, Oklahoma governor Kevin Stitt issued an executive order to commute Jones death sentence to LWOP — life without the possibility for parole.
Governor Stitt released the following statement regarding his decision:
"After prayerful consideration and reviewing materials presented by all sides of this case," the governor wrote in his official statement, "I have determined to commute Julius Jones' sentence to life imprisonment without the possibility of parole."
Among those opinions Governor Still likely considered was that of Oklahoma's Pardon and Parole Board, which voted 3 to 1, on November 1, to recommend that the governor grant clemency for Jones, converting his death sentence to LWOP.
After news of the commutation became public, the crowds of protesters who had gathered at the State Capitol erupted into emotional cheers.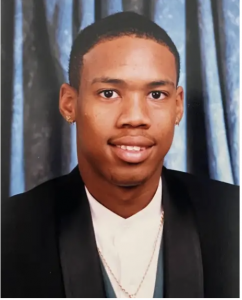 Interestingly, there were two important issues that have caused justice advocates and others to lobby repeatedly for a commutation.
The first issue was evidence that the state's method of execution was faulty to the point of constituting torture, even in the eyes of those who still favor capital punishment.
The second issue was that Jones was scheduled to be put to death for a murder he has steadfastly insisted he did not commit.

Julius Jones was convicted of the 1999 murder of a man named Paul Howell, of Edmond, Oklahoma, who was shot to death in front of his two daughters and sister.
Despite Jones' years of protest, Howell's family members continue to believe that Jones is in fact guilty.
Yet, an unusual array of others familiar with the case, have grave doubts that justice was done with Jones' conviction.
Cruel and unusual
Governor Stitt's announcement came soon after Jones' federal public defenders filed an emergency motion asking a federal judge to stay the execution based on "compelling evidence" that the drugs used in lethal injections "pose a serious and substantial risk of severe suffering and pain to prisoners."
Their argument was graphically supported last month, when media witnesses to the October 28, 2021, execution of Oklahoma death row resident John Grant, reported that Grant suffered repeated convulsions and vomited over a nearly 15-minute period after he was administered the controversial execution drug midazolam.
Oklahoma City Fox television anchor Dan Snyder was among those media witnesses who described an inarguably horrific series of events.
"Almost immediately after the drug was administered, Grant began convulsing, so much so that his entire upper back repeatedly lifted off the gurney," Snyder reported. "As the convulsions continued, Grant then began to vomit. Multiple times over the course of the next few minutes medical staff entered the death chamber to wipe away and remove vomit from the still-breathing Grant."
Grant's execution was Oklahoma's 113th since executions resumed in the United States in 1977 — tied with Virginia for the second most of any state during that period. It was also the state's first execution since botching the executions of Clayton Lockett in April 2014 and Charles Warner in January 2015 and then aborting the execution of Richard Glossip in September 2015.
Unusual support for Julian Jones
And then there's the innocence factor.
On that topic, late last month, support for a commutation for Mr. Jones emerged from two unusual quarters, namely that of Matt Schlapp, chairman of The American Conservative Union, and Timothy Head, executive director of The Faith & Freedom Coalition, who wrote a joint letter to the Oklahoma governor.
"We recognize that this is a difficult decision," the two wrote, "and we don't envy you having to make it. However, as representatives of staunchly pro-life organizations, we believe that taking an innocent life–whether a baby in its mother's womb or a wrongly convicted adult–is wrong. As long as that outcome is possible, we believe one must err on the side of life. Accordingly, we urge you to commute Julius Jones' sentence."
Then Schlapp and Head went farther, stating that the facts of Jones case, left open the possibility that he was actually innocent of the murder of which he was convicted.
"There is no doubt that Jones participated in other serious crimes (shoplifting, carjacking)and as such, must face the consequences," the conservative advocates wrote. "However, even a cursory reading of the facts of the case will leave one with questions about whether he committed first degree murder."
Among those "issues," Schlapp and Head listed the following:
*Eyewitnesses described the shooter as someone with an inch of hair showing out of a bandanna. A week beforethe murder, Jones had been arrested for shoplifting and his booking photo shows him with a fully shaved head.
*Jones had an alibi. Multiple people have attested that he was having dinner with his family at the time of the murder. None were called to testify by the defense.
*A co-defendant in other carjackings, Chris Jordan, has reportedly admitted to three cell mates that he committed the murder, rather than Jones
*Jordan testified against Jones as part of a plea agreement and is now out of prison after serving a 15-year sentence.
*Co-defendant Chris Jordan spent the night at Jones' home after the murder. It was Jordan who directed the police where to find the murder weapon in Jones' home.
Thankfully, of today, there will be time to further explore whether or not Julius Jones was wrongly convicted.
---
Photo at top is a screen grab from a tweeted video by The Black Times Oklahoma News