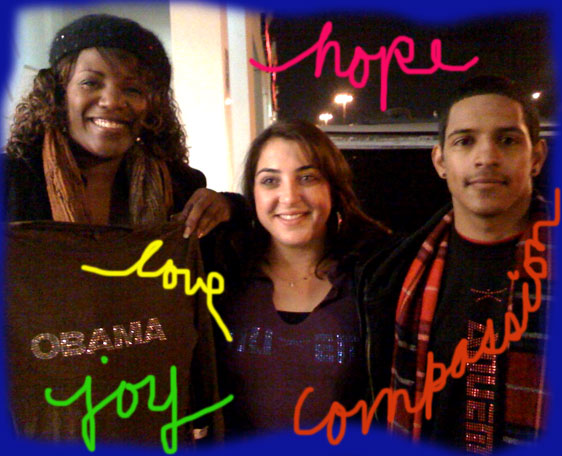 I met Jessie, the woman on the far left in the photo, last night in the parking lot of the shopping center located at the northeast corner of Topanga Canyon and Ventura Boulevards. She was outside the Rite Aid drugstore where I had just finished running the very last of my pre-Christmas errands.
I had no choice but to notice her because Jessie and her two young companions, Marian, who is 22-years old, and Kyle, who is 20, were selling t-shirts out of Jessie's van and Kyle hit me up for a sale as I came out the Rite Aid door. I said no to the shirt, but commented on the quality of the garments they were selling, which I thought quite nice. After that we all got to talking.
There was something about Jessie that interested me.. Beneath the surface style she projected, which was warm but also controlled and cautious, she had the kind of deep-banked glow that is at times found in those who have seen the worst in life, but have somehow reemerged from whatever hell they encountered with enough frail hope still intact that they can use it as seed in order to grow more hope, and still more after that, until the hope has outweighed the darkness.
My snap judgment turned out to be reasonably correct. At 43, Jessie is an ex-prostitute and drug addict who was in the life for nineteen years, but now has been clean and sober for ten, she said.
"My mother was a prostitute and my grandmother was a prostitute. It's just how it was. People always said I'd turn out just like my mother. I never thought I would, but I did. The difference is, I'm not ending up like my mother."
There was emotional and physical abuse in her house that resulted in her being put in a series foster homes and group homes. She ran off and began making her living on the street when she was fifteen.
Jessie said that her turnaround moment came when she was in jail a decade ago and things got so bad and painful that she considered killing herself. At one of her worst moments, she had something of a religious awakening, which she credits with saving her life. After she got out of jail, she joined a church and painstakingly gathered together the strength to quit drugs as she looked for a new way of paying her bills.
Jessie can sew, so she began making simple garments and purses, as well as decorating readymade t-shirts and sold them at swap meets. She called her beginning clothing line "ANUEMI"—"A New Me"—because, she said "I realized, I am a new me." She renamed herself Anuemi Taylor.
Over time, Jessie said, she did well enough with the merchandise and other jobs, that she started to look for ways to help some of those around her who were also struggling.
"I don't just want to help myself, I want to help others," Jessie said, "I want help make my neighborhood of South LA and my city a better place. That's what I'm about now. That's what I've been called to do."
With this in mind, she began employing kids like Kyle and Marian who were staying in sober living houses and needed some honest way to make money. (The sober living house where Kyle and Marian were staying costs $20 a day. )
Another of her missions is to locate all nine of the children she birthed and then gave up for adoption. "So far I've been reunited with three of them," she said
When Jessie first met Kyle she thought briefly that he might be one of her lost kids, but she quickly learned that he was not. "He could be if you look at the face shape," she said, and smiled when Kyle nodded agreement. "All my children were mixed race," she said.
I told her I could see a resemblance. "Yeah, well, so, I've just adopted him and Marian for a while anyway," she said and Kyle nodded again.
As for Kyle's story, he said he used to take and sell drugs up until a year ago, but has been clean and sober since last January. "My family's messed up," he said somewhat out of sequence. "My family's scattered everywhere." Interestingly, Kyle's turnaround epiphany, like Jessie's, came when he was locked up. At nineteen years old, he spent a couple of months in LA County jail. Being in the adult facility freaked him out, he said. He decided he never wanted to go back and began to get sober.
Marian, he said, had a similar story. (Marian had run off to the bathroom while we chatted.)
I had groceries in the car, and an impatient dog along with me, so finally I said I had to go. But Jessie and I exchanged numbers. I took their pictures with my phone, and we all bade each other Merry Christmas.
It was a cold night for California, and the problems we face as a state and as a nation produce their own brand of daunting chill, but after meeting Jessie and her two young companions, for at least one night everything around me —metaphorically speaking anyway—seemed just a little bit warmer.
Merry (nearly) Christmas, everyone.
************************************************************************************************************
PS: You can find Jessie's MySpace page by clicking here (NOTE: Music Alert), and there are other references if you Google ANUEMI.