A measure on California's November ballot aimed at diluting some of the last decade's most prominent criminal justice reform laws — Public Safety Realignment, Proposition 47, and Proposition 57 — would have a disproportionately negative impact on communities of color, increase police spending, and put more people behind bars by increasing criminal penalties, according to a new analysis by the Center on Juvenile and Criminal Justice.
For those unfamiliar, in 2011, to address extreme prison overcrowding, California passed the Realignment Act (AB 109), shifting the incarceration burden for certain low-level offenders away from the overburdened California state prison system to the states' 58 counties.
Money saved from Realignment is goes toward local corrections, juvenile justice programs, courts, and mental health services.
Next came 2014's voter-approved Proposition 47, which downgraded six low-level drug and property-related felonies and "wobblers" to misdemeanors. (Prop. 47 offenses are check forgery worth $950 or less, theft of property worth $950 or less, writing bad checks worth $950 or less, receiving stolen property worth $950 or less, shoplifting property worth $950 or less, and drug possession.)
The measure, which was applied retroactively, has changed the lives of tens of thousands of Californians who are no longer saddled with felony records.
Money saved by Prop. 47 goes toward mental health services and drug rehab programs for criminal justice system-involved people, efforts to reduce truancy and help at-risk students, and for victims services. Prop. 47 saved the state an estimated $68 million in its first year, and approximately $350 million over five years.
The newest law, 2016's Proposition 57, increased parole eligibility for people convicted of certain crimes who have completed the base sentence for their primary offense. Prop. 57 also boosts access to early release credits, and allows judges, rather than prosecutors, to decide whether kids will be tried in adult court.
These three laws have helped to save the state millions of dollars that would have otherwise been spent on incarceration, while also allowing California to stay below a federal court-mandated prison population cap of 137.5 percent capacity. At the same time, overall crime rates in California continue to remain at record lows.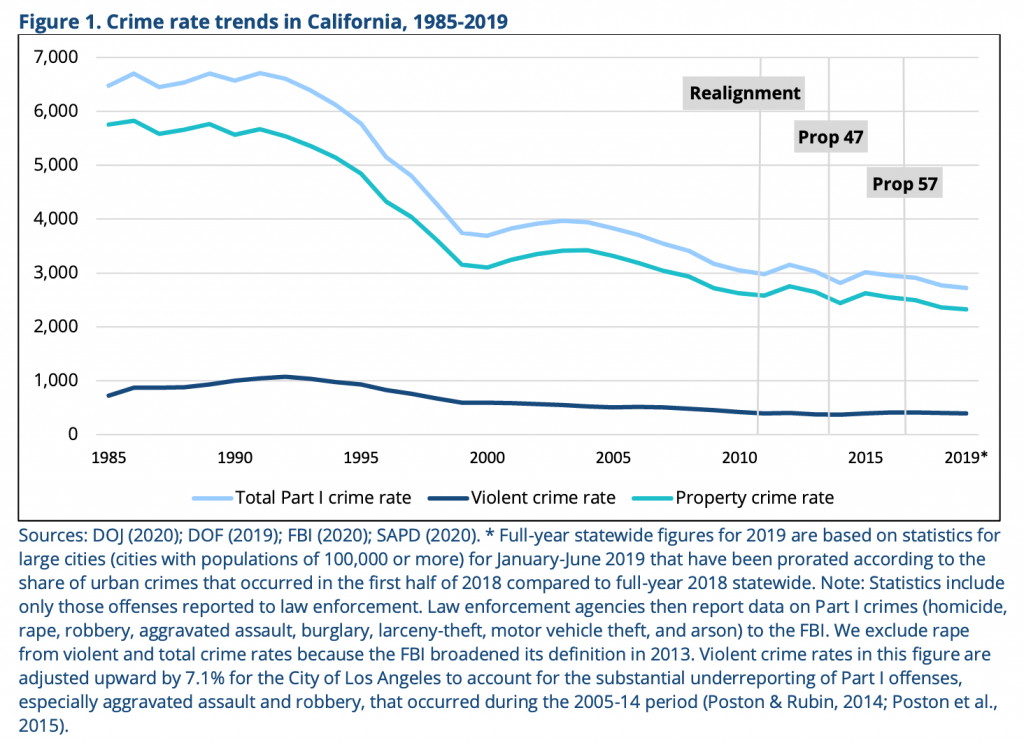 The November 2020 measure, titled the California Criminal Sentencing, Parole, and DNA Collection Initiative of 2020 — formerly known as the Reducing Crime and Keeping California Safe Act — would reverse key portions of the three laws.
Specifically, the measure add 51 crimes and sentence enhancements to the state's legal definition of violent crime, which currently does not include felony domestic violence, child sex trafficking, rape of an unconscious person, or felony assault with a deadly weapon.
Recategorizing these offenses and enhancements as violent would block people convicted of those specific crimes from accessing the early parole benefits of Prop. 57.
The act would also create a third-strike factor within probation law, requiring probation departments to petition a judge to send a person to jail if they violate the terms of their probation a third time.
With regard to Prop. 47, the ballot initiative would make certain types of thefts, like firearm theft, vehicle theft, and credit card fraud, "wobblers" that can be charged as felonies or misdemeanors. It would also require people convicted of wobblers and Prop. 47's former wobblers to submit DNA samples for inclusion in law enforcement databases.
Additionally, state law would have two new wobbler crime categories: serial crime and organized retail crime.
Proposition 47 has faced criticism over increases in certain property crimes that followed in the wake of the proposition's passage, but the report authors argue that .
In 2018, researchers from the Public Policy Institute of California found what appeared to be a correlation between Prop. 47 and upticks in larceny. The measure did not, however, factor into the state's short-term bump in violent crime, according to PPIC.
"While crime declined overall during the justice reform era, local jurisdictions experienced widely varying crime trends," the CJCJ report states. "Most cities saw decreases in crime, while others reported increases, indicating that local policies, not statewide reforms, are driving trends."
Moreover, the earlier PPIC report revealed that Prop. 47 appeared to have contributed to a reduction in recidivism in California, while also lowering the prison and jail populations.
The state's prison population declined by 8,100 inmates (6 percent) in 2015. The California Legislative Analyst's Office estimated that Prop. 47 was responsible for 4,700 of the 8,100-person drop.
Additionally, there were approximately 7,000 fewer inmates in county jails in the first year.
The data shows that officers arrested fewer people overall after Prop. 47, but also conducted more "cite and releases," in which a person is arrested, given a citation, and then released, rather than taken to jail.
According to report authors Mike Males and Maureen Washburn, the 2020 ballot measure would cost the state between $150 million and $450 million per year — money that would be spent on law enforcement and incarceration, leaving less money for rehabilitation and community programs and services already facing questionable futures amid the economic downturn. Counties, too, would be hit by higher incarceration needs. CJCJ estimates that Los Angeles would have to spend an additional $30,782,968 to $97,587,79 per year on probation and jail needs — more than any other county — if voters pass the ballot initiative this November.
The measure would reverse much of the work California has done to reduce overcrowding in jails and prisons (which are still filled far above capacity in 2020), and would also likely increase recidivism rates, according to the report.
"State prisons have already reported serious COVID-19 outbreaks," Males said. "This initiative would crowd prisons and jails, putting incarcerated people in even closer quarters, with potentially deadly consequences."
In California's 35 prison facilities, 18 incarcerated people and 2 prison workers have already died of the virus. More than 3,800 have tested positive, so far, with infection numbers that keep rising, week after week.
The act would "devastate families and communities, particularly communities of color, by incarcerating more Californians and erecting lifelong barriers to education, housing, and employment," the report said.
In California, people with felonies on their records face approximately 4,800 restrictions on daily life.
"California is beginning to correct its role in mass incarceration by moving investments from an overbuilt justice system towards long-term, community-based solutions, said Washburn, CJCJ's policy analyst. This initiative would cut progress short and harm Californians — especially Black, Indigenous, and Latino communities—for generations to come."