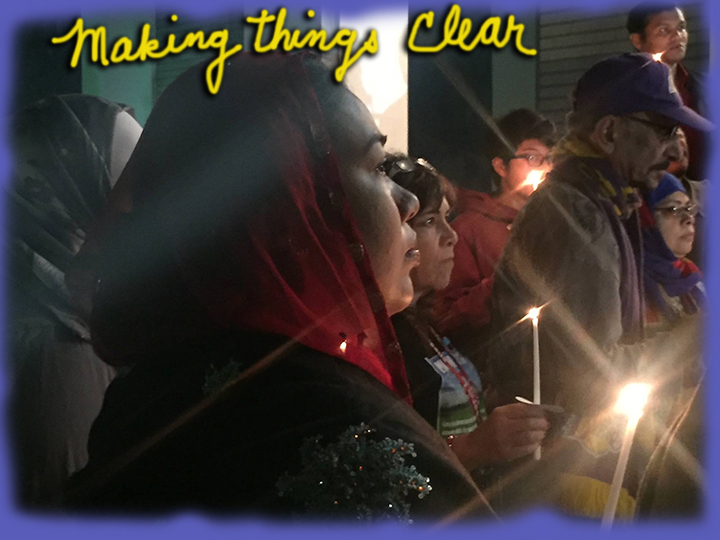 YOUNG LOS ANGELES MUSLIMS EXPRESS SORROW, ANGER AND WORRY
When a large and frightening terrorist attack occurs, like the attacks in Paris and in Beirut, we are all deeply shaken—and angry.
For many U.S. Muslims, however, there is the additional worry that some of their fellow countrymen and women will conflate ISIS with Islam in the wake of the attacks.
On Saturday night, young Muslim Americans gathered in Los Angeles at the Islamic Center of Southern California to listen to speakers on the topic, then to talk about their own anger at ISIS and their personal fears about backlash,
Still earlier in the day, there was a press conference at ICSC, featuring various local Muslim luminaries, including Dr. Najeeba Syeed, an award winning Assistant Professor of Interreligious Education at the Claremont College of Theology, who is known for her skill at conflict resolution.
"We are in solidarity with you. Parisians, we are in solidarity with you." said Dr. Syeed, her voice full of emotion.
Similar sentiments were express in a notice on the ICSC website calling members to the Saturday evening meeting, and to the candlelight vigil that occurred earlier. "As Muslims, we unequivocally condemn ISIS and its latest heartless, faithless act of terrorism that has killed over 120 innocent people, injured scores more and betrayed Islam's core teachings and values, " read the notice.
KPCC's Sharon McNary has more on the ICSC meeting. Here are some clips:
Terrorism and its ripple effect on Muslim young people was one the main topics discussed Saturday night at the Islamic Center of Southern California, which brought together several speakers to condemn the terrorist attacks in Paris.

"There is absolutely no tolerance or room for this type of behavior, these types of actions in the faith of Islam," said Center Chairman Omar Ricci, who called on Muslim youth to show pride in their faith and to resist those who might want to recruit them into radical groups. Many Muslims, he said, actually choose careers in law enforcement and the armed forces because they feel a special responsibility to protect the United States.

[SNIP]

Edina Lekovic said her 4-year-old son was puzzled to see his mother turn serious as she made dozens of calls about the violence in Paris.

"He loves superheroes, and I had to explain to him that there were bad people who happen to also be Muslim – I couldn't hide that from him – who did something awful and hurt other people and I had to work to do everything I could to help people who were hurting."

Muslim kids could also face bullying, Ricci said, suggesting that parents confront anti-Muslim comments when they come across them in person or on social media.
While we're on the topic of bullying, it bears mentioning here that a study released at the end of last month found that Muslim students in California schools report bullying at twice the rate as non-Muslim students. The study, which was statewide, found that 55 percent of Muslim students surveyed said they've been "bullied or discriminated against," which is double the number of students who reported being bullied nationally.
---
SAN DIEGO MUSLIMS EXPRESS SORROW AND DISCUSS ROOTING OUT EXTREMISM
Also on Saturday night, hundreds of San Diego-based Muslim Americans and friends gathered at the Four Points Sheraton Hotel for a yearly fundraiser for the Council on American-Islamic Relations (CAIR) of San Diego. But, what would have normally been a festive occasion, of necessity, turned into a forum to discuss the horrific news that Friday brought, as speaker after speaker condemned the terrorist attacks in Paris in the strongest terms.
Speakers also spoke about the greater role their community must take to root out extremism.
Tatiana Sanchez of the San Diego Union has more. Here's a clip:

Jérôme Gombert sat watching news reports about the assaults in the hotel lobby just minutes before the banquet commenced. He looked on quietly as images of the carnage in Paris unfolded before him.

The native Parisian said he's been hit hard by the violence. He remembers frequenting the Bataclan concert hall — where the majority of victims were killed — before moving to San Diego 20 years ago. He walked the streets and ate at the restaurants now pictured in the news.

"They attacked the average Parisian's life," he said.

"It's crazy that (the dinner) is today after what happened at home, but it's still important to understand that there's no connection between that and the reality of the Muslim religion," he said. "It's a peaceful religion, it's a beautiful religion in many ways."
---
MEMORIES FROM SEPTEMBER 2001
In September of 2001, when I was still writing for the LA Weekly, my editors asked me to report on how Muslim Americans in Los Angeles were fairing after the 9/11 attacks on the World Trade Center.
The answer was, in short: it was damned scary to be Muslim and American in LA—or anywhere in the U.S., for that matter—during that period. For what it's worth, here's a clip the opening of the story I wrote nearly a decade and a half ago.
The King Fahad Mosque, located on Washington Boulevard in Culver City, is a gracefully domed structure with an imported marble facade, a 72-foot-high gold-leafed minaret and intricately painted Turkish tiles adorning the place both inside and out. The facility was completed in late August of 1999, funded by a donation from Prince Abdul-Aziz, the son of Saudi Arabia's ruler, King Fahad bin Abdul-Aziz Al Saud. I spent much of the past week there. The following snapshots are the result.

On the morning of September 11, Tajuddin Shuaib wakes up at 5:30, performs the first of his five daily prayers, then falls back to sleep. He wakes again just before 7 a.m., then, as is his habit, flips on the TV as he gets out of bed. He likes to watch CNN while he gets ready to go to work. For Tajuddin Shuaib this means driving to his office at the King Fahad Mosque, where he has been its director and spiritual leader — or Imam, as he is called — since the facility opened three years ago.

On normal days, Shuaib leaves his house around 7:30. But on September 11, like most Americans, Shuaib finds himself immobilized by shock at the images that are playing across his TV screen. Like most Americans, he exchanges frantic, disjointed phone calls with members of his congregation. Like most Americans, Shuaib prays for the safety of the people who might still be caught in the collapsing towers. But unlike most Americans, Shuaib also mouths a special prayer as he watches the expanding devastation: "Please don't let a Muslim be responsible for this horror."

"As an American," he says later, "I was sick inside at what I saw. As a Muslim, I was scared to death."

Shortly after 9 a.m., Shuaib finally drives to the mosque and sees some of his fears coming to pass. At the building's front, a 30-ish woman clutches an oversize Magic Marker with which she scrawls the word MURDERERS in huge letters on the white marble. When she spots Shuaib, she begins screaming. "Murderers! Go back where you came from, Palestinian murderers!"

While another mosque official calls the police, Shuaib attempts to talk the woman down. "Ma'am, look at me," he says. "Do I look like a Palestinian?" The woman stops shouting long enough to stare at him. Shuaib is a black-skinned man who was born in Ghana. He is also humorous, intelligent and possessed of the charm of a natural storyteller. "It's true," he continues, hoping the woman isn't armed with anything worse than the marker, "Palestinians come to pray here. We also have Egyptians and Pakistanis and Arabs and Africans and Sudanese. The whole United Nations comes to pray here." The woman starts to shout again, but Shuaib keeps on talking. "The thing is, I am as upset as you are because I have family in New York and I have not been able to speak to them. But I'm also terrified because, unlike you, I can be a target."

By the time the police arrive, Shuaib has talked the woman's fury into remission. Nonetheless, the officers search her car and find cartons of eggs plus a pile of stones. They ask Shuaib if he wants to press charges. He shakes his head no. Her anger spent, the woman turns sheepish and asks if she should clean the wall.

"That's okay," Shuaib says wearily. "We'll clean it up ourselves."

On Wednesday, the mosque's community liaison — Usman Madha, who emigrated here from Burma 35 years ago — is crossing the street when a car slows to a stop right in front of him and the driver motions him over. Madha approaches the car with trepidation. He recognizes the driver as a Culver City resident who, for the past three years, has been vocally opposed to the mosque's presence in the community. But to Madha's surprise, the man only extends his hand to shake. "For whatever it's worth," he tells Madha tersely, "I don't hold you guys responsible for what happened in New York City."

Later, Shuaib and Mahad continue to field a weird mixture of phone calls — a few obscene messages, a few calls of support, and a couple of inquiries from the press. Most of the calls, however, are from worried congregation members who want to know if it's safe to come to the mosque. The King Fahad Mosque is the primary Islamic center for L.A.'s Westside, and typically draws a crowd for each of its five daily prayer services, plus upward of 500 worshipers for the big service at midday on Friday. But since last Tuesday's terrorist attacks, the place has been almost deserted.
---
IN LONG BEACH, STUDENTS GRIEVE FOR A LOCAL DAUGHTER
In Los Angeles, hundreds of students gathered at Cal State Long Beach on Sunday afternoon, to honor the memory of Nohemi Gonzalez, the 23-year-old CSULB senior who was studying at the Strate College of Design in Paris for a semester. Gonzales was one of 19 killed when gunman opened fire at the popular Parisian bistro La Belle Equipe on Friday where Gonzalez was eating with three friends.
Anh Do and Javier Panzar, writing for the LA Times, have more on that story. Here's a clip:
[Gonzalez's three] friends managed to escape, but Gonzalez was wounded and later died of her injuries at a hospital, said Jeet Joshee, associate vice president for international education at the university.

Friends and family described Gonzalez as a diligent and committed worker with lofty dreams, including studying abroad in Paris.

She worked as a teaching assistant at Cal State Long Beach and as a shop technician, overseeing lower-division students on their design projects.

"She was a warrior, she fought for her dreams," said student Alysia Elnagar, who took a basic design class in which Gonzalez served as an assistant.

"Even as a freshman, she exhibited leadership. She owned the stage whenever she presented," recalled David Lee, design instructor who taught Gonzalez in foundation drawing and advanced drawing classes. "Her magic and beauty was so effortless."