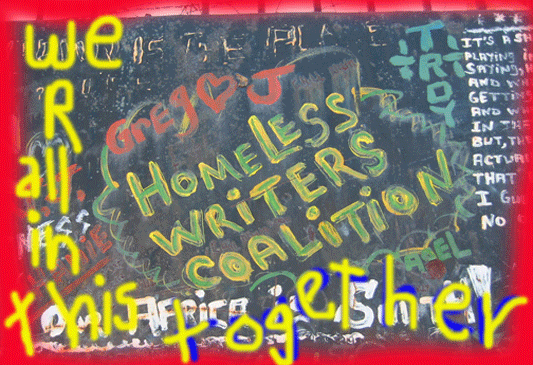 Richard had been a regular commenter at WitnessLA since the site's inception in March of 2007. (I'll call him only by his first name here as his last name is for him to reveal. Regular readers will easily solve the riddle.) He migrated to WLA from my good pal Marc Cooper's blog, where he'd been an intelligent and impassioned commenter for several years.
In the course of the ongoing online public conversation I—we-–learned that in the past Richard had taught English—or maybe it was English composition—at the University of Southern California. We also learned he was very well-educated and that he seemed to have an impressive amount of knowledge of the law, so much so that whenever I would post about some particularly vexing legal issue, several commenters would usually call for Richard to weigh in.

As with other online communities, the world of blogs has opened up an unusual kind of fellowship. After months and sometimes years of digital exchange—-ranging in nature from the usual fractious political colloquy to days-long discussions about which strange Christmas recordings might belong on this year's ultimate top-ten holiday song list—-we come to know people, or we believe we do, without ever having laid eyes on them or having heard the sound of their voices. We also come to care about those with whom we share these electronic meeting halls, our new-fangled public squares.
And so it was with Richard.

As blog mistress I get to look behind the wizard's curtain. In so doing, I noticed that Richard lived in Orange County and that he posted from the Newport Beach Public Library. Knowing him to be ultraliterate, I wondered if he was working as a librarian. A couple of times, Richard disappeared for a week or two, and when he returned he briefly mentioned some health problems. But, he always turned up eventually and would comment with the same intellectual vigor.
In May, he disappeared again. When weeks and weeks went by without a sign of Richard or his comments, some of the other WLA regulars began to worry. I did too. Politically, Richard leans to the left. But even the conservative posters, like Woody, a commenter/sometimes blogger who had fought with Richard for years, at both my blog and Marc's, expressed real concern. Several people had his email address and tried to reach him. But there was no reply.

I finally sent out my own shrilly anxious email to the address I could capture from his posts.
A few days later, Richard answered. Here is what he wrote:

Thanks for the concern. I think it's time to come clean and explain why I've been off line for a time.

First of all I've spent three weeks in hospital with complications from heart failure and diabetes. The later has affected my leg while the former required the implantation of a pacemaker. The rest of the treatments included antibiotics for the infected leg – caused by lymphedema (a swelling related to diabetes which leaks out lymphatic fluid and gets infected).

I should also tell you I am homeless.

Now let me tell you how I got into this state. The fact is for the past two years I've been living on SSI—$870 a month —which doesn't pay for much. I used to share a place, but the person moved so I moved into my car with occasional stops at local motels. But now my car is kaput and till I can cajole something from someone I'm on the street. At least Costa Mesa has decent weather and it's not raining. Social workers are trying to help but since I'm so sick and only have SSI the assisted living places won't take me. My guess is I'll bounce back to the hospital before long. Well a lot of this is my doing I suppose but I noted after fifty, it was very hard to find work and now I couldn't work even if I wanted to.
Stunned that someone whom I felt to be so incredibly bright, good-hearted, accomplished and likable, at least the online Richard I knew, could find himself in such dire circumstances, I asked Richard if he would write a little bit more about his situation and that, if he was willing, I would post it. He said he would endeavor to do so.
Right now I use the facilities at the OC Public Library (Newport Beach Library isn't on a bus line so its hard to get to) and time is limited to an hour a day at each branch. My main concern now is some stable housing plus meals. Believe it or not its hard to even get to soup kitchens when a block's walk is like running the marathon. Right now I'm at the first stage of Maslow's hierarchy of needs—you know, survival. But I'll try to write more soon.

Maybe Father Boyle could use an English instructor!

Yours in faith

Richard
PART II tomorrow