The population of youth in Los Angeles County's probation camps who have had contact with the child welfare system is larger than originally estimated, according to a study by the University of Southern California's Children's Data Network.
Researchers connected the records of 387 youth who exited LA County Probation camps in 2015 with data on earlier referrals to Child Protective Services. The study revealed a "significant" group of teens in probation camps had involvement with the LA County Department of Children and Family Services (DCFS). (For those unfamiliar, kids who come into contact with both the child welfare system and the juvenile justice system are referred to as "crossover youth" or "dual status youth.")
According to the data the USC team gathered, 83 percent of the teens had previously been referred to DCFS for alleged maltreatment at least once (but often more than once). The average number of times that people reported alleged mistreatment was 5.6 times per child.
There's no definitive count of crossover kids in LA or California, however. The new data analysis indicates that the number of crossover kids might be higher than experts previously thought. Some California studies have estimated that 50-65% of kids in the juvenile justice system have had contact with child welfare through reported or substantiated neglect or abuse. And approximately 4,000 of the 40,000 kids in the juvenile justice system in California are in probation-run child welfare.
Approximately 70 percent of the kids experienced their first referral to the child welfare system before the age of 10, and 43 percent of the kids were under five. The most common allegation, according to the report, was neglect, followed by physical abuse, emotional abuse, and sexual abuse.
"Previous research has shown that a first referral of maltreatment is often a seminal event in the life of a child – frequently followed by additional referrals and other adversities," USC researchers Jacquelyn McCroskey, Denise Herz, and Emily Putnam-Hornstein said in their report.
For 148 kids (38 percent), maltreatment reports were substantiated. The child welfare system opened a case for 135 children (35 percent), including in-home cases and out-of-home foster care.
Social workers removed one out of every five justice-system-involved kids from their homes because of abuse or neglect and placed them in foster care. Many of the teens were taken from their families at a young age. Approximately 43% of the youth were removed and placed in foster care before the age of five.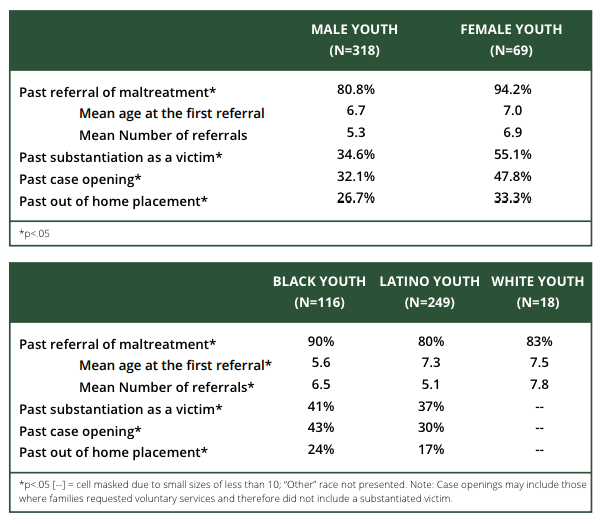 The study aimed to reveal the prevalence of youth under Probation's supervision that had encountered the child welfare system earlier in their lives, but their dual status was not "necessarily known to both systems simultaneously."
Researchers hoped to pinpoint times when supportive services for kids' families "could have helped to resolve family problems at an earlier stage, potentially preventing later entry into the juvenile justice system."
Historically, rather than getting twice the help from contact with two county departments, crossover kids' outcomes have been statistically far worse than their peers who have contact with only one of the two systems.
"These data illuminate the importance of coordinating cross-system responses to "dual status" youth," the report states. "Findings from this study challenge us to consider how implementation of the County's child maltreatment prevention plan could proactively strengthen referral to and engagement with community-based services, helping families get engaged in supports, resources, opportunities and services that may prevent involvement in one or both systems altogether."
---