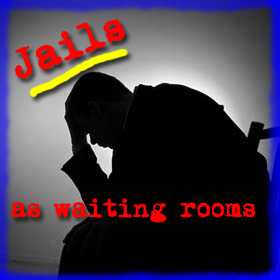 STATE'S MENTALLY ILL WAIT IN JAILS FOR HOSPITAL SPACE TO BECOME AVAILABLE
California's mentally ill who are accused of crimes, but deemed incompetent to stand trial, often have to wait upwards of three to six months in county jail while they wait to get into mental facilities. In some cases, this means inmates spend the entirety of their incarceration time without proper medication or treatment.
The Sacramento Bee's Jocelyn Weiner has the story. Here's a clip:

For Kim Green, the latest chapter of a recurring nightmare began last fall.


In October, her 24-year-old daughter, who suffers from severe bipolar disorder and a mood disorder related to schizophrenia, was booked into the Stanislaus County Jail after being arrested on a probation violation. In December, a judge declared the young woman incompetent to face charges and ordered her to Napa State Hospital to get well.

But with no beds available at Napa, Green said, her daughter instead spent five months in the jail. Green, a registered nurse, said her youngest daughter has been sick since she was a little girl; at the age of four, she tearfully told Green that she didn't want to be alive anymore. By age six, she was hearing voices. Now her family watched, helpless, as she waited in jail, off her medication and increasingly lost in her delusions.

"I guarantee that, with no help, she will end up dead or in the system," Green said.
California Healthline also reports on the issue. Here's a clip:
The state reduced mental health funding by $765 million — more than one-fifth of its mental health budget — from 2009 to 2012, according to a report from National Alliance on Mental Illness. Meanwhile, the California Department of Corrections and Rehabilitation has determined that the number of state prison inmates with mental illnesses has increased from 19% in 2007 to 25% in 2012.

Randall Hagar — director of government affairs for the California Psychiatric Association — said that in many counties, patients with serious mental health conditions often wait three to six months in jail before a state hospital bed becomes available. According to data from the sheriff's department in Stanislaus County, the number of inmates with mental illnesses in the local jail increased by nearly 50% in the past six years.
PS: Just a reminder–the LA County Jail system houses the LARGEST mental institution in the nation.
---
FAMILIES HAVE CONSTITUTIONAL RIGHT TO CONTROL OF AUTOPSY PHOTOS
The California Ninth Circuit ruled Tuesday that under the 14th Amendment's Due Process Clause, families have a right to control whether or not autopsy photos get released to the press.
Business Insider's Erin Fuchs has the story. Here's a clip:
The Ninth Circuit was weighing in on Brenda Marsh's suit against former San Diego District Attorney Jay Coulter over his release of her allegedly murdered son's autopsy photos to a newspaper and TV station.

Marsh's 2-year-old son, Philip Buell, died of a severe head trauma and her then-boyfriend went to prison for second-degree murder. However, his conviction was overturned.

The former San Diego DA — who had kept an autopsy photo as a memento — then released the image to the media along with a piece called "What really happened to Philip Buell?" according to the court opinion.
---
12-ACRE GRAND PARK TO BE OPENED DOWNTOWN MID-JUNE
"Grand Park will make our Civic Center bloom," said LA County Supervisor Gloria Molina of the $56 million park that will open in the middle of downtown Los Angeles early this summer. "In a sea of concrete, Grand Park will be a welcome urban oasis." Molina, who sent out a lengthy and informative press release on the park Tuesday afternoon, is one of a group of county officials who have worked on the Grand Park project. The park is a very welcome addition to the downtown landscape, and is especially heartening at a time when a growing number of state parks are at risk because of budget cuts. It also will provide a much needed new green space for kids in LA's surrounding urban communities, who have long been short on parkland.
The LA Times' Sam Allen has more on the park. Here's a clip:
As Downtown L.A. has seen a boom in residential and commercial development in the last decade, one complaint is heard over and over: There is not enough green space in the heart of the city.

On Tuesday, Los Angeles County officials announced that is about to change. A 12-acre park stretching from the steps of City Hall to the top of Bunker Hill will open this summer. It will be downtown's largest park and its completion marks the first step in an ambitious effort to revitalize the civic center and surrounding areas.

The so-called Grand Park runs between 1st and Temple streets from Grand Avenue to Spring Street. The hillside will include two large lawns, a renovated fountain, a three-quarter mile promenade, gardens and groves, officials said. Events will be coordinated by the Performing Arts Center of Los Angeles County, which also oversees the Dorothy Chandler Pavilion, Ahmanson Theatre and Mark Taper Forum.
You can learn more about the project (and check out a very cool map) at Grand Park's website.