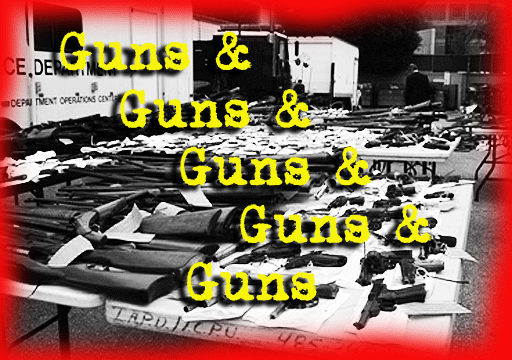 NOVELIST JERVEY TERVALON TALKS ABOUT WHAT IT'S LIKE TO GROW UP WITH GUNS ALL TOO FREQUENTLY POINTED YOUR DIRECTION
This Op Ed by novelist Jervey Tervalon appeared over the weekend in the LA Times and is assuredly worth your time. Here's a clip.
…The time after that my high school girlfriend's drunken stepfather aimed a double-barreled shotgun at me at close range after seeing me hug his stepdaughter while she made French fries for the family. She grabbed the gun from him. Only later did she tell me they had already taken the precaution of hiding the shells.

I accepted these and other encounters with guns as what happened in my neighborhood, even to kids like me who stayed on the right side of the line, the ones who didn't drink, didn't get high and were college-bound.

At UC Santa Barbara, where I went to college, the only time I saw a gun was when the Isla Vista police approached me, and that gun was at least holstered. But then I returned to Los Angeles to teach at Locke High, and I was back in the world of guns. I took over a class for a teacher who had threatened his students with a 9mm pistol. During my time at Locke, one student was shot in the face and left to die at a phone booth, and another was shot for a leather jacket she wouldn't give up….
---
THE OAKLAND SCHOOL SYSTEM HOPES TO COMBAT RISING SUSPENSIONS WITH A FIVE YEAR RESTORATIVE JUSTICE PLAN
Ana Tintocalis has this excellent story for KQED's California Report about an Oakland model for cutting down on school suspensions that, if it works, could set the standard for the state.
Here's a summary:
A number of new education laws in California tackle a particularly alarming issue: the state's schools now issue more suspensions to students than diplomas, especially to African-American students. Nowhere is that more apparent than in the Oakland Unified School District. But now, district officials are pinning their hopes on a new approach to student discipline, called "Restorative Justice."
But listen here.
---
NY TIMES SLAMS OBAMA'S PATHETIC CLEMENCY POLICY
This editorial, which appeared in the New York Times on Sunday, speaks for itself.
Here's a big clip:
Mr. Obama has pardoned only 22 people, fewer than any president since the modern era of pardons began in 1900. [EDITOR'S NOTE: !!!!!] He has granted a pardon for 1 out of every 50 applicants, compared with 1 out of 33 for George W. Bush, 1 of 8 for Bill Clinton and 1 of 3 for Ronald Reagan.

In part, this has been a reaction to Presidents Clinton and Bush, both of whom compromised the pardon power with cronyism. But the basic problem may be that Mr. Obama allowed himself to be crippled by the pardon process itself. That process is managed by the Justice Department, which receives applications for clemency and makes recommendations to the White House.

Presumably, the president is willing to use acts of clemency to right the wrongs of the sentencing and judicial systems. Yet the same cannot be said of the Justice Department, which has a prosecutorial mind-set. It has undermined the process with huge backlogs and delays, and sometimes views pardons as an affront to federal efforts to fight crime.

Over the years, too, the process appears to have been tainted by racial bias. As ProPublica documented in an analysis of Bush administration pardons, whites benefited from pardons four times as often as members of minority groups, even though blacks alone made up 38 percent of the federal prison population. That report prompted a continuing Justice Department review by its Bureau of Justice Statistics.

In addition, the department's pardon office is run by a Bush-appointed lawyer, Ronald L. Rodgers, whose professional conduct has been excoriated by the Justice Department's own inspector general and referred to the deputy attorney general for possible administrative action. In 2008, in transmitting a proposed pardon to the White House, Mr. Rodgers misrepresented the views of both the United States attorney who made the recommendation and the judge who seconded it. The prisoner was denied a pardon.
---
RESTORATIVE JUSTICE MAY HELP WITH SCHOOL SUSPENSIONS, AND LOWER LEVEL CRIMES, BUT WHAT ABOUT MURDER
Also in the NY Times, this story by Paul Tullis in the Sunday Magazine asks if forgiveness in the form of—restorative justice—-can help parents of a murder victim/
The answer seems to be yes, in this particular case.
But it's complicated.
Clipping doesn't really do this story justice. Just read it.
---
KIDS PARTICULARLY VULNERABLE TO FALSE CONFESSIONS, EXONERATION EVIDENCE FINDS
This story by Joyce Lee for the Juvenile Justice Information Exchange looks at the tendency of underage suspects to make false confessions.
Here's a clip:
Carl Williams was 17 years old when Cook County police arrested him in January of 1994. Williams was charged with two counts of murder and one count of sexual assault. He confessed to the crime after a police interrogation and along with four co-defendants, Williams was sentenced to life imprisonment without parole in 1996.

Now, 18 years later, Williams, who claims he is innocent, has been granted an evidentiary hearing and a re-sentencing by the 1st District Appellate Court of Illinois. "The case of the wrong Carl" is a prime example of change in the way Illinois judges view confessions, said Steven Drizin, director of the Center on Wrongful Convictions – and co-founder of the Center on Wrong Convictions of Youth – at the Northwestern University School of Law.

The Cook County justice system interrogates its juveniles as they do its adults. And the center is quite certain that of the 100-plus juveniles currently serving life without parole sentences in the state, many of their convictions were based on false confessions.