PROSECUTORS, LEGAL EXPERTS, AND OTHERS URGE JUSTICE DEPARTMENT TO INVESTIGATE ALLEGATIONS OF MISCONDUCT AT THE ORANGE COUNTY DA'S OFFICE AND SHERIFF'S DEPT.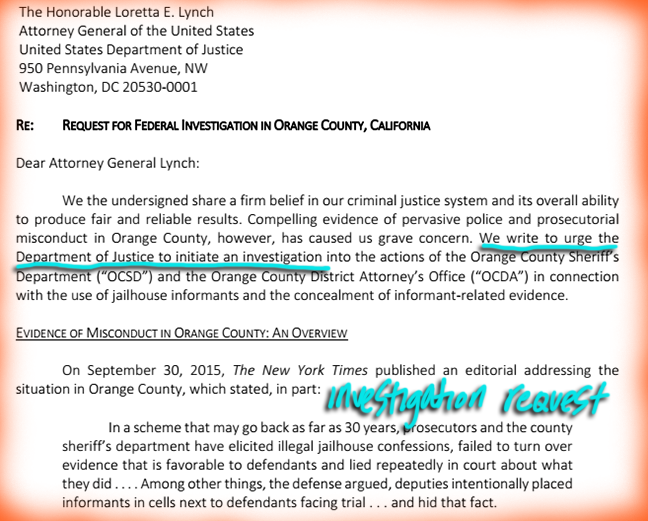 In a 25-page letter to US Attorney General Loretta Lynch, more than three dozen former prosecutors, legal experts, and organizations called for a US Department of Justice investigation into the Orange County District Attorney and the OC Sheriff's Department's use of jailhouse informants and withholding of evidence from defendants.
"We the undersigned share a firm belief in our criminal justice system and its overall ability to produce fair and reliable results," the letter begins. "Compelling evidence of pervasive police and prosecutorial misconduct in Orange County, however, has caused us grave concern."
The alleged misconduct resulted in Superior Court Judge Thomas Goethals' removal of the entire DA's office from the high-profile case of mass shooter Scott Dekraai and the unraveling of a number of other cases.
Among those undersigned are former CA Attorney General and LA District Attorney John Van de Kamp, former LA District Attorney Gil Garcetti, former Chief Assistant United States Attorney Richard Drooyan, as well as Dean Erwin Chemerinsky, of the UC Irvine School of Law, Harvard legal theorist Charles Ogletree, criminal justice scholar Angela Davis, Harvard professor Alex Whiting, and the ACLU.
The writers list reasons why they believe the Orange County's justice system to have reached crisis-level: "Charges in extremely serious cases have been reduced or dismissed; violent crimes—including murders—have gone entirely uninvestigated; to date, four law enforcement officers have refused to testify in pending criminal matters, citing their Fifth Amendment privilege against self‐incrimination; and at least one prosecutor has been found by a court to have given 'incredible' testimony under oath. More troubling still, this all appears to be the tip of the iceberg."
"Orange County requires a thorough investigation by an independent entity, one with the authority to investigate long-concealed evidence in the custody of the OCSD and OCDA," concludes the letter. "The unwillingness of the OCSD and OCDA to acknowledge the due process implications of the alleged misconduct has become only more entrenched as attention to the situation has grown. Nearly two years have passed since many of these issues were first brought to the attention of the OCDA and OCSD, allowing them ample time to demonstrate their ability to bring themselves into conformity with core constitutional principles. It is our firm belief that the Department of Justice is the only entity equipped to conduct this investigation and restore public confidence in the criminal justice system in Orange County."
(For backstory on the OC's misconduct scandal, go here.)
---
MARK-ANTHONY JOHNSON OF DIGNITY AND POWER NOW RECORDS VIDEO REBUTTALS TO LASD SHERIFF JIM MCDONNELL'S VIDEO OP-EDS CRITICIZING PROP. 47
At the beginning of November, as part of a series of LA Times editorials on Prop. 47 and its effects, LA County Sheriff Jim McDonnell videotaped a few short op-ed messages sharing his take on the law one year into its implementation. Sheriff McDonnell said that the law has removed consequences beyond citations for certain offenses, and has made Californians less safe than they were a year ago.
Mark-Anthony Johnson, wellness director for the nonprofit Dignity and Power Now, shot a series of op-ed videos in direct response to McDonnell's videos.
You can watch the first video message above, but head over to the Times for the rest.
---
LA SHERIFF AND OTHERS WILL GATHER TO LAUNCH COALITION TO END YOUTH SEX TRAFFICKING
Today (Thursday), LA County Sheriff Jim McDonnell will launch the Los Angeles Regional Human Trafficking Task Force along with LAPD Chief Charlie Beck, Los Angeles County Supervisors, United States Attorney Eileen M. Decker, advocate groups, and young victims of sex trafficking.
Through partnerships with community groups as well as county, state, and federal agencies, and a $1.5 million grant from the DOJ, the task force will combat human trafficking, with a particular focus on protecting victims of child sex trafficking and prosecuting those who buy and sell children.
The launch of the new task force follows Sheriff McDonnell's October announcement that there's "no such thing as a child prostitute." (WLA reported earlier this month on why the LASD's focus on child sex trafficking is so important.)
---
AND WHILE WE'RE ON THE SUBJECT OF SEX TRAFFICKING…US SEN. DIANNE FEINSTEIN SAYS TARGETING YOUTH HOMELESSNESS WILL REDUCE EXPLOITATION OF MINORS
In an op-ed for the LA Daily News, US Senator Dianne Feinstein says prosecution of buyers of children and teens, as well as better coordination between law enforcement and social service providers, must be top priority in the fight against sex trafficking.
Feinstein says that targeting youth homelessness would go a long way toward helping young victims. A bill introduced by Sen. Feinstein and Sen. Rob Portman, called the Homeless Children and Youth Act, would give kids who live in motels (or do not have a permanent home) access to programs and resources for the homeless. Here's a clip:
In California, the number of homeless children has nearly quadrupled since 2003. According to recent data from the Department of Education, there are nearly 120,000 homeless youth in Los Angeles, Riverside and San Bernardino Counties alone.

A 2013 Covenant House survey of trafficking victims showed that nearly half had been homeless. The University of San Diego study also confirmed that homeless and runaway children are at much greater risk of being trafficked.

The good news is that real progress is being made in Los Angeles. Sheriff Jim McDonnell and I convened a meeting in August with law enforcement, public officials and advocates to discuss how we can fight trafficking. There was consensus that this problem is growing quickly and meaningful action must be taken to address it.

The Board of Supervisors, with the support of Sheriff McDonnell, passed a resolution recognizing that child trafficking victims like Carrie are victims, not prostitutes.

Sheriff McDonnell has also partnered with the FBI, Department of Homeland Security, LAPD Chief Charlie Beck, District Attorney Jackie Lacey, U.S. Attorney Eileen Decker and regional colleagues to launch a task force to better coordinate investigations and rescue operations, and connect victims to services. Through collaboration, traffickers will end up where they belong — behind bars — and these girls will get help…

Coordination between law enforcement and social service providers must be continually improved so victims don't fall through the cracks, and we need to do much more to address youth homelessness, one of the root causes of the trafficking epidemic.