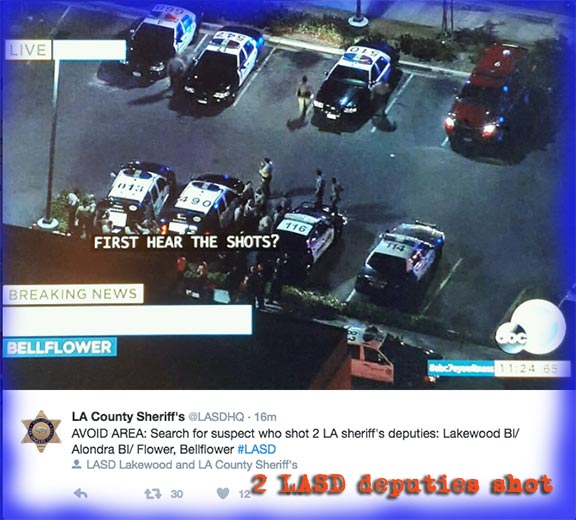 UPDATE: SUSPECT ARRESTED ON SUSPICION OF SHOOTING DEPUTIES
On Friday morning, authorities arrested a male suspect who allegedly shot two Los Angeles County Sheriff's deputies while fleeing a DUI checkpoint Thursday night. The suspect reportedly shot a deputy who had followed him on motorcycle. The deputy returned fire. The suspect fled on foot, and fired several more rounds at responding deputies, hitting a second officer. Still in flight, the suspect shot at a third group of deputies, who also returned fire.
By Saturday afternoon, the first deputy had been discharged from the hospital and sent home to rest with his family. The condition of the second deputy, who was in recovery after surgery, was still serious but improving.
We will continue to update as the story continues to unfold.
---
MANHUNT UNDERWAY AFTER LASD DEPUTIES INJURED IN BELLFLOWER SHOOTING
Two on-duty Los Angeles County Sheriff's deputies were shot in the 900 block of Oak St. in Bellflower on Thursday night. Both were rushed to the hospital, their conditions unknown. The shooting took place around 10:30 Thursday night but as of 12:30 a.m.the suspect was still "outstanding," according to a department spokes person.
More news is expected.
---
POSSIBLE CALIFORNIA BALLOT MEASURE TO SHINE LIGHT ON POLICE MISCONDUCT CASES FOLLOWING OAKLAND SCANDAL
California Senator Mark Leno (D-San Francisco) says he's considering sending a ballot measure before voters that would open up police personnel files to the public, as a wild sex scandal within the Oakland Police Department continues to develop. (A bill Leno authored to do just that—in cases of serious uses of force and sexual assault—died in the Senate Appropriations committee late last month, mere weeks before news of the OPD scandal broke.)
Leno won't be able to reintroduce his bill, as he will be termed out of office this year. Leno says that the law enforcement lobby is so powerful, that it may not be possible to get it through the legislature, anyway. "The only way we may have to change these secrecy laws would be to go to the ballot," Leno told KQED. He may try to get his proposal in front of voters in 2018, when the next California gubernatorial election will be held.
If you've missed the backstory, earlier this month, a young woman who calls herself Celeste Guap told a television station that she had sex with more than a dozen OPD officers, three of whom she reportedly had sex with while she was 17—in 2014. After the news broke about the OPD passing around a minor for sex, the police chief resigned. Six days later, Schaaf sacked the interim chief. A few days after that, sacked the second interim chief. Fed up, the Mayor placed the City Administrator in charge of the OPD, vowing to weed out "toxic, macho culture."
KQED's Ted Goldberg has the story. Here are some clips:
"It's quite possible it cannot be done legislatively, that the power of the law enforcement lobby is so intense that it's not going to move successfully through the Legislature," Leno said in an interview. "The only way we may have to change these secrecy laws would be to go to the ballot."

[SNIP]

During Mayor Libby Schaaf's most recent news conference, announcing that yet another police chief was stepping down, she said 11 times that she was not able to release details about the investigations.

That has been frustrating to members of the Oakland City Council, who say they've been kept in the dark on the multiple investigations into some police officers who allegedly had sex with an underage girl and others who allegedly traded racist text messages.

"I think I can speak for the entire council of our frustration, not knowing what others know," City Councilman Larry Reid, who represents East Oakland, told reporters recently. "We certainly understand that the police have these enormous rights given under the state law as it relates to law enforcement officers, but we would like to know something."

Reid asked City Administrator Sabrina Landreth to find out from City Attorney Barbara Parker if the council can get more information about the investigations in closed session.

"We are having to rely on those of you who have to report the news on a daily basis for us to learn anything about what's going on with our Police Department," Reid said.
---
CALIFORNIA DOJ INVESTIGATING COVERUPS BY SAN BERNARDINO COUNTY CHILD WELFARE OFFICIALS OF DEATHS AND NEAR-FATAL ABUSE
On Wednesday, California Attorney General Kamala Harris announced that her office's Bureau of Children's Justice is in the middle of an investigation into San Bernardino County's child welfare system after former social workers accused county officials of covering up deaths and serious abuse of kids in the child welfare system.
In fact, Harris said that the San Bernardino investigation was one of the key reasons the Bureau of Children's Justice was established. Harris announced the investigation so that members of the public with any relevant information could contact the Bureau of Children's Justice.
"Our children embody California's future and deserve legal rights and equal opportunities to succeed," Harris said in a statement. "I created the Bureau of Children's Justice last year to shine a spotlight on accountability and enforcement gaps that put our children at risk and to protect vulnerable children like foster youth."
Former social workers Eric Bahra and Mary Anna Whitehall have filed two lawsuits alleging retaliation for their whistleblowing.
The San Bernardino Sun's Joe Nelson has more on the investigation. Here are some clips:
"We are looking more broadly than any one individual incident. We're looking at the need for systemic reform and potential systemic breakdowns," said Jill Habig, special counsel to the attorney general, on Wednesday. "The reason we're disclosing this now is we're at a point in the investigation where we need public engagement and input so we have a full, thorough and impartial investigation. We're putting this out so people can contact us and provide information."

The investigation was launched last year amid allegations by former social workers that top San Bernardino County officials covered up incidents in which children in the juvenile dependency system either died or were severely abused by their parents or foster parents. At least two lawsuits have been filed by former San Bernardino County social workers alleging whistleblower retaliation.

[SNIP]

Whitehall alleges in her lawsuit that she was placed on administrative leave six days after she and two other social workers filed motions in juvenile dependency court alleging the Department of Children and Family Services committed fraud upon the court in order to discredit Bahra, which ultimately led to his termination.

Specifically, top DCFS officials, Whitehall alleges, attempted to discredit Bahra by falsifying evidence in a July 2013 case in which Bahra and another social worker responded to a report of a dead infant at a San Bernardino residence. Bahra reported the home smelling of methamphetamine, and that four other children in the home showed signs of physical abuse. He recommended they be removed from the home and placed into foster homes. The social worker who accompanied Bahra that day, Melissa Pena, corroborated Bahra's assessment.

But DCFS officials, Whitehall alleges, falsified evidence and told the court Bahra lied in his reports and breached confidentiality. They recommended the four surviving children be returned to their biological parents. By doing so, DCFS jeopardized the safety of the four children, Whitehall alleges.
---
THE CASE FOR ENDING RANDOM WEAPON CHECKS IN LAUSD SCHOOLS
At a meeting on Tuesday, a group of teachers, students, and parents called for an end to mandatory daily random weapon searches in Los Angeles Unified School District middle schools and high schools. The school board agreed to reconsider the policy, which was established in 1993, following a fatal shooting at Fairfax High School. The recent refusal of LA-area charter schools to adopt the weapon search policy rekindled the debate about the practice, which advocates say leads to racial profiling.
On KPCC's Air Talk, Patt Morrison, standing in for host Larry Mantle, talks with David Holmquist, General Counsel for the LAUSD, and Christina de Jesus, President and CEO of Green Dot Public Schools California about the practice.
Holmquist credits the metal detector search policy as the reason the district has been free of school shootings since '93. "Obviously, there haven't been any incidents—major gun discharges—as a result of our policy, and we confiscated, over this past year, 440 different weapons," Holmquist said. "Fifteen of them were guns."
And addressing parents' and teachers' concerns that the practice leads to racial profiling, Holmquist said the district's duty is "to all students, not just those that are feeling singled out."
De Jesus said that students' safety is a top priority for Green Dot, and that the search policy is not part of a system that keeps kids safe, and will also "uplift, empower, and inspire the youth in the communities…"
Holmquist said that if Green Dot doesn't follow LAUSD protocol, their charters may be revoked.