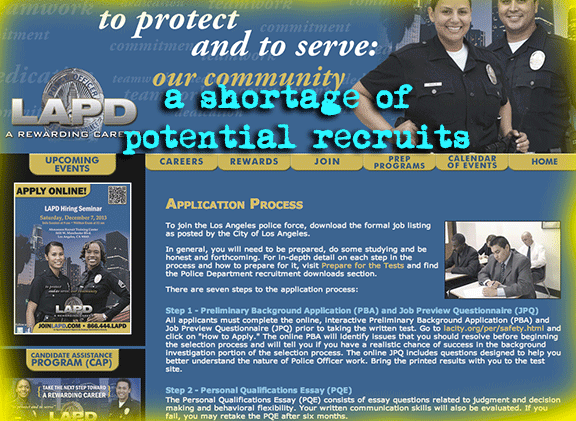 FEWER QUALIFIED LAPD JOB-SEEKERS LEAVES DEPARTMENT UNDERSTAFFED
Over the last few months, the LAPD has experienced a substantial drop in qualified recruits, and thus, are short-handed by over 100 officers. According to department officials, an unusually high number of applicants are being disqualified by their answers to background questions. (It seems the LAPD would rather be a bit understaffed than, say, hire recruits with colorful histories of misconduct.)
The LA Times' Joel Rubin has the story. Here's a clip:
Fewer people are applying to join the LAPD and, of those who do, a significantly higher number of them are being disqualified from consideration. Officials say budget cuts have slashed the advertising used to draw recruits while other departments are luring top talent with higher salaries than the LAPD offers.

Since the decline began several months ago, the LAPD is down more than 100 officers. The department needs to hire about 350 officers a year to make up for normal attrition, and officials say they could remain understaffed for years if the current trend holds. Earlier this year, Mayor Antonio Villaraigosa and Chief Charlie Beck celebrated the 10,000-officer milestone, a target the city has sought to attain since the L.A. riots in 1992.

[SNIP]

Budget cuts also have forced the personnel department to do away with nearly all of the billboard advertisements and commercials on radio and television stations that it used to rely on to spread the word that the LAPD was hiring, said Bruce Whidden, a spokesman for the personnel department. Also gone are $1,000 recruitment incentives the office used to pay to current officers and others whenever someone they convinced to apply completed the academy.

"We have been living off the momentum built up over the years, but it is slowing down," Whidden said. "The LAPD is not the only game in town anymore."

The larger problem, however, is with the people who do want to join the LAPD.

With the already depleted applicant pool, the number of people failing to make it through the city's vetting process has jumped by a third, according to city figures.

Many of the applicants are being eliminated because of their responses to 173 questions about past drug use, run-ins with the law, financial problems and other potential possible character flaws, officials said.
---
AND WHILE WE ARE ON THE TOPIC: SHERIFF BACA MAKES STATEMENT ABOUT TROUBLING HIRING PRACTICES
In light of the LA County Board of Supervisors' call for accountability on Tuesday, Sheriff Lee Baca told reporters on Wednesday that the department could have done a better job of hiring and that the task should not have been left solely to former undersheriff Larry Waldie.
The LA Times' Bob Pool, Robert Faturechi and Ben Poston have the update. Here's a clip:
Baca, who had previously declined to be interviewed on the subject, said "the undersheriff" was responsible for the hires — a reference to his former second-in-command, Larry Waldie, who led the expansion.

"We should not have relied on just one person" to make the hiring decisions, Baca said.

Baca's spokesman, Steve Whitmore, later elaborated on the sheriff's comments. Whitmore said the sheriff "doesn't know yet" if his agency hired officers it shouldn't have. He said the shortcomings Baca was referring to were how the process was handled — instead of leaving the decision on who to hire completely up to the undersheriff, "it should have been done with several people."

Baca "believes he should have been more involved," Whitmore said.

Waldie and a small circle of aides were responsible for reviewing the background files. In an earlier interview with The Times, Waldie said he personally reviewed many of the applicants' files, but he said he was not aware of any hires with histories of significant misconduct.
---
COMPASSIONATE RELEASE STILL RARELY GRANTED AFTER AG HOLDER'S REFORMS
In August of this year, US AG Eric Holder unveiled a multitude of important criminal justice reforms, one of which was widening the compassionate release application process, formerly only open to the terminally ill, to include other inmates with "extraordinary and compelling circumstances." Still, it is granted infrequently.
The problem, ProPublica's Christie Thompson points out, is that the same prison bureaucrats are deciding who gets considered for compassionate release as before. Prison officials have to approve an application before it goes to a judge for a final decision. Not surprisingly, very few applications make it to the judge's bench.
Here's a clip:
The government has long been criticized for rarely granting compassionate release. This August, Attorney General Eric Holder announced the Justice Department would try to change that by expanding criteria for who can apply.

Under the new guidelines, compassionate release can be granted not just to prisoners who have terminal illnesses, but also to those with debilitating conditions. Prisoners who need to serve as caregivers for family members may now also seek reductions in sentencing. And for the first time, elderly federal inmates who aren't necessarily dying or incapacitated can apply to be let out early.

Holder touted the compassionate release initiative as one way to cut down on the "astonishing" federal prison population, which has grown by nearly 800 percent since 1980.

But even if the changes enable more inmates to apply for compassionate release, prison officials still have almost total discretion over who is approved.

A federal prison's warden, as well as the Bureau of Prisons' regional director and central office must sign off on an inmate's application before it is passed on to a judge. Any of those officials can reject applications for a number of reasons, from a perceived risk of recidivism to concern for what's best for a prisoner's child, as in Barnes' case. There is no process for inmates to appeal those decisions in court.

Many advocates say they expect eligible inmates will remain behind bars despite the changes. "I don't believe it's going to change at all," said lawyer Marc Seitles, whose client was denied release despite terminal cancer. "It's still the same people making decisions."

In September, Bureau of Prisons Director Charles Samuels said he predicted expanding eligibility would result in the "release of some non-violent offenders, although we estimate the impact will be modest." (The agency declined to make Samuels available for comment to ProPublica.)

As of October 29, The Bureau of Prisons had approved and passed along 50 compassionate release requests to judges this year. That's up from 39 in 2012 and 29 in 2011.

It's impossible to know if the overall rate of approval has increased, as the federal Bureau of Prisons hasn't released the number of inmates who have applied.

The Bureau says it recently started to track inmate requests, after an Inspector General report earlier this year excoriated the department for failing to do so. The report also found most inmates didn't even know the program existed.

[SNIP]

Many lawyers and prisoner advocates have said the "jailers are acting as judges" by rejecting most compassionate release cases without ever passing them onto the courts for a final decision.

"The Bureau of Prisons should be letting judges have the opportunity to decide every time extraordinary and compelling reasons come to their attention, and [they are] not doing that," said federal public defender Steve Sady, who has written extensively on the issue and represented clients requesting early release. "We believe that, under the statute, the sentence is for the judge to decide."
A DOJ report released earlier this year, found that, while compassionate release does save the Bureau of Prisons money and help reduce overcrowding, the bureau does not collect cost savings data, let alone analyze overall savings:
The release of inmates through the compassionate release program provides cost savings for the BOP and assists the BOP with prison population management. We found that a properly managed compassionate release program inevitably provides cost savings to the BOP and provides assistance to the BOP in addressing its ever-increasing and significant capacity problems.5 However, we also found that the BOP does not maintain cost data associated with the custody of inmates eligible for consideration under the program, and we found that the BOP has conducted no analysis of cost savings achieved by releasing such inmates. As a result, neither the BOP nor the OIG can determine with any precision the costs associated with providing health care to inmates eligible for compassionate release or the cost savings achieved by releasing eligible inmates.
---
SHOULD SENTENCING POWER BE IN THE HANDS OF PROSECUTORS?
Another piece of AG Holder's reform package, was instructing prosecutors to stop seeking harsh mandatory minimum sentences for low-level, non violent drug offenders.
In an op-ed for CNN, Mark W. Bennett, a U.S. District Court judge in Iowa, and Mark Osler, professor of law at the University of St. Thomas in Minneapolis and a former federal prosecutor, say Holder's reforms are an important step, but sentencing power should not be in the hands of prosecutors in the first place. Mandatory minimums and sentencing guidelines give prosecutors control that is best left with the federal judges, who are the neutral parties in the criminal justice equation, whereas prosecutors are not.
Here's how it opens:
Nearly 30 years ago, Congress embarked on a remarkable and ultimately tragic transformation of criminal law. Through the establishment of mandatory sentences and sentencing guidelines, discretion in sentencing was shifted from judges to prosecutors.

After the changes, prosecutors largely controlled sentencing because things like mandatory sentences and guideline ranges were determined by decisions they made.

This change ignored the fact that federal judges are chosen from the ranks of experienced members of the bar precisely because their long legal careers have shown the ability to exercise discretion.

It also ignored the contrasting truth that many federal prosecutors are young lawyers in their 20s and 30s who have little experience making decisions as weighty as determining who will be imprisoned and for how long.

The primary reason for the changes was well-intended, though: Members of Congress wanted more uniformity in sentencing. That is, they wanted a term of imprisonment to derive from the crime and the history of the criminal rather than the personality of the person wielding discretion.

After nearly 30 years, we know how Congress' experiment turned out, and the results are not good. Federal judges have been relatively lenient on low-level drug offenders when they have the discretion to go that way. Turning discretion over to prosecutors via mandatory sentences and guidelines not only resulted in a remarkable surge in incarceration, it does not seem to solve the problem of disparities…
(Read on.)