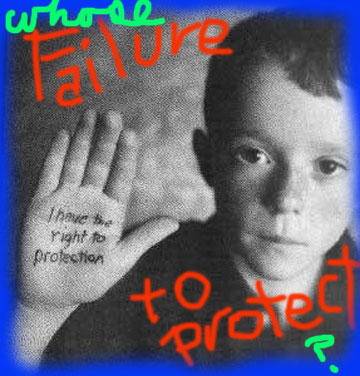 Over the Weekend the LA Times editorial board ran a stellar essay that righteously slams the LA County Supervisors for their refusal to turn over reports to a state auditor examining the reasons behind the deaths of children in various counties who died while being overseen by the Department of Children and Family Services, their refusal couched in a preposterous claim of attorney/client privilege.
Here is a clip from the heart of the well-reasoned editorial:
The county's in-house lawyers and outside law firm assert that child death files are protected by the attorney-client privilege. That absurd and outrageous justification for non-disclosure is laughable, or would be, were the consequences not so tragic.

First, many of the files are not privileged at all. The DCFS conducted internal reviews of child deaths, which were then forwarded for review and approval to the county counsel's office. An after-the-fact sign-off by lawyers cannot and does not render a document privileged. Otherwise, the Board of Supervisors would be able to sit on every ostensibly public record in its possession simply by sending it to its lawyer's office for a rubber-stamp.

Second, even files that arguably are privileged could and probably should be released. The privilege belongs not to the lawyers but to the client — Los Angeles County — which can waive its prerogative, and should do so, in the public interest. It is true that the county's interests are articulated by the five elected supervisors, but those supervisors have increasingly focused on their own needs rather than those of the vulnerable children, grieving families, responsible taxpayers and hosts of others they are elected to represent. They too often ask their lawyers for advice on how to avoid outside critique and — surprise — are told that the matters they discuss with counsel are privileged and beyond disclosure. It's a boot-strapping argument that locks the public and, in this case, the state out of their proper oversight role. It perpetuates the county's continuing failure.

The actual rationale for stonewalling the state audit became apparent in a letter from the county's outside counsel: "Further, your office's demand that the county produce self-critical documents, and subject them to the bureau's critique, threatens to destroy the very type of child protection — unfettered self-evaluation — that this audit seeks to promote."

That says it all. The only evaluations of the county will be those it performs itself, and the results of those evaluations will remain known only to the county. Not since the days of Chief William H. Parker's Los Angeles Police Department has this region seen an institution steeped in such arrogance, insularity and contempt for public accountability. None of the other counties being audited — not Fresno, not Sacramento, not Alameda — have objected to the state's request for child death files.
Yet what was especially notable about the editorial is that it also subtly took to task its own coverage of these deaths with this surprising—and very accurate—paragraph:
Child deaths from abuse and neglect are fraught with emotion and can result in sensational headlines, in newspapers like this one, to which supervisors feel compelled to respond. One more study of fatalities, such as the state audit demanded after the killing of Seth Ireland, steeps policymakers in a swamp of exceptional failures and worst cases. It makes it easy to forget that data show overwhelmingly that outcomes are better for children who stay in their homes — even with families struggling with poverty, even in neighborhoods with inadequate schools — than for those removed by well-meaning or backside-covering county agencies. It makes it easy to forget that the county's most effective and most economical response to children in trouble is to help their families with resources and programs to cope with their challenges….
This writing is especially appreciated by those of us who have long worried that the nature of the Times coverage of these terrible deaths of children would cause lawmakers to pressure DCFS to take more kids into foster care and to fail to help poor but essentially loving parents to strengthen themselves so that they and their children might thrive.
(It wasn't too long ago that an LAT editor used the pages of the paper to attack me and journalist advocate Daniel Heimpel for making the very same point but in greater detail.)
In any case, this important editorial was badly needed. A large thank you to the LA Times editorial board for their forceful and intelligent writing.