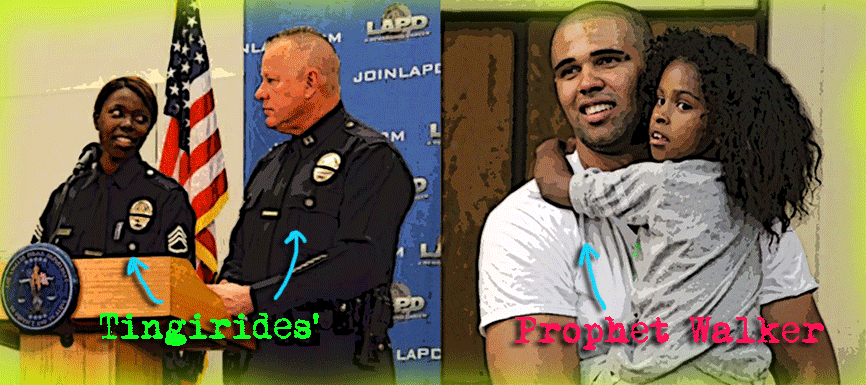 LOS ANGELES COPS AND FELON-TURNED-PRISON-REFORMER HONORED AT STATE OF THE UNION
First lady Michelle Obama invited LAPD Captain Phil Tingirides, of the Southeast Division, and his wife, Sergeant Emada Tingirides, to sit with her during the President Barack Obama's State of the Union speech on Tuesday.
The Tingirides are responsible for the Community Safety Project, an experimental LAPD squad created to build positive relationships with the community of Jordan Downs, a 700-unit public housing project in Watts.
LA Times' Veronica Rocha and Kate Mather have more on the Tingirides duo. Here's a clip:
LAPD Chief Charlie Beck told reporters Tuesday that he was "very, very proud" of the Tinigirides' invite, calling the captain and sergeant "a great representative of the city of Los Angeles and what's going on here."

"This is a national stage right now. Police legitimacy, public trust, police-community relations are all at the forefront of everybody's thoughts right now," he said.

"Even though we have much to do in L.A., we have done a lot," Beck said. "And to recognize that, the president's recognition of that, is very gratifying."

The city's housing authority gave the LAPD $5 million in 2011 to create the program. Focusing on some of South L.A.'s toughest housing developments, officers worked alongside residents and community members to repair frayed relationships.

Capt. Tingirides first attended a Watts neighborhood meeting more than eight years ago, and learned how deep frustrations and feelings of hopelessness ran.

"I was getting my butt handed to me," he said.

So, he said he decided just to listen as residents expressed their frustration. Gradually, he said, he realized the anger wasn't necessarily directed at him, but directed toward the uniform he wore.

"There is a lot of good people in Watts and South L.A.," the captain said, "and good cops that want to make a difference."
The inspiring prison reformer and former juvenile offender, Prophet Walker, was also honored at the State of the Union address. (We've written about Prophet before, here.)
The Daily Breeze has more on Prophet's story and why he was chosen to sit with Michelle Obama during the SOTU speech. Here's a clip:
"When I was 16 and sentenced to (jail), I couldn't see the next six years, let alone the next 12 and that I'd be here today," he said, soon after landing in Washington, D.C. "This is an incredible, once-in-a-lifetime opportunity."

Walker, who grew up in a housing project in Watts, the son of a heroin addict who abandoned him at 6 years old, received a six-year jail sentence for robbery and causing bodily injury.

But while incarcerated, Walker took a hard look at his life and decided to make a change, getting a college education and coming up with an innovative program to help prisoners get college degrees. He attended Loyola Marymount University's school of engineering. More than 100 people in the program he founded have gone on to attend various universities.

Walker said he knows Tuesday's recognition is not just for him, but for all of the people involved in the camp and prison education program.

Hoping to strengthen the bond between law enforcement, the community, parents and children of housing projects, he later co-founded the Watts United Weekend for underprivileged kids to attend weekend camp retreats.
KPCC's Frank Stoltze shares five different takes on how the LAPD is doing with its community policing efforts. Here is the clip from Capt. Tingirides thoughts on the issue:
The LAPD's top commander in Watts is Captain Phillip Tingirides, a 35-year veteran of the department. For the past seven years, he's worked to improve relationships, he says.

"For the first three years, it was a constant attack," Tingirides says of how people treated him and the department. "There was a lot of listening that had to be done. There had to be a lot of owning up to the things that we as a police department had done."

Tingirides says he also took action. He reconstituted his gang unit, bringing in officers who treat people with more respect. Officers assigned to the housing projects work there five years, and focus on solving problems not arrests. It's considered a model of community policing.

"We have built a far more functional relationship," Tingirides says. The veteran captain adds that the people who protest outside police headquarters are a "minute minority."

"There are far more people who are sitting at home watching TV very supportive of us," he says.
---
FEDS GEAR UP TO CLEAR DARREN WILSON IN DEATH OF MICHAEL BROWN
The FBI has concluded its investigation into the fatal shooting of Michael Brown, and has found no grounds for civil rights charges against Ferguson officer Darren Wilson. According to a law enforcement official and a US official, Department of Justice prosecutors will not recommend that any charges be brought. While US Attorney General Eric Holder and Civil Rights Chief Vanita Gupta have the final authority on the issue, it is not expected that they will veto the decision.
The NY Times' Matt Apuzzo and Michael Schmidt have the story. Here are some clips:
Attorney General Eric H. Holder Jr. and his civil rights chief, Vanita Gupta, will have the final say on whether the Justice Department will close the case against the officer, Darren Wilson. But it would be unusual for them to overrule the prosecutors on the case, who are still working on a legal memo explaining their recommendation.

A decision by the Justice Department would bring an end to the politically charged investigation of Mr. Wilson in the death of 18-year-old Michael Brown. The Missouri authorities concluded their investigation into Mr. Brown's death in November and also recommended against charges.

But a broader Justice Department civil rights investigation into allegations of discriminatory traffic stops and excessive force by the Ferguson Police Department remains open. That investigation could lead to significant changes at the department, which is overwhelmingly white despite serving a city that is mostly black.

[SNIP]

The federal investigation did not uncover any facts that differed significantly from the evidence made public by the authorities in Missouri late last year, the law enforcement officials said. To bring federal civil rights charges, the Justice Department would have needed to prove that Officer Wilson had intended to violate Mr. Brown's rights when he opened fire, and that he had done so willfully — meaning he knew that it was wrong to fire but did so anyway.
---
A PUSH TO RAISE THE AGE OF CRIMINAL RESPONSIBILITY TO 18 IN ST LOUIS, NEW YORK, AND ELSEWHERE
California's age of criminal responsibility is 18, but in 9 other states, including Missouri, 17-year-olds are automatically treated as adults. And in two of those nine states, New York and North Carolina, 16-year-olds are seen as adults in the eyes of the criminal justice system.
NBC's Seth Freed Wessler and Lisa Riordan Seville takes a look at what happens when states make kids pay adult penalties for youthful, low-level crimes, and adult fines for traffic tickets. Here are some clips:
Advocates for criminal justice reform in New York City have in recent years battled to roll back the "broken windows" model of policing. While supporters say the aggressive enforcement of quality-of-life crimes has dramatically reduced overall crime, reformers say it has done more harm than good.

In Ferguson, Missouri, the August shooting of 18-year-old Michael Brown put a spotlight on that area's municipal court system, which many say ensnares low-income residents in a cycle of legal and financial trouble for traffic and ordinance violations.

For minors—especially those from low-income families and black and Latino neighborhoods, advocates say—getting convicted of low-level crimes can lead to lasting, and devastating, adult consequences.

Teens…who can't afford to pay fines and fees often don't show up in court, which can trigger warrants that can lead to arrest. Unpaid fines can mar credit records.

"We assume young people have the wherewithal to pay hundreds of dollars in fines and fees, when these young people are too young to enter into a contract, sign a lease, or even buy cigarettes," said Mae Quinn, a director of the Juvenile Law and Justice Clinic at Washington University Law School.

[SNIP]

New York City courts issued 1,400 warrants to 16- and 17-year-olds represented by Legal Aid each year between 2011 and 2014. During the same years, the court handed down 1,600 misdemeanor and violation convictions to Legal Aid clients under 18 annually. State courts attach surcharges of between $90 and $300 to each of those convictions. If defendants of any age fail to pay these surcharges, they can be pegged with civil judgments that blemish their credit.

New York City contracts with nonprofits to help divert juveniles out of criminal penalties but most of these programs target felony charges, the mayor's office said. Youth advocates say lower level charges have damaging effects, too.

Nancy Ginsburg, who directs a project of New York's Legal Aid Society focused on defending adolescents, said there's a particular irony that youth interactions with the criminal system can lead to ruined credit since they are not legally allowed to engage in most financial activities.

Teenagers in New York "can't even get a tattoo legally," Ginsburg said. "There's not one civil contract or benefit that they can get—we don't even have legal emancipation in this state—except to be prosecuted as an adult."
---
SUPREME COURT RULES IN FAVOR OF MUSLIM PRISONER'S RELIGIOUS RIGHT TO GROW BEARD
The United States Supreme Court ruled unanimously in favor of a muslim Arkansas prisoner wishing to grow a half-inch beard necessitated by his religion.
USA Today's Richard Wolf has more on the decision. Here's a clip:
Federal law bars public institutions such as prisons from imposing a substantial and unjustified burden on the free exercise of religion. In this case, a prisoner named Gregory Holt had converted to Islam and sought permission to grow a half-inch beard, citing the tenets of his faith. The state refused the request, citing security concerns — that the beard, for instance, could be used to hide contraband.

Justice Samuel Alito, writing for the court, called the state's justifications "hard to swallow." He noted that prison systems in the vast majority of states, and in the federal system, all allow prisoners to grow beards. And he pointed to the fact that prisoners in Arkansas are allowed to grow hair on their head and wear clothes — more plausible places to hide contraband.

Nevertheless, prisoners are not required to go about "bald, barefoot or naked," he wrote.