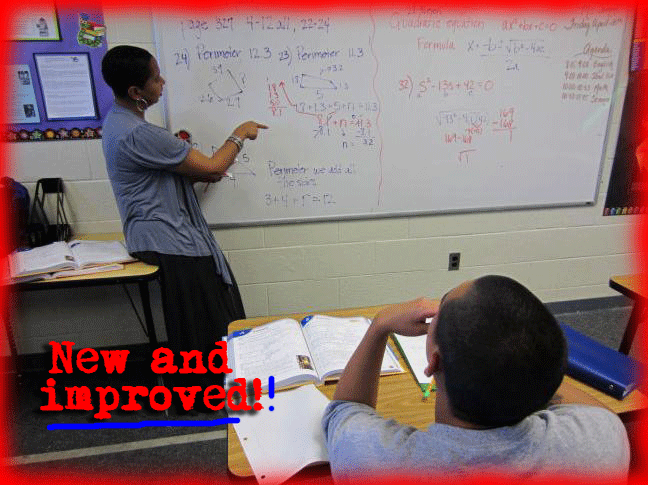 LA COUNTY'S LARGEST YOUTH PROBATION CAMP SEES MAJOR IMPROVEMENTS ON FORMERLY APPALLING CONDITIONS
Challenger, LA County's largest juvenile probation camp, has come a very long way from the once horrifying conditions it subjected kids to. In November of 2010, the ACLU, Public Counsel, and the Disability Rights Legal Center settled a landmark lawsuit over Challenger's then unconscionable education system. (WitnessLA's previous post on the lawsuit can be found here.) Two years later, Challenger has had a complete turn-around, giving its education system the potential to be a model for juvie probation camps across the country, says KPCC's Tami Abdollah in a pair of stories on the camp. Here are some clips from the first story:
Probation and education officials have trained together under a new "behavior management model" called Positive Behavior Interventions and Supports.

The program has landed Challenger in a study funded by the U.S. Department of Education that evaluates the effects of it in juvenile corrections.

Since January, PBIS has slowly reduced the numbers of students written up for bad behavior from dozens a day to as few as two. Staff put up posters in classrooms illustrating proper classroom behavior.

"We assumed kids knew what was expected of our kids in the classroom, but that was not true," said Kimberly Humphries, assistant principal for special education. "Because our kids have not traditionally been in school. They've been kicked out, they don't go."

The change is one example of the biggest shift that has taken place at Challenger: a change from a "punitive coercive culture" to a more "positive cooperative culture," said Watkins.

"Instead of constantly catching the kids when they were doing something wrong, we needed to flip that, and start to catch the kids when they were doing things right," Watkins said. "A lot of our attention was being focused on the kids who were not behaving, … and there were probably a lot more kids behaving."

[SNIP]

It costs roughly $139,500 per year, per bed, to house and educate minors at a county juvenile detention camp, according to county officials. Traditionally, it is more expensive than housing adults, because of the requirements to educate and efforts to rehabilitate youths, said Peter Leone, a professor of special education at the University of Maryland.

Leone is a national expert at delivering education in detention settings and serves as a monitor in this case. He has been involved in monitoring and reform at dozens of facilities for 25 years.

"There will be people who … say: 'What are they doing all this stuff for these kids for? My kid didn't get in trouble and he didn't have access to this kind of stuff. … It's a waste of money,'" Leone said. "But it's a whole lot less expensive to get these kids on the right track, to support them, help them become more confident young men, than to have them potentially in and out of juvenile corrections. That's more expensive. They're not taxpayers. Then we have to house them, provide for them.

"I don't think the public understands that. I think we're still in that 'get tough on crime,' 'three strikes you're out' mentality that's much more punitive," Leone said.
Tami Abdollah has another, longer article on Challenger—this one focusing on Challenger's potential to emerge as a model for other youth camps if it can get the support it needs to proceed. The juvie probation camp is on a roll, but it faces budget cuts that may make staying on course difficult. Here's a clip from the second article:
…A 2011 settlement agreement gave county officials a legal mandate to change. The agreement requires monitoring and quarterly reports by a team of experts over four years who check on 13 areas of reform, including literacy, instruction and special education. A monitor is at the site several times a month, sometimes weekly.

"There's a lot of pressure on everybody," said school principal Marsha Watkins. "We live in a fishbowl pretty much. But the real bottom line is it comes down to kids. …We weren't doing what we needed to do for kids, and now we are."

Yet even as Challenger emerges as a possible model for teaching incarcerated kids, budget worries may endanger these reform efforts. Cuts to state funding have already forced a round of layoffs since the settlement, and such new and innovative programs —as well as the training for them — require more resources. There is a fear that, though support and focus is here now, that won't remain the case in the future.
(Be sure to read the rest of these articles, as they are jam-packed with worthwhile information and Abdollah's excellent writing and reporting.)
---
SANTA CLARA SHERIFF BREAKS FROM THE PACK, ENDORSES TRUST ACT
Santa Clara Sheriff Laurie Smith has publicly taken a stand in favor of the TRUST Act, sending a letter to Gov. Brown asking him to sign the legislature. The TRUST Act would keep law enforcement from detaining undocumented immigrants for ICE, except in the case of serious felonies. Smith's stance is a major divergence from the views of other CA sheriffs.
CBS San Francisco has the story. Here's a clip:
Smith sent a letter to Gov. Jerry Brown, urging him to sign the TRUST act. If approved, police would be prohibited from holding undocumented immigrants at local jails for Immigration and Customs Enforcement, unless they are charged with serious or violent felonies. The legislation was introduced by San Francisco Assemblyman Tom Ammiano.

In the letter, Smith criticized the federal government's "Secure Communities Program" or S-Comm, which was billed as a way to deport violent criminals. The sheriff said in two-thirds of the deportations, the detainees had no criminal records or had nonviolent offenses such as traffic violations.

Smith wrote: "The S-Comm program has diminished trust in our immigrant communities of local law enforcement…immigrant victims and witnesses of crime have told me they are afraid to come forward to cooperate with local law enforcement out of fear that they could be detained by ICE under S-Comm and deported."
(A copy of the letter from Sheriff Smith can be found here.)
---
AT OUR END OF THE STATE, SHERIFF BACA HAS MADE HIS STANCE ON THE TRUST ACT VERY CLEAR
Sheriff Baca says that he will not enforce the Trust Act. (Here is a nice little cartoon depiction by the LA Times' Ted Rall.)
---
LAPD CHIEF'S TIMELY RESPONSES TO USE OF FORCE ISSUES
LAPD Chief Charlie Beck has reassigned and cut the pay of the commanding officer of the Foothill division due to his poor response to an incident involving questionable use of force to detain a woman arrested after a traffic violation last week. Beck also removed the officers involved from field duty pending the investigation—an action he says should have been executed by the commanding officer.
The Daily News' Dakota Smith has the story. Here's a clip:
"I have serious concerns about this incident and I believe the commanding officer of Foothill area was severely deficient in his response," Beck said. "Proper steps were not taken, including appropriate notifications and the removal of the involved officers from the field. Because of these issues, I have removed him from his command and initiated downgrade procedures."

Beck also is requiring that video of the incident be played at officer roll calls across the city as part of a discussion about use of force issues.

"Every Los Angeles police officer regardless of rank will be held accountable for their actions," Beck said.
And then, there's this—LA Times' staff writers have the story on yet another LAPD brutality investigation. This time, a woman died in custody after a particularly violent struggle in which a female officer stomped on her genital area. Here's a clip:
The altercation in front of her South Los Angeles apartment was captured by a patrol car's video camera.

When asked by The Times about the incident, LAPD Cmdr. Bob Green confirmed that one officer, while trying to get Alesia Thomas into the back of a patrol car, threatened to kick Thomas in the genitals if she did not comply, and then followed through on her threat.

After officers forced Thomas into the back seat of the police car, she is seen on the video breathing shallowly; she eventually stopped breathing.

"I take all in-custody death investigations very seriously," LAPD Chief Charlie Beck said in a statement late Thursday. "I am confident we will get to the truth no matter where that leads us."
---
Photo by KPCC's Tami Abdollah