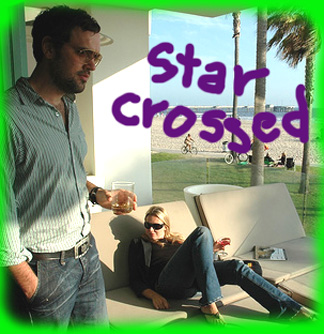 Jeremy and Theresa photo by Bret of Yo Venice

News of the sorrow-producing deaths of blogger, writer, filmmaker Theresa Duncan and her lover, new art star, Jeremy Blake, appeared in the blogs way before any of the conventional news outlets managed to be curious enough to write a story.
Kevin Roderick at LA Observed (LA's primary morning must-read blogger) broke the story on Thursday, July 19, with a fuller entry the next day, plus multiple follow-ups. Various blogs soon followed. Whereas the New York Times and other New York papers finally managed to slap themselves awake a full 48 hours later, on Saturday, July 21 (or shortly thereafter).
Amazingly, the somnambulist LA Times didn't get around to writing about Duncan and Blake until Wednesday, July 25 —never mind that Venice resident Duncan was a vibrant player in the LA's new literary scene—thus her death was a story the Times should naturally have covered, (ahead of, say, yet another idiotic blurb on freaking Posh Spice).

For the record, WLA even saw fit to write about Duncan's death three days ahead of the Times, even though it clearly wasn't a social justice issue; it was nonetheless a story that wouldn't leave my head.

Today, Roderick, does his KCRW commentary on the relationship of the blogs to the coverage of Duncan's tragic story. (You can listen on the radio at 4:44 PM, or just find it online, whenever you like.) Judging by blogmaster Kevin's other KCRW commentaries, it's worth a listen.