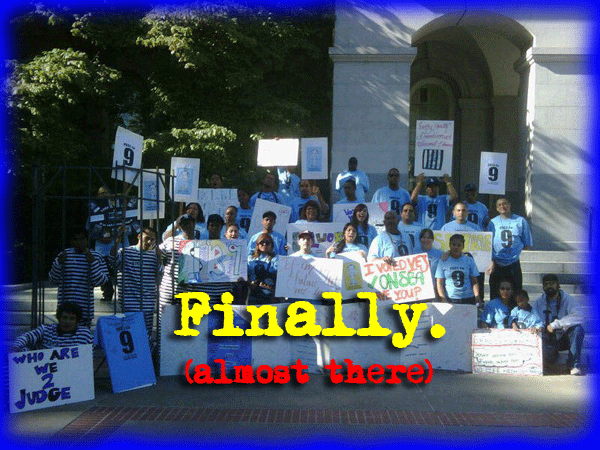 SANITY PREVAILS! JUVENILE LIFE-WITHOUT-PAROLE BILL SB 9 PASSES CA STATE ASSEMBLY
---
EDITOR'S NOTE: Since I've been tracking this issue for quite a while, the first item is from me. Then I'll pass you over to Taylor for the rest of the post.
---
At around 10 am on Thursday morning, juvenile justice advocates across the state were frantically sending out texts and emails urging everybody—anybody—to call a particular shortlist of California State Assemblypersons—or email them, fax them, or walk in their damned offices if need be—and tell the three to please, PLEASE vote for SB 9, Senator Leeland Yee's bill that, if signed into law, would allow kids who have been sentenced to life without the possibility of parole, to have at least a tiny outside possibility of one day being freed from prison.
The bill was just one measly vote short, the advocates' messages said. Just one.
As close as the proposed legislation was to passage, however, a lot of those tracking the matter were too jittery to hope for a victory.
After all, twice before over the past three years, a form of Yee's bill had passed through the state senate only to die a disheartening death in the assembly because a cluster of moderate Democrats were made so jumpy and spineless by the threats and dark predictions of victims lobbies and the state's district attorneys' organizations, that they couldn't bring themselves to vote for the bill.
(WitnessLA covered 2010's ignominious defeat of the bill here.)
On the other hand, many advocates believed that this time the hoped-for miracle might happen, mainly because of the June ruling by the US Supreme Court, Miller v. Alabama, which stated that LWOP—life without parole—could no longer be a mandatory minimum sentence for kids.
The court avoided banning juvenile LWOP altogether. But it took a big step in that direction by making clear, as it had begun to do in an earlier ruling, that kids are different than adults. Thus, SCOTUS implied, we need to consider their actions—even their worst possible actions—- in a different light than we do those of adults.
Juvenile advocates hoped that the Miller ruling would give the nervous assembly members the political cover to finally stand up straight and do the right thing.
Now here it was, do or die time. The advocate emails named Assemblypersons Alejo, Campos, and Mendoza as the three Dems who hadn't yet voted. Call them now! urged the emails. All we need is one!
A few minutes later, the needed vote arrived. State Assemblyman Tony Mendoza was the breakthrough lawmaker.
Within seconds, a new set of email and text announcements flew around the Internets, and this time they were nearly ecstatic in tone: SB 9 had been passed by the California State Assembly.
Not a single Republican assembly member voted in favor of the bill.
Yes, the proposed legislation still needs to be passed by the state senate. But versions of this bill have made it through the state senate twice before without too much trouble. So with just a modicum of luck, and the added impetus of June's SCOTUS ruling, SB 9 could be on Governor Brown's desk before Labor Day.
To get an idea of the uphill battle that has taken place to get SB 9 to this point, take a look at Rob Greene's LA Times editorial from this past January, in which he quoted with sorrow and fury from all the other editorials he and the Times had written on the topic over the past 3 years—to no avail.
Until now.
But first clip from the story by Human Rights Watch, which has been a strong advocate for the bill from the beginning.
The vote came just weeks after a United States Supreme Court decision barring the mandatory sentencing of juvenile offenders to life without parole. The Senate and governor should now act to bring California in line with the Supreme Court ruling, Human Rights Watch said.

"The Supreme Court decision highlighted the need for the California leaders to act," said Elizabeth Calvin, senior children's rights advocate at Human Rights Watch, based in Los Angeles. "Laws now on California's books allow youth to be condemned to a lifetime in prison, with no hope or possibility of release. The bill that the assembly just passed finally recognizes children's capacity for change and would enable California to comply with the Supreme Court's recent ruling."

The bill, Senate Bill 9, is to go to the state Senate for a vote. If the governor signs it into law, it will allow people who were under age 18 at the time of their crimes to ask the sentencing court to review their sentences after serving up to 25 years in prison. The passage of time puts the court in a better position to assess whether the person merits the possibility of parole, Human Rights Watch said.
Here how Robert Greene's January editorial opens:
We've said it before — more than a dozen times. A child, even a bad one, should not be sent to prison for life without any chance at parole. It's a mark of societal fear and a lust for revenge. Some younger criminals may indeed be so incorrigible that they should never go free, but after he or she has been behind bars for a quarter of a century, a judge, and a parole board, should be able to consider release.

On Tuesday, the state Assembly is reconsidering SB 9, a bill to put California among the ranks of civilized societies by ending juvenile life without parole sentences. Finally, Assembly, put this matter to rest, pass the bill and send it to the governor.

Or, as we have said previously:

Jan. 16, 2008:

But of all the inequities of a dysfunctional penal system and harsh state laws, few can touch our predilection for discarding the lives of children who commit crimes before they're old enough to fully understand the consequences of their actions….
And he goes on from there with nine more snippets of nine more Times editorials on the topic—all of them impassioned and all particularly satisfying to read today— in the light of Thursday's good news.
Obviously, we'll be tracking this bill the rest of the way—with our fingers firmly crossed for a sane outcome.
---
Okay, now back to Taylor for the rest of today's postings.
---
NO MORE LETTERS TO SD JAIL INMATES
A new policy to extend to all seven San Diego jails bans inmates from receiving letters. Inmates will be restricted to postcards and email communications beginning September 1st.
CBS has the AP story. Here's how it opens:
San Diego County Sheriff Bill Gore has a message for jail inmates: No more letters.

The sheriff announced Wednesday that letters for inmates at the department's seven jails will be returned to senders starting Sept. 1. It is an effort to prevent contraband from entering cells.

Cmdr. Richard Miller says drugs, weapons and needles have been hidden in letters. He recognizes that letter-writing is an inexpensive way to communicate, but says safety concerns prevailed.
---
CA REALIGNMENT UPDATE: NINE MONTHS IN….SOME INTERESTING QUESTIONS ARISE
A new report by the Center on Juvenile and Criminal Justice reported that in the first quarter of realignment there were 39% less prison admissions than when realignment began, and 26,480 fewer total prisoners. However the CJCJ notes that, in the second quarter, things begin to get more complicated as, in some counties. admissions rose—with the biggest increase in non-marijuana drug offenses.
Here's a clip that describes what they found:
New quarterly figures released by CDCR show that during the first 9 months of realignment there has been a 39% overall reduction in new prison admissions as of June 30, 2012, and a drop of 26,480 in the prison population as of August 8, 2012, compared to October 1, 2011. Realignment was designed to redirect non-serious, non-violent, non-sex offenders from incarceration in state prison to the supervision of local jurisdictions. Within the first 9 months of realignment, CDCR has already progressed two-thirds of the way toward the goal of reducing inmate populations by 40,000 by 2017.

However, the initially steep reductions in prisoners may be almost over, and further cuts may prove harder to achieve. The second quarter of 2012 actually brought an increase in new admissions. From March through June 2012, 8,352 inmates were admitted to California prisons, an increase of 306 over the 8,046 admitted in January through March. A contributing factor to the increase was an additional 2 days in the 2nd than in the first quarter.

[SNIP]

The biggest increase in admissions, by far, was in new felon admissions for non-marijuana drug offenses, which rose by 22%, while property offender numbers rose by 6% and violent offender numbers remained the same.
So how to account for those admissions increases?
In the report's conclusion, CJCJ explores possible explanations for this small but curious reversal of trends, and offers one explanation that their analysts believe is the most plausible—and that assuredly deserves further investigation:
Here's a clip from that section:
….prosecutors in certain jurisdictions could be exploring
ways to avoid realignment mandates by charging more defendants with those offenses still eligible
for state imprisonment. For example in November 2011, Los Angeles District Attorney, Steve
Cooley, announced he was teaching his staff "to 'scour' criminal records to make sure they note any
prior offenses when they file new charges, and to make sure that new charges include offenses
categorized as serious, violent or sexual when possible" (Lagos, 2011). Whether as a result of
deliberate policy or for other reasons, Los Angeles's prison commitments rose by 135 from the first
to the second quarter of 2012, reversing the county's previous decline.
Definitely worth exploring further.
---
GRAY WOLVES MAY RECEIVE PROTECTION AS A CA ENDANGERED SPECIES
With the arrival (and extended stay) of OR-7, the lone wolf who wandered into CA from Oregon in December, has come concern that gray wolves need to be given California endangered species status. The Department of Fish and Game commission will vote on the issue in October, and hopefully pave the road for future CA wolves.
Summit County Voice's Bob Berwyn has the story. Here are some clips:
Responding to a petition from wildlife conservation advocates, the California Department of Fish and Game last week recommended the endangered species status to the state's fish and game commission, which will vote on the issue in October.

California is grappling with the issue against an interesting backdrop. A lone wolf that wandered from Oregon continues to roam the wild northeastern quadrant of the state, and wildlife advocates say there's room for more. At the same time, the federal government is considering removing wolves from the endangered species list on other parts of the country.

[SNIP]

"We're glad the Department of Fish and Game agrees that the gray wolf deserves consideration for protection under the California Endangered Species Act," said Noah Greenwald, the Center's endangered species director. "California has hundreds of square miles of excellent wolf habitat, but if wolves in the state are going to increase from one to many, they need the protection of the California Endangered Species Act."

"California needs a road map for recovering wolves," said Greenwald. "Wolf populations in neighboring states will continue to expand, and more wolves will almost certainly show up in California. These wolves will need protection when they arrive."