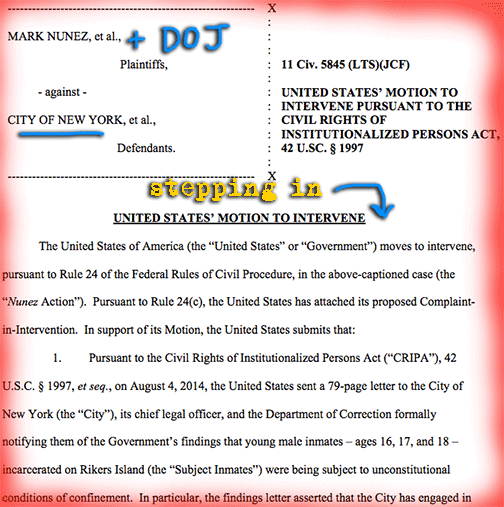 DEPT. OF JUSTICE SUES NYC OVER CONDITIONS AT RIKERS ISLAND JAIL
On Thursday, the Justice Department announced it would join a class action lawsuit against New York City after a two-and-a-half year federal investigation found excessive and unchecked use of force against incarcerated teenage boys and unnecessary use of solitary confinement as punishment.
The move is intended to expedite crucial reforms after months of unfruitful negotiations with NYC. While Mayor Bill de Blasio announced yesterday that Rikers would no longer isolate 16 and 17-year-olds, there are 72 remaining recommended reforms to better protect the civil rights of Rikers inmates.
The Associated Press has the story. Here's a clip:
In court papers, Attorney General Eric Holder and Manhattan U.S. Attorney Preet Bharara wrote that despite four months of negotiations with the city, federal prosecutors "have been unable to reach agreement as to lasting, verifiable, and enforceable reforms."

The lawsuit seeks an court-enforceable consent decree is issued by a judge to ensure the reforms take place, and notes that the city has now agreed to such intervention…

De Blasio and his reform-minded commissioner, Joseph Ponte, have recently touted measures they say point to a change in direction for the nation's second-largest jail system. Those include capping solitary stints to 30 days from 90 days, decreasing the staff-to-inmate ration in juvenile facilities from 33-to-1 to 15-to-1 and the securing of funds to add surveillance videos over the next two years.

But the federal complaint says those reforms have yet to reach 18-year-olds. It noted there have been 71 reported use-of-force incidents against 18-year-olds between September and November in facilities without surveillance cameras. As of last month, at least 40 of them were being held in solitary confinement.
---
AND WHILE WE'RE ON THE SUBJECT…
In an op-ed for the NY Times, Ian Kysel calls on US Attorney General Eric Holder to instruct the Bureau of Prisons to ban all solitary confinement of juveniles. (Kysel is an adjunct professor and a fellow at the Human Rights Institute at Georgetown University Law Center.) Here's a clip:
Attorney General Eric H. Holder Jr. should immediately direct the Bureau of Prisons to outlaw the solitary confinement of juveniles. The federal government already prohibits the detention of juveniles with adults in federal prisons (a rule that states should emulate). Mr. Holder could also direct the bureau to develop new policies to strictly regulate any use of even short periods of isolation.

Mr. Holder could then direct the Justice Department's Office of Juvenile Justice and Delinquency Prevention to promote these policies as model practices, much like the national guidelines on education in juvenile facilities that Mr. Holder and Secretary of Education Arne Duncan announced last week.

Young inmates should be managed in a way that promotes their healthy growth and development. Their fundamental rights must be protected. The Annie E. Casey Foundation recently revised its inspection standards, calling for isolation to be used only for children who posed an immediate risk to themselves or others; after other techniques had failed; only for as long as it took for a child to regain control of himself (it should be measured in minutes, not hours or days); and never for longer than four hours or as a punishment. These standards echo statements by the United Nations Special Rapporteur on Torture and the Inter-American Commission on Human Rights.
---
THE NATION'S MASS INCARCERATION PROBLEM HURTS KIDS WITH PARENTS BEHIND BARS THE MOST
The Hechinger Report's Katy Reckdahl takes a look at the growing body of evidence showing that kids with incarcerated parents suffer the worst consequences of mass incarceration in the United States. Here's how it opens:
Steven Alexander was in sixth grade when his mother, Carmen Demourelle, was sentenced to twelve years in prison for pickpocketing in New Orleans's French Quarter. Though she was held in a women's prison just an hour away, her four children could not telephone her and visited only about once a year.

At the time of her arrest, Demourelle was working sporadically as a beautician, though she was mainly making "fast money" by selling drugs and picking pockets while her children were in school, she said. But after school, she was an engaged and caring mother—until she was sent to prison. "I missed everything about her," Alexander recalled. "I wanted her home."

All four of Demourelle's children moved in with their grandmother, who worked nights at a hospital. She supported them financially, Alexander said, but their schoolwork suffered almost immediately without their mother, who had been strict, especially about school. She hadn't allowed them to play outside or turn on the television until their homework was done. She enforced early bedtimes. And the children were not allowed to spend time with neighbors deemed troublemakers.

Soon after their mother's sentencing, however, homework went undone, forbidden friendships blossomed, and evenings at nightclubs became common—even on school nights.

None of the children finished high school. Almost all struggled with addiction. Steven's older brother Stanton got into constant fights. His little sister, Sandria, was taunted by classmates, who told her: "If your mother loved you, she wouldn't have gone to jail."

While in ninth grade, Sandria became pregnant and dropped out. Even the oldest, Stanley, an honor student, quit school as a senior after getting his girlfriend pregnant.

Steven stopped going to classes during the seventh grade. "I just wasn't interested anymore," he said.
---
SERIAL, A MISSED OPPORTUNITY TO DISCUSS THE ISSUE OF INCARCERATING KIDS FOR LIFE
Yesterday, the wildly popular Serial podcast (an offshoot of This American Life) ended its first season. We won't ruin the ending for the regular listeners who have yet to finish the last episode. But for those unfamiliar, Serial, via creator Sarah Koenig, reexamined the case of Adnan Syed, who was convicted in 2000 of killing his ex-girlfriend Hae Min Lee when he was seventeen. Koenig's series focuses on whether Syed is innocent or guilty, and whether he got a fair trial.
Its popularity is evidenced by the fact that there have been commentaries, Reddit feeds, and even a parody podcast. And yet, some critics have pointed out that Serial failed to address most of the larger issues, including racial and religious discrimination in the justice system. Heather Renwick of the Campaign for Fair Sentencing of Youth talks about the elephant in the room that is still missing from the discussion. Adnan Syed received a life sentence for a crime committed when he was a kid—just 17-years-old. Here's a clip:
At this point, all that's missing from the national conversation was revealed by host Sarah Koenig in the opening minute of Episode 1. Koenig frames the entire Serial narrative this way: "For the last year, I have spent every working day trying to figure out where a high school kid was for an hour after school one day in 1999."

Kid.

Koenig describes Syed as a kid. Not as a man, not as an adult.

That's because at age 17, Syed was a kid, legally and developmentally.

That kid was sentenced to life imprisonment.

We in the U.S. are so desensitized to the imposition of extreme sentences on kids that Serial does not even contemplate the inappropriateness of Syed's sentence, regardless of his guilt or innocence. At the age of 17, Syed was charged with an adult crime, tried in adult court, and given an adult sentence. This is a uniquely American phenomenon. In Europe, for example, it is rare for kids to be sentenced to more than 15 years. Yet an estimated 2,500 individuals in the U.S. are serving life-without-parole sentences for crimes committed as kids. These extreme sentences, like Syed's, don't provide any meaningful release opportunity to kids who mature into stable, thoughtful adults.

To be clear, Syed was sentenced to life plus 30 years, so he technically has a chance at parole. But Koenig was right that being paroled is extremely difficult when an individual like Syed maintains his innocence and fails to show remorse. It is also worth noting that in Maryland, where Syed is incarcerated, release on parole for a life sentence is almost nonexistent and requires approval by the governor. In the past decade, no one serving a life sentence has been paroled in Maryland. So for all practical purposes, the state of Maryland sentenced Syed, a kid, to die in prison.

The United States is the only country in the world to sentence kids to life without parole. Ten other countries are known to have life without parole on the books as a possible sentence for youths, but the U.S. is the only country that actually sentences kids to life without parole.