JUDGE SAYS OFFICIALS DENIED TREATMENT FOR BOY WHO KILLED DAD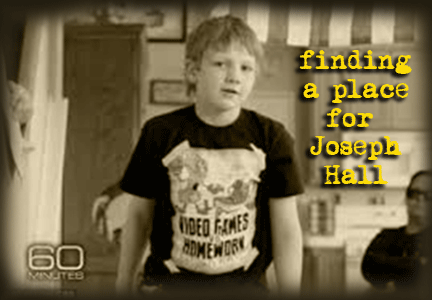 Former state senator Gloria Romero looks at the new ruling that she says provides an alarming look at prosecutors' efforts to railroad 13-year-old Joseph Hall into imprisonment that is purely punitive, where his mental and emotional needs can't possibly be met. Hall, if you remember, is the 13-year-old boy who, at age 10, killed his abusive neo Nazi father.
Here's a clip from Romero's Op Ed for the Orange County Register:
In a ruling hailed as unprecedented in terms of its findings and scope, Administrative Law Judge Paul H. Kamoroff declared that the Riverside County Office of Education denied Joseph Hall, the now-13-year-old boy who killed his abusive, Neo-Nazi father in 2011, of his educational rights while he was detained in Juvenile Hall.

The ruling provides a disturbing, rare glimpse into an otherwise veiled world of the consequences of failing to address the needs of youth with mental health and special education needs in the juvenile justice pipeline.

Judge Kamoroff ordered the Office of Education to immediately renew its search for a residential treatment center for Joseph that is capable of treating disabled children with emotional injury due to abuse. Armed with the judge's ruling, the Riverside Juvenile Court will be asked to revisit the issue Friday in a proceeding open to the public.

Last October, Joseph was remanded to the California Division of Juvenile Justice to begin a maximum 40-year sentence for the killing. Yet the state Juvenile Justice agency has been deemed incapable of meeting Joseph's complex mental health needs, and his lawyers filed suit with the California Department of Education, forcing into the public record important evidence they say was concealed by the Riverside Office of Education.
Read the rest to get the whole story.
---
ANOTHER LOOK AT THE ISSUE OF UNDERPAID PANEL ATTORNEYS WHO MAY MAKE JUSTICE HARD TO FIND FOR THOUSANDS OF LA COUNTY'S KIDS
If you'll remember, last month the LA County Board of Supervisors voted to have a consultant look at the system in which thousands of LA County kids are represented every year by underpaid "panel attorneys" and the way in which their legals cases often suffer drastically as a consequence.
The issue was this: Every year, LA County processes around 20,000 youths through its juvenile justice system. Of those 20,000, a little over half cannot be represented by a public defender due to some kind of conflict of interest. Those kids are instead handed over to court appointed panel attorneys, who are paid around $350 as a flat fee for the life of the case—no matter how much time the case requires.
While we wait for the report back to the Supes to eventually surface, Gary Cohen writing for the Juvenile Justice Exchange takes a look at the issue and its importance to the health of the county's juvenile justice system. Here's a clip:
Antonio was only 14 years old when he was charged with two counts of attempted murder in April 2012. Because of his age and the fact that he had no prior record and because there were strong indications that he didn't know his much older co-defendant was going to shoot anyone, he seemed to be a strong candidate to be tried in juvenile court.

Inexplicably, his appointed lawyer failed to vigorously fight to have Antonio tried as a juvenile, failed to call witnesses or ask questions at a probable cause hearing where Antonio's lesser culpability could have been argued and failed to ensure that Antonio's probation report was accurate and complete, according to interviews and court records.

As a result of this litany of legal missteps, Antonio's case was sent to adult court — where he suddenly was facing 90 years in prison if convicted.

Such problems are far from unique. Nearly 50 years after the U.S. Supreme Court established the rights of juveniles to have adequate legal representation in a landmark case known as In re Gault, due process rights remain unclear for thousands of indigent juvenile defendants facing felony charges that could lead to years of incarceration.

The problem is particularly serious in Los Angeles County, one of the world's largest juvenile justice systems, where a controversial low-bid, flat fee compensation system for attorneys representing certain indigent youth raises systemic due process concerns. Under that system, contract attorneys — such as the one who represented Antonio, are paid an astonishingly low fee of $300 to $350 per case, regardless of whether the case involves shoplifting or murder.
---
AG ERIC HOLDER REQUIRES BUREAU OF PRISONS AND FEDERAL HALFWAY HOUSES TO STEP UP THEIR TREATMENT FOR PRISONERS TO FIGHT RECIDIVISM
In a video message released on Monday, Attorney General Eric Holder announced that he will now require Federal halfway houses to meet certain standards in offering rehabilitative programs to inmates in the hope of making a .
Here' a clip from the DOJ's press statement:
Touting the most significant drop in the federal prison population in three decades, Attorney General Eric Holder announced a critical new step to fight recidivism. For the first time, the Justice Department, through the Federal Bureau of Prisons, will require all 200-plus halfway houses in the federal system to offer standardized treatment to prisoners with mental health and substance abuse issues. Once fully implemented, following a 30-day comment period, these services will be available to all 30,000 federal inmates who are released through halfway houses each year.
The AP's has more on the story. Here's a clip;
Holder said halfway houses will have to provide standardized treatment for inmates with mental health and substance problems.

They'll also be required to permit cell phone use among inmates, provide transportation so felons can pursue job opportunities and expand access to electronic monitoring equipment.

The changes are intended to cut recidivism rates and help inmates transition back into society.

There are more than 200 halfway houses in the federal system. More than 30,000 federal inmates passed through a halfway house last year.

Most federal offenders spend the last months of their term in a halfway house or under home confinement.
---
CRITICS ASK IF LAPD CHIEF CHARLIE BECK PLAY FAVORITES WITH NEPHEW OF POPULAR FORMER DEPUTY CHIEF
LA Times Joel Rubin has the story. Here's a clip:
Shaun Hillmann's career as a Los Angeles police officer appeared to be over after he was caught on tape outside a bar uttering a racial slur, and later denied it to his superiors.

High-ranking police officials recommended that Hillmann be fired, according to internal LAPD records. A disciplinary board agreed, voting unanimously in January that he should be kicked off the force.
Police Chief Charlie Beck decided otherwise, sparing the career of an officer whose father and uncle worked for the department.

Overruling the board, Beck opted to return Hillmann to duty after a 65-day suspension, according to several sources with knowledge of the chief's decision. The sources requested anonymity because police discipline matters are confidential.

The head of the Police Commission, which oversees the department, expressed concern about Beck's decision.
(Read the rest of the story for details of what Shaun Hillman allegedly did that began the chain of events.)