On Friday, April 16, attorneys for journalist, author, advice columnist, E. Jean Carroll asked the 2nd District Court of Appeals to tell the U.S. Department of Justice that it is not not permitted to act as the personal legal representative for former President Donald J. Trump.
Friday's legal filing pertains to the defamation lawsuit brought by Carroll, who wrote in a memoir released two years ago, that Trump forcibly raped her in the lingerie department of Bergdorf Goodman in the mid-1990s.
After twenty-three years of silence, telling no one except for two close friends, Carroll described the alleged assault at the very end of the very the last chapter of a memoir released in early July 2019.
The news of Carroll's allegation broke a few weeks before the book's publication, when word leaked out that New York Magazine's The Cut would be pre-publish the relevant chapter.  Thus anyone who was looking to merely read only the 1800 or so words about Trump, could get the NY Mag story, and skip buying the book.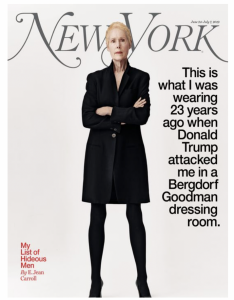 Once the allegations became public, Trump unsurprisingly denied everything via multiple news outlets.  He told reporters that Carroll made up the story to drum up book sales, and that he'd never even met the woman — never mind that the New York Magazine story included a 1987 photo shows Donald and Ivana Trump, interacting with Carroll and her then-husband, television-news anchor John Johnson, at an NBC party in the late 1980s.
Trump continued to slam Carroll.  "She's not my type." he told The Hill, and called her account politically motivated "fake news."  And so on.
There was the suggestion that the Democratic party had paid her big bucks to tarnish him.
During that same time, Caroll's two women confidants, who had also been colleagues of Carroll's in the news media in the '90s, emerged to corroborate  the writer's accusations to reporters at the New York Times.
The legal road
In early November of 2019, Carroll filed a defamation lawsuit against Donald Trump.
"Nobody in this nation is above the law," Carroll's attorneys wrote in the civil complaint. "Nobody is entitled to conceal acts of sexual assault behind a wall of defamatory falsehoods and deflections. The rape of a woman is a violent crime; compounding that crime with acts of malicious libel is abhorrent. Yet that is what Defendant Donald J. Trump did to Plaintiff E. Jean Carroll."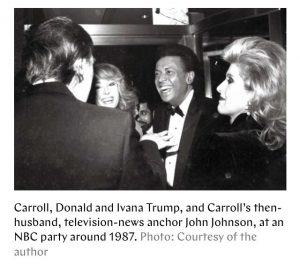 Then, on January 30, 2020, three months after the initial filing, Carroll and her attorneys served the then president with a request seeking a cheek swab for DNA   to be compared against some unidentified male DNA found on the black Donna Karan dress that Carroll was said she had worn that night in the Bergdorf's dressing room when, according to the lawsuit, Trump threw her up against a dressing room wall and forcibly raped her.
"After Trump sexually assaulted me, I took the black dress I had been wearing and hung it in my closet,"Carroll said in a statement. "I only wore it once since then and that was at the photoshoot for the New York Magazine article about my book."
After much foot-dragging by Trump and company, in mid-August 2020, a New York judge gave the then president a series of deadlines to produce his DNA and other evidence as part of mandatory discovery in the ongoing defamation lawsuit.
In her ruling, Justice Verna Saunders referenced a recent U.S. Supreme Court decision that supported the validity of the subpoena by Manhattan District Attorney Cyrus Vance asking for some of Trump's financial records, thus demonstrating, wrote Saunders, that a state court can exercise jurisdiction over a sitting U.S. President.
A month later, as the deadline to fork over the DNA approached, the U.S. Department of Justice suddenly intervened in the case, arguing that Donald Trump, did not in fact have to respond as he was "acting within the scope of his official duties as the President of the United States when he publicly denied as false" Carroll's allegations that he had raped her.
Thus, the DOJ argued, Main Justice must now step in for Trump in this defamation suit thingy.
"Trump hurls Bill Barr at me," Carroll tweeted after this unusual turn of events.
TRUMP HURLS BILL BARR AT ME.

Just when @realDonaldTrump is required to produce documents and DNA in discovery, he sics the DOJ on us.

THIS IS UNPRECEDENTED!!

My attorney, @kaplanrobbie, and I are happy to TAKE THEM ALL ON! @realDonaldTrump https://t.co/rAmKnqpo5s

— E. Jean Carroll (@ejeancarroll) September 8, 2020
E Jean's lawyers appealed the DOJ's bizarre pretzeling of the law in federal court where, in a 61-page ruling, U.S. District Judge Lewis Kaplan shot down the Justice Department's attempt become Trump's personal attorney.
"The president of the United States is not an 'employee of the government' within the meaning of the relevant statutes," Kaplan wrote in the October 27, 2020 ruling. "Even if he were such an 'employee,' President Trump's allegedly defamatory statements concerning Ms. Carroll would not have been within the scope of his employment."
Kaplan's ruling did not end things, of course.
After Trump had been voted out of office,  and a week before Joe Biden was inaugurated on January 20, 2021, and a few days after the January 6, insurrection, the DOJ filed with the 2nd U.S. Circuit Court of Appeals in the hope that they would be more sympathetic to Mr. Trump's need for protection against the 77-year-old writer.
This brings us back to Friday, April 2021, and the new brief filed by attorney Roberta Kaplan and the rest of  Carroll's legal team, which urged the 2nd U.S. Circuit Court of Appeals to affirm federal judge Kaplan's ruling.
"Trump did not act within the scope of his employment as President of the United States when he repeatedly, willfully defamed a private citizen to punish and retaliate against her after she revealed that he had sexually assaulted her decades before he took office," states the new filing.
The new rule that the DOJ under Banner has been trying to shoehorn into American law, Carroll's attorneys wrote, "would create categorical immunity for any federal official who defames anyone while speaking to the press or responding to perceived critics. That rule is both wrong and dangerous."
"In exchange for a promise to serve the country and all who live here," wrote the Carroll team, "federal officials are vested with great power. It is a betrayal of this public trust to weaponize that power while pursuing selfish interests in silencing and retaliating against those who reveal private malfeasance. A White House job is not a promise of unlimited authority to brutalize victims of prior wrongdoing through vicious, personal, defamatory attacks. That is not the law—and this Court should not make it so."
If the 2nd Circuit agrees, that should open the door to additional discovery, and the DNA sample.
Furthermore, one presumes that Biden-appointed Attorney General Merrick Garland, if asked, would not be in favor of the DOJ going to bat for the 45th president in a slander case that grew from 23-year-old a rape allegation, with DNA evidence potentially involved.
In the meantime, American taxpayers are still funding Donald Trump's defense.
So….stay tuned.
---
Top photo of E. Jean Carroll with a bow and arrow, courtesy of @ejeancarroll Twitter.