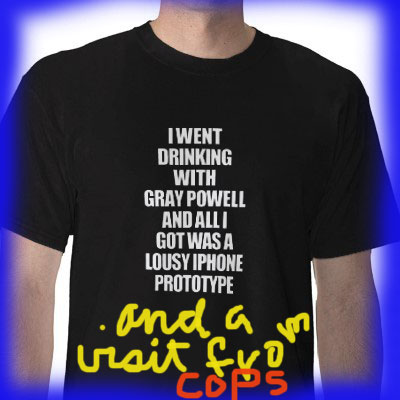 So a guy walks into a bar in Redwood City a few weeks ago. It's the guy's 27th birthday, he's been working pretty much nonstop, so he wants to kinda blow it out. He gets hammered. He even posts on Facebook about his drinking activities. Eventually he goes home.
But he accidentally leaves behind his cell phone.
Another guy finds it, doesn't know how to get it back to Birthday guy—or something like that. So, instead he calls up a tech website called Gizmodo and tells them about the phone. The Gizmodo editors agree to buy the lost phone for $5000.
Why?
Because the phone is the next iPhone prototype.
Gizmodo analyzes the super-secret new escaped phone, finds it very cool, and tells the world about its conclusions.
Eventually Apple asks for the phone back. Gizmodo forks it over.
That appears to be that. Until Wednesday when the drama ratchets up a bit.

The first segment of Wednesday night's Daily Show explains the details. It is a must watch, and very funny. Especially if one is a member of the Cult of Steve (which admittedly, I am).
However, the issue that Jon Stewart points to with his monologue is not, actually, all that funny.
What has occurred has worrisome implications for journalists.
Later on Wednesday, a pile of lawyers got involved and invoked the journalists' shield law.
We'll want to keep an eye on this story.