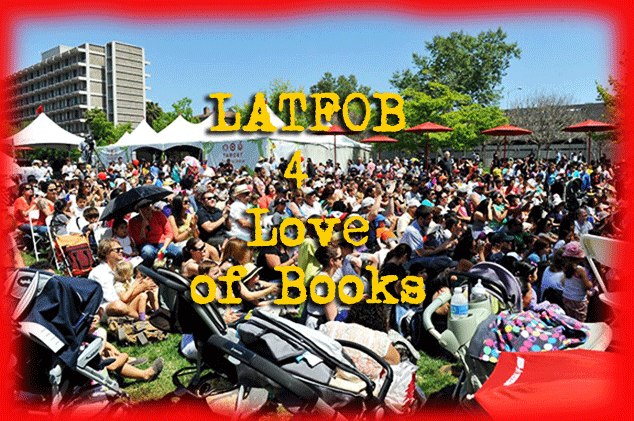 The LA Times Festival of Books is this weekend—Saturday and Sunday—on the USC campus. If you're a book person of any kind, this is the happiest of events—and it's all free.

At 10:30 am on Sunday, you can see me moderate a panel on Guns in America with three stellar authors: Adam Winkler, who wrote Gun Fight: the Battle Over the Right to Bear Arms in America, and Paul Barrett who wrote GLock: the Rise of America's Gun, and Erwin Chemerinsky, the dean of UC Irvine's law school, Constitutional scholar, and the author of The Conservative Assault on the Constitution.
These are all very bright people with a lot to say on the topic, and I promise we will have a lively and informative time.
But there's something for absolutely everyone at this two day event.
There are panels featuring fiction writers, political writers of al leanings, poets, wildly funny book authors, deadly serious noirish mystery writers, graphic novelists…..and so on.
There's even a panel at 12:30 on Sunday about why you should care about the mayor's race.
It's hard to go wrong.
For instance, there are back-to-back panels on Sunday in Mudd hall at 1:30 and 3 pm. One features such persons as my pal Tod Goldberg, plus the wildly talented authors Hector Tober, Laila Lalami, and Nina Revoyr. (Rule of thumb for the LAT FOB, if the panel has Tod Goldberg on it, you should automatically go. It doesn't matter the topic, just go. Trust me on this. Otherwise it will be the panel you wish you'd seen.)
The other panel is moderated by David Ulin, who—along with Patt Morrison is the absolute best at the whole moderater thingy, and features my pal Tom Bissell, who is one of the smartest people I know and a great prose stylist and he designs video games. With them is D.T. Max, author of the riveting and heartbreaking book about David Foster Wallace, Every Love Story is a Ghost Story, and deliciously talented travel writer and essayist, Pico Iyer.
But these are just two of many. Right after our Sunday 10:30 a.m. Guns panel at the Ronald Tutor Campus Center, Henry Wienstein is moderating a panel called Today's Dangerous World, that includes terrorism expert, Brian Michael Jenkins (who in his photos has an impressively intense stare), Pulitzer winner, Mark Mazzetti, who writes about the CIA (and not comfortingly), and Jess Bravin, whose book "Terror Courts: Rough Justice at Guantanamo Bay, is not calming either. In short, the panel sounds like it will be terrific!
The schedule is here. And if you happen to attend my Sunday panel, stop by and say hi.
But if you're a reader at all, go to the festival. Just go.