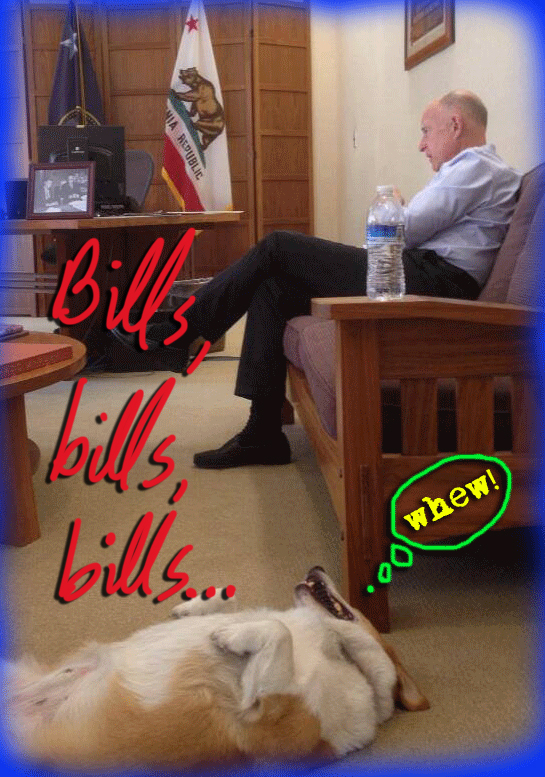 Over the last few days (and certainly for the next several days) California Governor Jerry Brown has been a bill-signing powerhouse. While our list is by no means exhaustive, we've gathered many of the most consequential bills either signed or vetoed that relate to juvenile and criminal justice, foster care, and sex trafficking.
NEW JUVENILE & CRIMINAL JUSTICE LAWS (AND ONE THAT DIDN'T MAKE THE CUT)
On Wednesday, Governor Brown signed an important bill that will drastically limit the use of solitary confinement in juvenile facilities.
SB 1143 will block guards from using isolation as a punishment, for convenience's sake, or as a way to coerce kids. "Room confinement," which will now be limited to four hours at a time, will only become an option after other, less restrictive options have been exhausted (except when using those alternatives would put kids or staff in danger).
The bill, authored by Senator Mark Leno (D-San Francisco), received support from both by juvenile and criminal justice reform advocates and the probation chiefs' union. A similar bill, also from Sen. Leno, died in committee last year.
"This bill has been years in the making, and is a huge victory for all of the young people locked up in California and their families," said Jennifer Kim, Director of Programs at the Ella Baker Center for Human Rights.
Governor Brown vetoed a bill that would have required jails to provide in-person visits for inmates and their families. Brown said the bill, SB 1157 by Senator Holly Mitchell (D-Los Angeles), didn't allow for enough flexibility for corrections facilities.
"Without this, it means we will have incarcerated people in our jails who are not able to bond with children or family members for years," said Senator Mitchell. According to Mitchell, as many as 11 counties have either already eliminated in-person visits, or are in the process of getting rid of visits, replacing them with often expensive video calls.
In his veto message, Brown said that he was concerned about the increased use of video visitation in place of in-person visits. "This practice could have an adverse impact on achieving rehabilitative goals and might affect in a negative way the families and loved ones of those incarcerated," Brown said. The governor said he will direct the Board of State and Community Corrections to look for solutions to the problem.
Another bill that received the governor's stamp of approval, AB 1843, will block employers from asking job candidates about any juvenile arrests or detention or participation in a diversion program that did not result in a conviction.
---
LAWS TO IMPROVE THE WELLBEING OF FOSTER KIDS
Another newly signed bill, SB 1060, aims to reduce the number of siblings separated during adoptions. Far too often, siblings are split up in foster care and during adoptions and lose contact with each other, despite research showing that placing siblings together during their time in foster care improved academic and adoption outcomes. The bill authored by Sen. Mark Leno (D-San Francisco) will require pre-adoption meetings between children being adopted, the prospective parents, the sibling(s) and facilitators to try to increase the number of voluntary visitation agreements to keep separated siblings connected after adoption.
AB 1299, also signed by Brown this week, will ensure foster kids transferred outside of their home counties receive continued mental health services in their new counties. Under current law, the responsibility (and funding) to provide mental health treatment remains with their home county, leaving kids to face months-long interruptions in treatment.
---
COMBATTING HUMAN TRAFFICKING
The newly signed SB 1322 by Sen. Mitchell–the "No Such Thing as a Child Prostitute" bill—aims to shield trafficked children from prosecution and criminalization.
"The law is supposed to protect vulnerable children from adult abuse, yet we brand kids enmeshed in sex-for-pay with a scarlet 'P' and leave them subject to shame and prosecution," Mitchell said.
Last year in LA County, Sheriff Jim McDonnell instructed department members to treat the "child victims and survivors of rape," as the victims they are, not as lawbreakers and "prostitutes," and that the department would be going after traffickers and johns who victimize kids.
SB 1129 by Senator William W. Monning (D-Carmel) will get rid of some mandatory minimum sentences for prostitution-related crimes, giving judges discretion in sentencing people taking part in or soliciting prostitution. Existing law requires mandatory minimum sentences of 45 or 90 days in jail for repeat offenders.
Brown also signed SB 420, a bill that will create a legal distinction between adult buyers and sellers of commercial sexual acts, as well as solicitors of sex from minors. The bill will improve data collection on sex trafficking with the intent of helping legislators and policymakers make data-informed decisions, and aiding law enforcement in better directing their resources.
"By US State Department estimates, sex trafficking is a $32 billion industry in this country and 50 percent of trafficking victims are minors," said the bill's author, Sen. Bob Huff (R-San Dimas). "Yet according to the 2007 Final Report of the California Alliance to Combat Trafficking and Slavery Task Force, California lacks comprehensive statistics on human trafficking. SB 420 will help collect the statistics that law enforcement needs."
Assemblyman Miguel Santiago's AB 1276, will make it possible for kids under 15 to testify against exploiters in a separate location via closed circuit tv, away from the defendant(s), jury, attorneys, or judge.