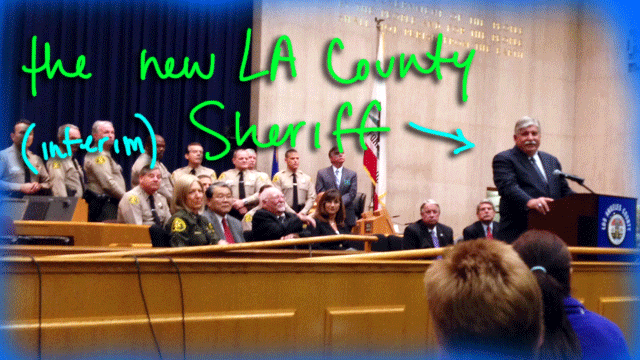 INTERIM LA SHERIFF JOHN SCOTT TAKES OATH OF OFFICE
Two hours after (now former) Sheriff Lee Baca's retirement went into effect on Thursday, John Scott, the new interim LA County Sheriff, was sworn in. Scott has taken leave as Orange County Undersheriff, and will head the LASD until December when a new sheriff is elected.
LA Daily News' Christina Villacorte has the story. Here's a clip:
"What I'd like to do is restore dignity to the department … and restore the trust and confidence to the office," Scott said.

"I look forward to serving Los Angeles County and doing all that I can in the next 10 months to bring about the appropriate change that is in order, and to see that the next sheriff — the elected sheriff — comes in somewhat seamlessly."

[SNIP]

He vowed not to be a mere "placeholder" until Baca's replacement is elected either during the June 3 primary or the Nov. 4th runoff, and is sworn in Dec. 1. He plucked former LASD Division Chief Neil Tyler out of retirement to serve as his second-in-command and had a ready answer when asked about his top priorities.

He plans to ask all the captains to conduct a "SWAT" analysis, so that he can assess the strengths, weaknesses, opportunities and threats within respective bureaus, and to work closely with the jail chief and county budget manager to implement the changes recommended by the blue-ribbon Citizens Commission on Jail Violence.
EDITOR'S NOTE: New Sheriff John Scott has just 10 months to make his mark on the Los Angeles Sheriff's Department. After he took the oath of office on Thursday at Monterey Park Sheriff's headquarters, he sounded refreshingly clear-eyed about the fact that real changes were required at the department he will now lead, and indicated he felt up to the challenge. Scott was also forthright when asked by reporters about such topics as why he left the LASD in 2005. At that time, he said, he saw the department going in the wrong direction. "I saw inaction and a certain level of neglect," the new sheriff told ABC-7's Robert Holguin.
Welcome, Sheriff John Scott!
---
THREE CIVILIAN FIELD DEPUTIES RESIGN WITH BACA; ABC7 INVESTIGATES (AGAIN)
Three of Lee Baca's civilian field deputies have retired alongside the former Los Angeles County Sheriff. One of the civilian advisors, Bishop Edward Turner, was relieved of duty after an ABC7 investigation in November found that an illegal marijuana dispensary was operating on Turner's commercial property across the street from his church.
But the field deputy controversy doesn't end with Turner.
ABC7 investigated the circumstances of another resigning civilian aid, Michael Yamaki, who took home $171,000 a year. Yamaki seemed to have a questionable working relationship with the super-exclusive Riviera Country Club in Pacific Palisades, and was spotted several times by ABC7 reporters driving his LASD-issued car to and from the golf course. As for his duties as a civilian field deputy, the investigation turned up…not much. Here are some clips:
Yamaki loves the game of golf. He's appeared on the Golf Channel's "Golf Central" TV program leading a tour of the legendary Riviera Country Club in Pacific Palisades, where stars like Jack Nicholson and Mark Wahlberg hit the links. And the initial fee just to join the club will set you back a reported $250,000.

Yamaki has been identified in various publications as the "general manager," the "managing corporate officer" and "chief executive" of the Riviera Country Club.

So we wondered: Is he holding down two jobs?

"No he doesn't," said sheriff's departments spokesman Steve Whitmore. "The only job he has is working for the sheriff's department. He's an investor. But he doesn't have a job there. The only job he has is the L.A. County Sheriff's Department."

[SNIP]

Michael Yamaki refused to speak with Eyewitness News about this story and we couldn't get in to see him, because the Riviera is a very private club. But we were able to learn from public records that of the $120,000 worth of gifts Sheriff Baca has received since taking office, there were nine rounds of golf paid for by Yamaki, most at the Riviera Country Club.
---
LOOKING BACK ON LEE BACA'S 15 YEARS AS HEAD OF THE LA COUNTY SHERIFF'S DEPARTMENT
The LA Times' Robert Faturechi and Jack Leonard have a story about the controversial legacy that Lee Baca leaves behind, as John Scott steps in. Here's how it opens:
For Sheriff Lee Baca, it was a legacy moment. He was on Capitol Hill, testifying before a congressional hearing on the radicalization of American Muslims. Conservative lawmakers were grilling him, pressing him to acknowledge that the Muslim groups he embraced after 9/11 may have had criminal elements.

Baca wasn't having it.

"We don't play around with criminals in my world," he shot back.

With dozens of cameras trained on him, the sheriff made the case that American Muslims were being unfairly persecuted and should be treated as partners, not suspects, in the fight against terror.

The tense exchange in 2011 made national news, burnishing Baca's image as a lawman who bucked law enforcement stereotypes and embraced a softer side of policing.

Back in Southern California, a different narrative was playing out in his department.

Just two weeks earlier, Baca's deputies allegedly beat a man visiting his brother in the Los Angeles County jail in an incident that would later result in federal indictments. Baca's subordinates had recently hired dozens of officers with histories of serious misconduct. And in the Antelope Valley, Baca's deputies were involved in searches and detentions that federal authorities would later say violated the constitutional rights of black and Latino residents.

Baca's defense of Muslim Americans on the national stage would turn out to be a high point in his 15-year tenure. Since then, the Sheriff's Department has been rocked by one scandal after another. And a different take on Baca emerged: a disengaged manager who lacked the managerial skill and sway to get his 18,000-person department to follow his vision.

As a federal investigation into jail brutality grew, Baca admitted he was out of touch.

"People can say, 'What the hell kind of leader is that?' The truth is I should've known," Baca said a few months after his triumphant Washington trip…
(Read on…)
---
WHAT THE OVERFLOWING CALIFORNIA PRISON SYSTEM (AND OTHER CALIFORNIA COUNTIES) CAN LEARN FROM THE SAN FRANCISCO JAIL SYSTEM
While California is desperate for another extension on a federal court order to ease prison overcrowding, the San Francisco jail population has been consistently dropping over the last few years through a more treatment-based approach to incarceration.
Governing Magazine's Ryan Holeywell has an excellent piece on what California can learn from the San Francisco, several decades after the county faced similar litigation against major overcrowding in its jails.
San Francisco has also taken advantage of realignment funds, using them to bolster their rehabilitation and reentry programs. Some counties have been slow on the uptake, or have used the money to build more facilities to house the state prisoners that were transferred to county custody during realignment.
Here are some clips:
If long prison sentences were a criminal deterrent, [Paul] Henderson [San Francisco Public Safety Director and Deputy Chief of Staff] says, crime would have been nearly eliminated in California long ago, and repeat offenders would be almost nonexistent. That, of course, isn't the case at all, and it's why federal judges have ordered California to drastically reduce the number of inmates in state custody. The result has been a dramatic shift in corrections policy called "realignment." The change came via legislation in 2011 that requires many criminals who previously would have served their sentences in state prison to instead serve them in county jails. Realignment has been painful for local leaders who are charged with huge new responsibilities as they work to prevent their own facilities from eventually confronting the same overcrowding as the state's prisons.

But it's also caused many to turn to San Francisco to see if it's found an approach to criminal justice that should be emulated across the state. That's largely because in the wake of realignment, the population of San Francisco's jail is actually declining. It's the result of a longstanding approach to corrections that predates the state's crisis. "San Francisco was ahead of the game before realignment ever began," says Linda Penner, chair of the state's Board of State and Community Corrections, which oversees county jails. "They had a community that embraced treatment. They had the capacity. And they had the political will. With realignment, they've just accelerated and stepped on the gas."

[BIG SNIP]

San Francisco had a head start in dealing with realignment, largely as a result of litigation in the 1980s that challenged overcrowding of its own jails. That prompted an increased focus on evidence-based practices in criminal justice, aimed at using statistics to determine which methods actually succeeded in reducing crime. The thinking was that the city could beat overcrowding, save money and actually increase public safety if it took an approach that was more nuanced than simply throwing the book at offenders. The result: Even in the wake of realignment, the city's average daily jail population has declined from 1,954 in 2009 to 1,281 today, says Wendy Still, San Francisco's chief adult probation officer.

Still represents, in many ways, San Francisco's approach. When she discusses the population of offenders her office supervises, she refers to them as "clients." It's jarring, at first, to hear a probation officer describe convicted felons that way, but she says it makes sense. "We know they have needs," Still says. "Yes, they're offenders, but our job is to try to assist them." In San Francisco, the prosecutors, public defenders and judges have all been trained on evidence-based approaches to justice that can help put them on the same page when it comes to sentencing. "We have a lot of cases that go to trial, and we fight over our cases in court," says Jeff Adachi, San Francisco's elected public defender. "But where we agree is once a person is convicted of a crime—particularly a person convicted of a low-level felony—the goal is to find the support and services necessary."

When it's time for an inmate to leave prison or jail, San Francisco's counselors find out what's needed in housing, employment, health care and drug rehabilitation. The probation department has gone as far as picking people up from prisons to help them return to San Francisco. And little steps—like trying not to release people from county jail in the middle of the night when they're more prone to slip up—have become part of the culture. "Other counties have taken realignment money and invested it in more jails," Adachi says. "We haven't done that." Instead, San Francisco has focused on alternative sentencing and re-entry programs that hook offenders up with drug treatment, education and employment services.

Krisberg, the Berkeley fellow, says the Bay Area warrants attention from other parts of the state. "San Francisco is, in some ways, a road map for how to get organized and do it well," he says…
Other states are following San Francisco's lead. Since 2011, at least seventeen states have reduced their prison populations by a combined 35,000, and in 2013, at least six states closed (or considered closing) twenty correctional facilities, according to a report released on Thursday by the Sentencing Project. Here's a clip from the report's offerings on California's prison population actions:
In California, officials opened a new prison that holds more than 1,700 inmates. The California Health Facility in Stockton reportedly cost $839 million to construct and is designed to address the medical and mental health needs of incarcerated persons. The state opened this prison while accounting for the largest share in population declines in 2012. During a 2013 press conference, Governor Jerry Brown estimated that the prison expansion plan would cost $315 million in the short term and total $715 million by 2015.35 Additionally, to deal with continued overcrowding, Governor Brown has proposed sending approximately 12,000 incarcerated persons to private prisons out of state.
A companion report (also released Thursday) detailed 47 important criminal justice policy reforms that were put into effect in 31 states last year—including two in California. (Take a look.)