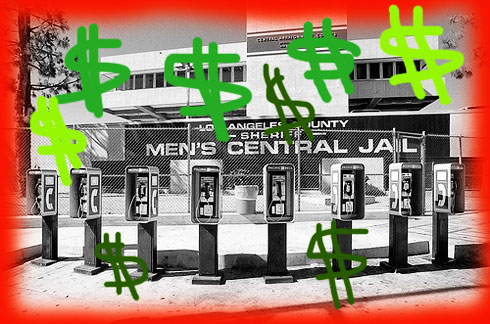 UPDATE: I've just had a long talk with Zev Yaroslavsky's office and it turns out I had part of this story wrong. Yaroslavsky he did know about the usurious Global Tel Link deal, and he has been fighting the renewal of the contract. Moreover there is a very interesting back story to this issue that I'll be reporting on next week. Bottom line for today: Zev was aware, and is working to do something. (And I've got the paperwork to back that up.)
More next week.

Once again Los Angeles leads the nation—except not in a good way—and LA County supervisor, Zev Yaroslavsky, for one, is suitably aghast.
It seems that Global Tel Link, which has the inmate pay phone contract for the LA County Jail system (and I believe for the state's prison system), is making obscene piles of money by charging the mothers and fathers and wives and husbands and sisters and brothers—and children—of jail inmates usurious rates to talk to a loved one inside any of the county's jails.
To be specific, GTL charges $3.54 per minute for the first minute of an inmate's collect call to his or her family, and 10 cents for every minute after that. (Since half the time when inmates call, the phones they use are broken and static-prone, one suspects that GTL is not spending a fortune on maintenance.)
So, how much money is Global Tel Link making by overcharging for calls to those LA residents who can least afford it? Well, enough that they can easily fork over a tidy $14 million per year to the county as a kind of kick back–er—fee for the privilege of overcharging. Global Tel Link's cushy contract was to have been up last spring with an RFP offered so other companies could come up with a less appalling fee structure. But GTL dangled another $2 million in front of county staff to persuade them to extend the contract for two more years. The ploy worked.

The only reason that Yaroslavsky and his fellow supervisors even noticed the existence of GTL's money making scheme is that, for the last few days, they have been sifting through the county's various funds and revenue streams in an effort to find an additional $25 million for the sheriff's budget—the amount needed to prevent Sheriff Lee Baca from having to close one of this jails. In any case, as the Sups trolled through various money pots they found the GTL numbers.
"It's a scandal. This is an indefensible kind of charge that we're assessing," Yaroslavsky said regarding the very, very profitable contract, according to NBC, (which was the only LA news outlet other than WLA that seems to have covered the story).
Not to be mean, but the fact that this contract is in any way startling news to the Sups is a tad hard to take. (Read your job descriptions, guys!)
(Some of us—ahem—have been hollering about this issue for quite some time.)
It also might also be good to note here that, according to studies on recidivism dating from 1954 to the present, the amount of contact an inmate has with his or her family and community is among the top predictors determining a parolee's success. Inmates who remain in contact with family and loved ones are less likely to pose a threat to prison staff or to re-offend once they're released..
That's "contact," as in phone calls.
Nice you could join the party, dearest LA County Supervisors. Now DO something!