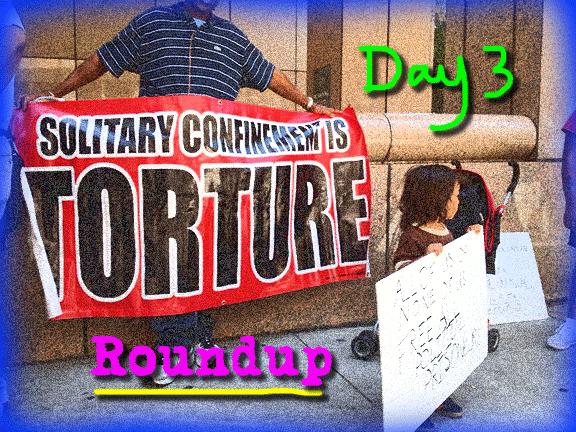 CA PRISONER HUNGER STRIKE REACHES THIRD DAY
The number of California prisoners refusing meals in protest of solitary confinement policies and conditions remained close to the 29,000 mark on Wednesday. The CDCR recognizes a prisoner as being on hunger strike once the ninth meal is skipped (in this case, Wednesday's dinner). The official hunger strike tally is expected Thursday morning.
The NY Times' Jennifer Medina has the update. Here's a clip:
Nearly 29,000 inmates in California state prisons refused meals for the third day Wednesday during a protest of prison conditions and rules. The protest extended to two-thirds of the 33 prisons across the state and all 4 private out-of-state facilities where California sends inmates, corrections officials said.

[SNIP]

Once the state tallies the official number of participants, the hunger strike could become the largest in state history. A similar hunger strike over several weeks in 2011 had about 6,000 participants at its official peak, corrections officials said, and a strike that fall had about 4,200.

The protest is centered on the state's aggressive solitary confinement practices, but it appeared to have attracted support from many prisoners with their own demands for changes in prison conditions.

Jules Lobel, the president of the Center for Constitutional Rights and the lead lawyer in a federal lawsuit over solitary confinement, said he expected the strike to go on for much longer than previous ones because inmates would refuse to accept anything less than a legally binding agreement for immediate changes.

"Last time, they took promises of reforms, but they are not going to do that again, because two years later the reforms have not materialized in any real way," Mr. Lobel said.

"This could become a very serious situation over time, because it seems we have a substantial group of people who are prepared to see it to the end if they don't get real change," he said.
The LA Times has an excellent editorial on the problematic use of prolonged solitary confinement as a blanket tool to keep suspected gang members from organizing crime from behind bars.
Here's a clip (but do read the whole thing):
No one disputes that special measures are needed to ensure that certain prisoners don't pose a threat or continue to break the law. But the protracted use of isolation carries a brutal cost. Multiple studies indicate that prisoners subjected to severe isolation are prone to mental illness, including psychosis. What's more, although the 3,100 prisoners in solitary make up only about 2% of the state's prison population, they accounted for 42% of the suicides from 2006 to 2010.

Amnesty International found conditions in the Security Housing Units to violate international law and, probably, the U.S. Constitution. Yet despite its calls for reform and a federal lawsuit filed by 10 Pelican Bay inmates, prison officials have been slow to act. So far, officials have agreed to release back into the general population nearly half of the 400 inmates whose cases have been reviewed, acknowledging that they show no evidence of gang-related behavior.

But much more is needed. Among other things, human rights groups note that inmates are being held in solitary for years for a crime — gang membership — for which they were never tried or convicted.
The editorial recommends that Gov. Brown put together a panel to provide independent review of the solitary confinement policies and practices to assess whether they are in violation of law. (WitnessLA agrees.)
Warren Olney's Which Way LA? also had a worthwhile segment Wednesday discussing the hunger strike situation. Guests included LA Times' Paige St. John, Michael Rushford of the Criminal Justice Legal Foundation, and Amnesty International's Thenjiwe McHarris, among others.
---
SUPERVISOR RIDLEY-THOMAS ANNOUNCES HIS FOSTER CARE COMMISSION CHOICES
On Wednesday, LA County Supervisor Mark Ridley-Thomas announced his two appointees to the Blue Ribbon Commission for Child Protection that was established last month. MRT selected Dr. David Sanders, former head of LA County DCFS. Sanders has won several awards for his exceptional work in child welfare and juvenile justice, and is highly regarded among LA's child welfare advocates. MRT also chose Dr. Marilyn Flynn, dean of the USC School of Social work, and an acclaimed leader in social welfare education.
Here are a couple of clips from MRT's announcement:
David Sanders, Ph.D. is currently the Executive Vice President of Systems Improvement for the Casey Family Programs, the nation's largest operating foundation dedicated solely to providing and improving, and ultimately preventing the need for foster care. Dr. Sanders served as head of the Los Angeles County Department of Children and Family Services (DCFS) from 2003 to 2006.

He provides strategic direction over the foundation's work with child welfare systems to improve practice, with an emphasis on safely reducing the number of children in foster care. Dr. Sanders is a graduate of Princeton University and has a Ph.D. in clinical psychology from the University of Minnesota. He is the recipient of the 2008 Grace B. Flandreau Award from the National Council on Crime and Delinquency, recognizing his significant contributions to juvenile justice and child welfare.

[SNIP]

Marilyn L. Flynn, Ph.D., is the dean of the University of Southern California (USC) School of Social Work. Dean Flynn has been at the forefront of innovation in social work for more than 35 years, expanding the reach of the profession to new constituencies, disciplines, applications, and domains of practice. She received her Ph.D. and Master of Social Work from the University of Illinois at Urbana-Champaign, where she specialized in social policy and economics, and subsequently served on the faculties of the University of Illinois, the University of Michigan, and Michigan State University – where she was also Director of Social Work and Director of the Institute for Public Policy and Social Research. She became Dean and Professor of Social Work at the University of Southern California in 1997.

Dean Flynn is widely regarded as a distinguished leader in graduate social work education, noted especially for her advancement of intervention research. She helped found the American Academy of Social Work and Social Welfare and was the first President of the St. Louis Group, representing most US schools of social work in major research institutions.
Supe. Zev Yaroslavsky reportedly has his nominees in mind, but is not yet ready to announce them.
We have yet to hear from Supe. Don Knabe, but expect he will have an announcement soon.
(You can read about Supes. Molina and Antonovich's appointees here.)
---
ANOTHER REQUEST BY GOV BROWN TO DELAY PRISONER RELEASE
Gov. Jerry Brown filed a request with Supreme Court Justice Anthony Kennedy Wednesday to be given another year to appeal the federal court order to release 9,600 prisoners by the end of 2013. (For backstory, go here.)
The LA Times' Patrick McGreevy and Paige St. John have the story. Here's a clip:
The state argued that it needs time to appeal federal crowding orders and that to obey the orders would free thousands of inmates, "including violent and serious offenders," according to the court filing.

It was filed with Supreme Court Justice Anthony M. Kennedy as the circuit justice.

"We are confident that if the U.S. Supreme Court takes a look at the dramatic improvements in California's prison system, the justices will find we are providing constitutional care," said Deborah Hoffman, a spokeswoman for the California Department of Corrections and Rehabilitation.