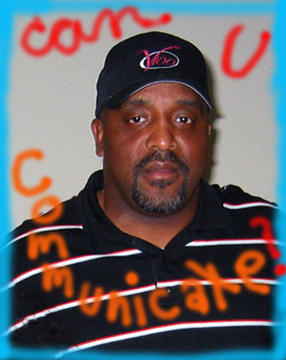 Those making gang policy in the city of Los Angeles (and elsewhere, for that matter) would do well to tune their radios to FM 100.3—midnight to 2 am every Sunday night, effective immediately. That's the time slot in which the Bo Taylor Show now streams over LA's airwaves once each week. The show is part back fence gossip, part therapy group, part storytelling down at the local bar. Except that many of those doing the talking on Taylor's show are either locked up or heavily armed.
Or have been in the past, anyway.
The show has been on the air only since February 4, but word of its existence appears to have spread quickly to an unusual mix of listeners. People call in from California state prisons as well as from their cars as they drive around South or East LA in the wee hours. Both active and reformed gang members call. USC head football coach, Pete Carroll, called earlier this month. So did civil rights lawyer/LA gang report maven, Connie Rice. On the show this past Sunday, one guy who knew Taylor from back in his street days, called from South Africa.

People who've lost family members to gang violence also call. "This is Sidney," says a woman, her diction soft and cultured. "I am having problems forgiving a young man who's incarcerated," she says—then her voice quavers. "In 2004, he shot and killed my niece…."

When she begins to cry, Taylor tells her that his own mother-in-law was murdered some time back.
"I have lot of mixed emotions, a lot of things I've wished on that person," he says, his tone now low and confiding "A lot of people cry out like you're crying out, and a lot of people's voices go unheard. That's why we need to talk to each other…"

Taylor is new to radio, and the show's occasional tech glitches show it. But, his dark honey voice with its rock quarry edge is well suited to the medium. And, in truth, the show's less-than-slick nature adds to its appeal. This is can't-tear-your-ears-away documentary theater. It's also great unfiltered radio of the ilk that used to be around twenty years ago, but that preprogrammed homogenization, and/or AM talk show screaming has all but wiped away..
Most important of all, the show is an unusual but promising new strategy in advancing community dialogue across the city. For Taylor to be on air, required the blessing of Radio One mogul-esse Cathy Hughes, plus her ex-husband, Dewey Hughes, who nominally produces this show. But Dewey Hughes especially is enthusiastic. He tells Taylor he believes the show could be important.
A key factor in making the radio show work is the fact that, in his daytime hours Taylor, 42, is one of the handful of South LA gang intervention specialists who really matter. Law enforcement trusts him (as much as they trust anybody). On the street, his credibility is unassailable. A former Crip gangster himself, Taylor formed Unity One in 1992, right after the Rodney King riots. Since then he's been involved in various intervention and prevention strategies such as working with ex-football star, Jim Brown, to bring life-skills courses into the LA County jails. Mostly Unity One reaches out, using any available method, to the young homeboys of Los Angeles who are still wreaking so much havoc. "If you feel hopeless and that nobody really cares, you know, it's easy to find comfort in the gangs," says Taylor.
Although the shows are loosely structured, Taylor tries to introduce at least one controversial topic each week. For instance, one past show deals with LAPD's Most Dangerous Gangs list. And this past Sunday Taylor brought up gang injunctions. But, unlike most AM or FM talk jocks, Taylor resists saying what he thinks but instead urges callers to phone in their own opinions.
"People don't get to talk on most radio shows," says Taylor. "Even when they call in, they're mostly told what to think by the host. All I'm doing," he says, "is sharing the microphone with people who usually don't get a chance to have a voice."
And so they call. They call in drunk. They call in high. They call in crying. The callers are sometimes rambling and irrational, often informative, frequently quite wise. Mostly they just want to be heard.
******
"Hello? This is Jesse."
"What's on your mind, man.
"Well, I've been in and out of juvenile hall all my life, you know, since I was nine-years-old. At the age of eighteen I went to prison. I did 13 years and I just got out in 2004. But I saw the light, and I don't mean in a religious sense." He says he's done well since his release, got a job, went back to school, and now counsels young gang members in a drug and alcohol program. "But the thing is, I was able to make that change, because I never gave up on myself. I never gave up…. We can't give up on ourselves. That's the main thing. You got to be focused."
******
Another caller complains about the rules of his parole. "My parole officer is on my ass to move." he says. "But how'm I supposed to move out of the neighborhood, man? My pops lives there in the neighborhood where I'm not supposed to be," he says. "I don't have no place else to go. So I keep getting violations because I walk down that street in front a' my house."

After the parolee, an older woman with a slurred and cracking voice calls. "I only wanted to say, my life is worth something," she says.

On each show, inevitably somebody brings up the racial tension that plagues certain parts of the city. Yet the most constant theme is the idea of reaching across boundaries,— ethnic, racial, socioeconomic, geographic, in prison and out— to have some kind of conversation.
"We need to think about where we're at and where we're going," says Taylor as the most recent show closes. "Because all of us have a part in this. Okay? Ev-erybody. And we need to keep talkin'.
Amen to that.