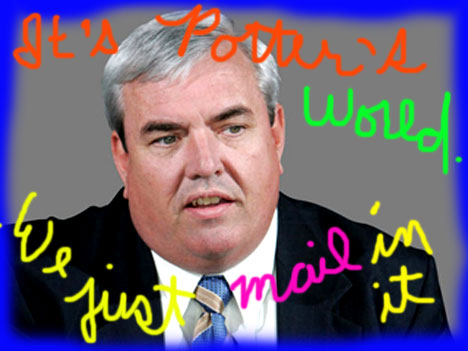 I now completely get the "going postal" thing. I mean it. Completely. (And not in a good way.)
But, before I get into to my own pathetic US Postal Service-related story, it is important to place my petty grievances in the context of the larger USPS story that the Washington Times broke earlier this week:
As you may recall, there was a bit of a kerfuffle when the WT learned that, although more and more Americans are hurting financially, the US Postmaster General, a man named John. E. Potter, had a pretty swell year, last year.
The paper found that, not only did Mr. Potter get a 40 percent raise from his 2007 pay rate—-his salary jumped from $186,000 to $263,575— he also got a tidy bonus of $135,000, plus some additional "deferred earnings" and other perks—all of which added up to a total compensation package of $800,000 for 2008.
Nevermind that the agency he was running lost $3,8 billion last year. And that Mr. Potter told a Senate committee last month that if current trends continue, the agency could lose $6 billion or more this fiscal year. So… to cut costs, said Mr. Potter, he would like permission to deliver mail only five days a week and raise the price of postage by 2 cents, maybe more.
Some critics suggested that, given the condition of his agency, Mr. Potter's personal fortunes were being guided by the Lose-Money-Get-Bonus theory recently pioneered at such commercial firms as Merrill Lynch and Citibank.
But Postal Service spokespersons argued that such characterizations were unfair, that the big problem was not anything that Potter was doing or failing to do. It was that, due to competition from the Internet and places like Fed Ex, fewer and fewer people were choosing to send their mail and packages through the taxpayer supported, executive-bonus-giving USPS.
*************************************************************************************************************
OKAY. ALL OF WHICH BRINGS US to my own series of go-rounds with John Potter's US Postal Service that have played out within the last 36 hours, and might conceivably shed some light on why so many American customers are fleeing Mr. Potter's PO.
My sad and circuitous postal adventure began when I was preparing to mail 184-pages of a book manuscript to a destination in New York City. I needed the package to be in NY by Wednesday afternoon, Thursday at the latest. I could have sent the thing by Fed Ex, as was usually my habit, but what with the uncertain economy and all, I decided to be frugal. Instead of the $60 plus dollars that Federal Express would have charged, I would go with the guaranteed overnight of the USPS, which advertised itself to be just as good as FedEx, and it was less than half the price.
Yeah, I know. My bad.
But I didn't realize it yet.

Since I was revising the manuscript right up until the last minute, I logged on to USPS.com to double check the Express Mail cut-off time at a post office near me. My local PO had a 3:30 p.m. cut off. But the big postal depot at 5800 W. Century Blvd., right outside of LAX, had a 5 p.m. cutoff.
Perfect, I thought.
True, the drive to the airport was a bit of a pain, but the later deadline gave me a bit more time to proofread and print out the recently rewritten pages. And— I reasoned—if I took my package to the airport, there was less chance for mishap. All Express Mail flying out from this end of LA County had to pass throught the Century Blvd. depot, anyway. So why not bypass the middle P.O?
To make sure I had no delays in finding the place, I went to on Google Maps and printed out directions from my house in Topanga Canyon to 5800 W. Century Blvd., Los Angeles, CA 90045.
It was pouring rain by the time I arrived at the half-block-long building marked with the blue and white insignia of the US Postal Service.. But as I drove from one end to the other of the equally large parking lot I noticed there was a teensy-weensy problem. There appeared to be no entrance. Only a bunch of truck-docking sorts of places. And, although the parking lot contained lots of official USPS delivery vehicles, vans and what have you, there weren't a lot of other cars.
I rechecked the address. Nope. I had it right. Perplexed as to what to do, I drove around some more until I spotted an actual person getting out of an official-looking truck that was parked near one end of the building. Seizing the moment, I quickly hopped out of my own vehicle and ran through the rain to ask the guy where I could find the customer entrance to the place. But before I could reach him I happened to notice a small cardboard sign—maybe 2 feet long—taped up in one the depot's windows.
It read: THE RETAIL POST OFFICE HAS BEEN MOVED TO 9029 AIRPORT BLVD.
Geeze. I realized that the Post office must have relocated in the last few weeks. I though it vexing that the central USPS website wasn't updated to reflect the move. But, oh, well. Whatever. All it meant was that I now was going to have to really hurry to make the deadline.
I didn't have Google Maps print out for 9029 Airport Blvd, but I had a GPS in my car, so I filled in the necessary coordinates, and made my way out of the parking lot.
There were some stressful moments during the mile or so stretch of Century Blvd. when the usually nice little lady inside my GPS system kept repeating in a manner that began to be grating, PLEASE MAKE A LEGAL U TURN. PLEASE MAKE A LEGAL U TURN…. when there were large, red NO U TURN signs at every intersection I was passing but…..no matter. Eventually I was able to make the U-turn and, another ten minutes hence, I arrived at Airport Blvd. address, found a space in the crowded parking lot, ran again through the still pouring rain.
Once inside, I waited in the very long line until, finally, I got up to a window where I found…..
…..I'd missed the cut off time for Express Mail.
Alright. Alright. Not a big deal. The wrong address thing was irritating but at least the package would be in New York on Thursday, for sure.
"And maybe Wednesday, if you're lucky," the pleasantly chipper clerk told me. She said that, since I had brought it to the airport PO, my package would fly out that night which meant, while the Post Office could no longer guarantee a Wednesday delivery, my mailing might very well arrive the tomorrow morning anyway. But definitely, Thursday, by no later than 3 p.m.
"And if you're at all worried," she said, "see this number right here? This is your tracking number. Just log on to USPS.COM and put in that number and you'll be able to track the progress of your package. Okay?"
She smiled. I smiled. I thanked her. And then I remembered. "Uh, about that USPS.COM website…" I explained about the old address. She said she would tell her supervisor.
"So you moved recently?" I said as I left the window.
She looked surprised. "Recently? Oh, no. We moved from the Century Boulevard building eight years ago."
Eight years ago. I assumed I had misheard. The United States Postal Service's main web site could not possibly be that screwed up.
When I got home, just out of curiosity I Googled the matter and found a small LA Times news article that announced the relocation.
It turned out that the clerk was indeed mistaken about the date of the move. It wasn't eight years ago after all.
It was nine years ago. February of 2000.
I did not consider this news to be a good sign.
The next morning I got up, made coffee, logged on to USPS.com and typed in my tracking number, hit return…..and the auguries grew worse.
Under Search Results I got only: There is no record of this item.
Assuming I had mistyped, I tried it again.
And again.
Finally I called the USPS 800 number and gave my tracking number to the person who answered the phone and identified himself as Randall.
"We have no record of that tracking number," Randall said.
After a bit of tense badinage, Randall told me there was really nothing he could do if there was no record of my number in the system.
"…but I have a receipt with a tracking number…!" I sputtered.
"You'll have to call consumer affairs."
Consumer Affairs? What can they do?"
"Do you want the number or not?" asked Randall in a tone that I really felt was unnecessarily snippy.
I took the number.
At Consumer Affairs I was connected to a woman we'll call Mrs. Doyle. (I am not using her real name in case, God forbid, I ever need to call her again. There are some bridges one is unwise to burn.)
I explained to Mrs. Doyle about the tracking number problem.
"What would you like me to do about it?" she asked.
"Uh…I want you to find it."
"Well, I can't really do that because there's no record of the tracking number."
I thought I must have been unclear. "Let me explain this again…." I said, "I drove all the way from Topanga Canyon to the main post office at LAX. I paid $27.65 to mail my package there. And I have a receipt….!"
"I understand that. But what is it that you want me to do?"
"Find my package."
"But there's no record of it."
"But I have a receipt with a tracking number…."
"If you don't tell me what you want me to do, I can't really help you, can I?"
Things went downhill quickly from there.
But…….eventually I got enough of a grip on myself to switch tactics and make friends with Mrs. Boyle, who called the relevant New York post office….where she found absolutely no record of the package. But she was nice about it, even sympathetic.
She could not, however, find any kind of evidence of my mailed manuscript having ever having existed. It appeared simply to have vaporized.
Now that we were friends, Mrs. Doyle tried to be encouraging."Your package might very well be fine and it could very likely be delivered on Thursday, right on time."
"Or not," I said.
"Or not," she conceded.
We agreed that the only sure way to know that my manuscript would arrive at the necessary destination by the necessary date….. was to send it again.
So that's what I did.
There was a bit of a glitch when, part way through the (re)printing process, my laser printer's toner cartridge gave out, so I had to get a new one. But, one more trip to the post office (the local one, this time) and another $27.65 plus the price of a toner cartridge later…..
….I had a brand new tracking number.
That was yesterday. Just a minute ago, I hesitantly typed the number into the relevant tracking field at the relevant website (the URL to which I cannot bear to recite again). The search results did not indicate that the package had left Los Angeles or even Topanga. But it did, at least, acknowledge the package's existence.
Sadly, I considered this progress.
Heck of a Job, John Potter.
Heck of a job, USPS.
UPDATE: 10: 53 a.m., Thursday: According to the website, yesterday's package has arrived. The original one….while it is now in the system (or purports to be,.I've newly embraced the X-Files' mantra of Trust No One, particularly anyone who works for or anywerhe near John Potter)…is still in transit. Somewhere.