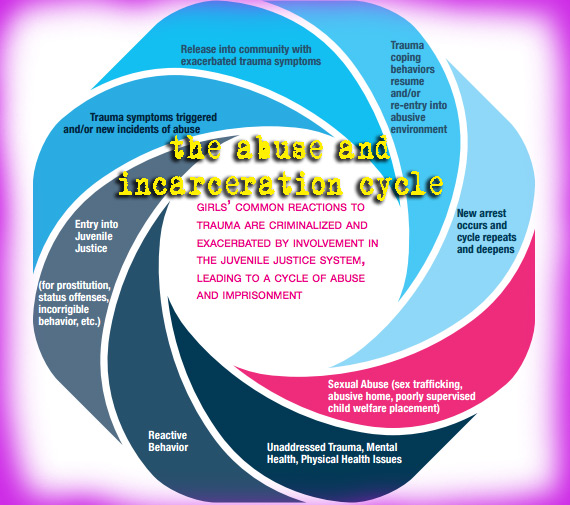 ABUSED YOUNG GIRLS ARE INCARCERATED AT MUCH HIGHER RATES THAN GIRLS WHO HAVE NOT BEEN ABUSED
As many as 81% of girls in the California juvenile justice system have been victims of physical or sexual abuse, and their common reactions to abuse are often criminalized (like truancy, running away, and possession and consumption of drugs and alcohol), according to a report released Thursday by the Human Rights Project for Girls, Georgetown Law Center on Poverty and Inequality, and Ms. Foundation for Women. And 56% of abused justice-system-involved girls had been sexually abused, and 45% physically abused, often multiple times. In addition to abused girls being locked-up for youthful offenses, girls are often criminalized as victims of sex trafficking.
There were other states with worse numbers than California. In Oregon, 93% of girls were experienced one or both forms of abuse.
Nationwide, girls' rate of abuse is four times higher than that of boys in the juvenile justice system, and there are nearly twice as many girls who have experienced five or more Adverse Childhood Experiences as boys.
"Girls, and disproportionately black and brown girls are, incredibly, being locked up when they've run away from an abusive parent or when they have been trafficked for sex as children," says Malika Saada Saar, executive director of the Human Rights Project for Girls. "But their stories of unjust arrest and incarceration have been marginalized."
"These girls are too often victims of sexual abuse and trauma who need our care and support," says Peter Edelman, faculty director of the Georgetown Law Center on Poverty and Inequality, calling on lawmakers and advocates to "dismantle" the abuse-to-prison-pipeline, and to better serve victimized girls.
The report recommends strengthening both the Juvenile Justice and Delinquency Prevention Act and the Prison Rape Elimination Act, as well as decriminalizing victims of sex trafficking, increasing collaboration between the child welfare and the juvenile justice systems, and providing better training for law enforcement, judges, and juvenile justice staff to better recognize abuse and trauma.