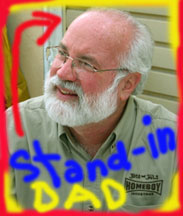 NPR's Fresh Air with Terry Gross turned 20 on Monday. She and the producers celebrated (predictably) by choosing some of the most memorable moments over the past two decades. Among the material selected were some excerpts from the interview she did with Father Greg Boyle, the Jesuit priest who runs the nation's largest gang intervention program, Homeboy Industries. Fresh Air has also posted a link to the interview in full. It's very much worth listening to from beginning to end.

Admittedly, I'm not an impartial observer when it comes to Fr. Greg. (I wrote a book about the man and he's a close friend.)
Yet, please don't let my partiality keep you from listening. I think you'll find he's the real deal.

Another thing, while you listen, here's an little side issue you might find interesting—particularly now that we're back to contemplating what may or may not still need fixing in the "culture" of the Los Angeles Police Department:
The deal is, although Greg is friends with LA's top cops—Bratton, Sheriff Baca and the upper echelons of the LAPD's command staff—there are scores of street officers who actively hate the priest's guts.

They scowl when his name is mentioned. Or if they happen to stop a kid who says he works for Homeboy Industries, they say things like, "Oh, yeah? Well [insert expletive, rhymes with "truck"] Father Boyle! And [do the same expletive deleted to] Homeboy Industries.

I've had those same sorts of officers tell me—and anybody else who'll listen—that they know that Fr. Greg is stashing piles of guns, and dealing drugs out of his office for profit.
Right.

All because he tries to help the guys and young women whom much of the rest of the city would just as soon write off.
The horror.