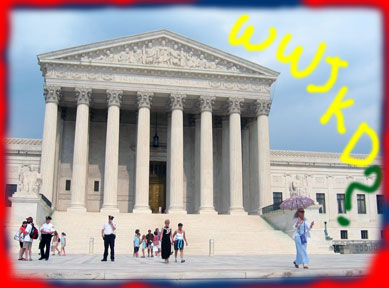 1. WWJKD?
It's been a big week for the Supremes. On Tuesday, the court handed down four controversial rulings. The most legally irritating and potentially precedent-setting of these was the Frederick v. Morse decision—otherwise known as the Bong Hits for Jesus case where the court struck a blow against free speech for students. [WLA reported on the underlying case here.]
Then Thursday, there was the true doozey in which, 53 years after Brown v. the Board of Education, the Supreme Court gave the finger to legal precedent and ruled in the Seattle/Louisville school integration cases, that the relatively modest attempts by those cities to promote racial diversity in some of their schools was no longer legal or acceptable. "This is a decision that the Court and the nation will come to regret," wrote Justice Stephen Breyer. (Here's what the NY Times had to say.)

It is unclear if this decision is going to be fundamentally ruinous to LA's magnet schools or not-–the magnets being the voluntary integration system that has been the one genuine jewel in the infuriatingly incompetent LA unified school district. (I'll likely write more on this later.)
Yet, aside from the individual cases, there is a larger issue that is worth noting: when looked at as a whole, the decisions—each of which featured a five/four split among the justices—are representative of the ideologically-polarized trend that has come to characterize the Roberts court. Yet, what's most interesting is that a quick analysis of how each justice voted suggests that most SCOTUS rulings for the foreseeable future will hinge on a single question: WWJKD? —What Will Justice Kennedy Do?

It turns out that Anthony Kennedy has sided with the majority—conservative or liberal—in every single one of this term's five-four splits.

When Sandra Day O'Conner was still on the court, both she and Kennedy were regarded at as potential swing voters, which made SCOTUS a more fluid and less ideologically-driven body.
Not anymore.

1. GENARLOW WILSON – THE STUPIDITY CONTINUES
On Wednesday, Genarlow Wilson was denied bail while he awaits the next legal go-round in his case. As you'll remember, Wilson was the 17-year-old who was given a 10-year sentence for having consensual oral sex with a girl two years younger. Although the law has been changed since his tragically whacked-out sentence was handed down, it does not apply retroactively. Earlier this month a Superior Court Judge threw out Wilson's sentence, but the prosecutor appealed. So, although Scooter Libby can stay out of prison while his appeal progresses, this now-21-year-old kid who has already served 28 months in prison, must continue to stay locked up. Legally speaking, there's a case to be made for both granting bond, and not. But common sense and decency falls on only one side of this legal equation.
Yesterday, in a pathetic attempt to look less like a scumbag while still keeping this case in his "win" column, the prosecutor offered Wilson a deal: he could serve five instead of ten years in the pen, which means, with time served, he'd stay locked up for another two and a half years. And, as an added bonus, the prosecutor generously offered to NOT require Wilson to register as a sex offender for the rest of his life. Friday, Wilson and his attorney rightly turned the offer down.
WLA posts on the case may be found here and here.

3. THE CHENEY REPORTS

The WaPo series titled "Angler," about the most powerful VP in American history, began on Sunday and finished on Wednesday. I don't care where you sit on the blue/red political color wheel, if you consider yourself an informed resident of these United States, you need to read this puppy. [Click here]

If you only read one chapter, I recommend Part 2, on war and interrogations found here.

Look for this series to be a serious contender come Pulitzer time.

Then, if after reading, you feel desperately in need of a good laugh, take a look at this week's Daily Show's segment that ran all week titled "You Don't Know Dick."
*****************

Happy Friday night! I'm going to see Michael Moore's SICKO. Will let you know how it goes!
*****************
SATURDAY UPDATE:
Okay, saw the movie, and I definitely recommend it. It makes some
terrifying points about the reality of the American health insurance system that most viewers will recognize (with horror) as obviously true, and that naysayers are going to be hard put to factually deny. I suspect it's going to turn out to be a very forceful tool in, at least, starting the process of slapping Americans awake in terms of the need for universal health care. In fact, the main power of the film is that it doesn't tell us anything that most average Americans don't already know. But Moore weaves all the information together into a anecdote-studded whole that has the cumulative effect of making you want to run from the theater shrieking, "WE HAVE TO DO SOMETHING ABOUT THIS!!!!!!! NOW!!!!!!"

(The material that will be new to Americans is the footage that gives a compelling window into the healthcare systems found in Canada, England and France.)

The Cuba section is weakest. It's only here that Moore starts bending his facts a bit. However, Moore gets us there by first showing news clips of US government officials boasting about the great healthcare given prisoners at Guantanamo.
Then, in a boat outside Git'mo with a bunch of the now chronically and heartbreakingly ill 9/11 rescue workers, he shouts plaintively through a megaphone, "We don't want any more care than you're giving the evildoers! Just the same!"
Bottom line: As is usual with Mike Moore, the movie ain't perfect. But it's pretty damned good.
But don't take my word for it. See it and let me know what you think.