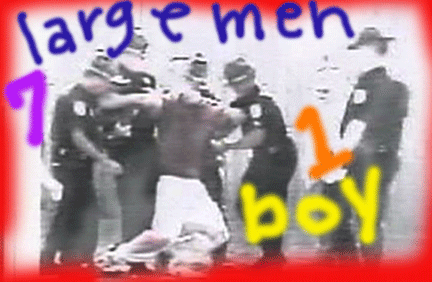 This week TIME Magazine has an article worth reading about all that is rotten in Florida's prisons and boot camps. It' opens with the story of the death of Martin Lee Anderson.

Last year, like many people, I watched the video" frameborder="0" allowfullscreen> of Anderson, a skinny 14-year-old, as he was hit, kneed and ultimately smothered to death by seven grown men, as a nurse looked on dispassionately, her expression no more alarmed than if the guards were simply subduing a rabid dog.
And like many, I was shocked and outraged when the horror of Anderson's unnecessary death was compounded by the jury verdict last week in which the guards who beat him, and the boot camp nurse who stood by and watched, were acquitted of all wrongdoing by an all white jury.
The jury deliberated only 90 minutes. Within that same 90 minutes, the jurors also rejected the possibility convict the batterers and the of lesser charges of child neglect and culpable negligence.
Now it seems that the feds are actively contemplating the notion of bringing civil rights changes against the eight who were not held to answer in criminal court.

According to TIME, however, the Andersen case is not an isolated incident, but a pattern that the Florida's Corrections honchos have tragically failed to correct:
While no one is asking Florida to coddle its prisoners, adult or juvenile, many fear it has yet to break its dark habit of coddling abusive guards and other officials watching over those prisoner.

The state is facing lawsuits alleging that its prisons subject too many inmates, including the mentally ill, to a prisoner "warehousing" culture of unlawfully extreme isolation and deprivation, usually with little or no rehabilitation efforts to prevent recidivism. Other suits decry what one calls excessive as well as "malicious and sadistic" use of pepper spray and other chemicals to keep mentally ill prisoners under control. In many cases the sprays have burned off inmates' skin, according to the suit. "Florida prisons still need to end this kind of outrageous conduct," says Randall Berg, executive director of the Florida Justice Institute in Miami, which is participating in a suit filed against the state's current Corrections head, James McDonough, along with other department officials.

By chance, as I was cruising the TIME website, I noticed that they had an earlier interview with my pal, Joan Petersilia, about how to fix some of the problems in California's disastrously overcrowded prisons. Joan, who is as smart as they come on such things, quickly listed a trio of fixes that she thought were the most important to look at first:
We need three things: sentencing reform, better prison rehabilitation programming, and parole reform. Part of our problem is structural. Under our current sentencing law, we can send people back to prison for technical parole infractions. [Some other states only order jail time or community punishments for technical parole violations.] So, parole violators just keep churning in and out of our prison system, serving very short terms. We should change that practice and handle very low-risk, non-serious, non-violent parole violators in the community. California could reduce its prison population by adopting this practice. It's low-hanging fruit in terms of addressing overcrowding. Additionally, we need more crime-prevention programs and better funding for probation to reduce the number of people coming into prison in the first place.

All three suggestions, while obviously not fleshed out, are dead on—and all reasonably doable (beginning with parole reform)…if Arnold and the state legislature could stop playing politics long enough to put some genuine reforms in motion (which ain't too likely).
As for Florida…. Well, hopefully the U.S. Attorney's office that promised to review the case against Martin Lee Anderson's cavalier and lethal batterers will spend more than 90 minutes on the matter.