MONDAY – UPDATED: The winds shift, evacuation orders come and go, and fires all over Southern California still rage out of control. An astonishing two-hundred and fifty thousand people have been forced out of their homes in San Diego alone, one person is dead, dozens injured, 130 837 dwellings and businesses have burned, 600 of them in San Diego, with thousands more in danger. hundred and ten Close to four hundred square miles of Southern California land has burned.

AS OF MONDAY NIGHT, the Malibu fire has gone from 10 percent contained, down to 8 percent, with winds blowing north.

In Topanga, we are still here, still fine, still under temporary evacuation orders except for one area of lower Topanga, where leaving may mandatory, although no one seems quite sure. All the valuables at my house are still packed by the door. The cat knows something is up and has been complaining bitterly. (The dog is more philosophic.)
This morning, the Malibu fire (or what they're calling the Canyon Incident fire, not exactly a snappy title), was on the move with approximately 1400 firefighters making their stand at Rambla Pacifica (below) as the fire pushed eastward, toward Tuna Canyon and Topanga. At that time, it was declared 10 percent contained, "but still we have terrible conditions," said LA County Fire Inspector, Ron Haralson. "To get a handle on this we need a break in the weather." And that isn't expected until Wednesday.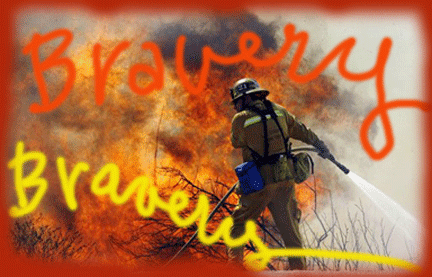 The next "trigger point" for the Malibu fire said LA County Fire inspector, Frank Garrido, is Los Florez Canyon. "When it hits Las Florez, it'll trigger another whole group of evacuations."

All morning and into the noon hour, the fire moved steadily toward Las Flores. But, suddenly, just about 12:30 pm, as the so-called trigger point was about to be breeched— meaning mandatory evacuations of Big Rock, Tuna Canyon, and lower Topanga—the winds shifted again.

After that, instead of moving down the coast, the fire marched up the mountain toward Piuma, and Schoeren Roads near Saddle Peak, where a brand new set of mandatory evacuations were called around 1:30 pm.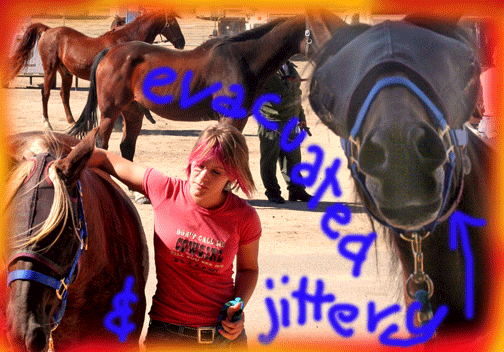 With things so uncertain, last night, most Topanga people moved their horses and other large animals out of the canyon. This included Molly Hogan of the non-profit Wildworks, an animal rescue group up the road from me. Molly has a couple mountain lions, a gray wolf, several African servils, an extremely cute baby gray fox, and a bunch of other felines and assorted critters, plus some horses she's rescue.
At Pierce college, horses were being brought in all night-–My neighbor, Rebbecca, was busy gathering, loading and transporting around 46 of the neighborhood equines, until after 1 am last night. This was an eventful endeavor. For instance, Henry, the rescued former Santa Anita racehorse, now owned by Antonia, the voice-over actress, was horrified at the notion of getting in the borrowed trailer so took off down the road and hid unhappily behind some bushes, until Antonia managed finally to coax him out.
I wish I could give you the personal stories of all of the horse owners gathered last night. None are wildly wealthy. Most are simply working people who love critters. More than not, the horses that they care for have been in some way or another rescued. (Yes, we're bleeding heart liberals in Topanga, and the bleeding heart thing includes horses.)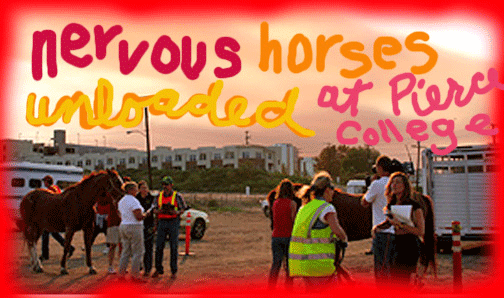 NOTE: For lists of mandatory and voluntary evacuations in the Topanga/Malibu area and most in between, go here. (The LA Times is not as accurate.)
This evening, I spoke to Frank Garrido again, who is now working on the Agua Dulce fire. That one at least, he says, is 30 percent contained.

The news from Malibu fire is not anywhere near as upbeat. As I said at the beginning, tonight at the Malibu firelines, the progress is moving backward—from 10 percent back to eight.
In the meantime, in Topanga, we wonder if we should pack more, or leave it be and hope that the fire goddess is kinder to us than those hundreds of now-homeless people in San Diego. We have no television, so we aren't temped to stare at the mesmerizing images of destruction up and down the state. (The TV went out yesterday.)
Even the coyotes are quiet tonight. Like us, they're hunkered down, tired and waiting—-for the wind to abate, for the smoke to clear. Waiting for the fire, if we are lucky, not to come.

********************************************************************************


POST SCRIPT: Be sure to read my pal Marc Cooper's rundown on what the truly hideous CNN talking head, Glenn Beck, said about the fires. Color me speechless with fury.

********************************************************************************
(Photo of planes dropping fire retardant on the hills above Malibu by Genaro Molina / Los Angeles Times; Horse photos at Pierce College Barn by Doreen Clay; Rambla Pacifico, AP Photo/Damian Dovarganes)