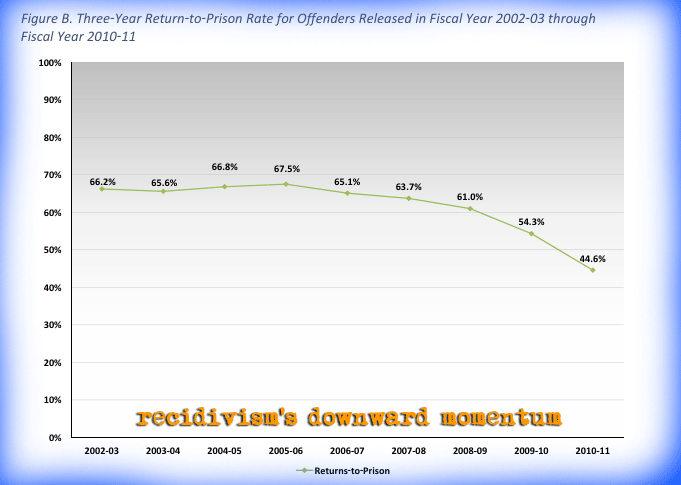 CDCR REPORT SHOWS BIG DROP IN RE-INCARCERATION RATES FOR STATE PRISONERS IN 2015
Three-year recidivism rates for California's prisoners has dropped significantly for the fifth consecutive year, according to new data from the California Department of Corrections and Rehabilitation (CDCR).
The 87-page report revealed a 10% recidivism reduction—from 54.3% in 2014 to 44.6%—for inmates released during the 2010-2011 fiscal year compared with those released during fiscal year 2009-2010. Even lower than the statewide recidivism rate, was the rate for Los Angeles County: 32.3%.
Of the offenders who received substance abuse treatment both behind bars and post-release, just 15.3% returned to prison during that three year period following their release.
"Most offenders sent to prison are eventually released, and so rehabilitation is in everyone's best interest—our staff, the inmates and the community at large," said CDCR Secretary Scott Kernan. "The latest recidivism rate shows that we're helping more inmates learn how to live a law-abiding, productive life."
---
BILL TO ENSURE JAIL INMATES HAVE ACCESS TO IN-PERSON VISITS AWAITS SIGNATURE FROM GOVERNOR
As some jails gradually increase the use of video visitation and decrease in-person visits for inmates and their loved ones, a California bill aims to protect those face-to-face visits. The bill, authored by CA Senator Holly Mitchell (D-Los Angeles), which would require counties to provide in-person visitation in jails by 2022, has made it to Governor Jerry Brown's desk for final approval.
"Every year California releases thousands of jail inmates whose chances of staying out and straightening up rise in proportion to how closely they stayed in touch with family members while in jail," said Mitchell, explaining the importance of keeping inmates and their families connected.
---
DOJ TRAINING VIDEO SHOWS LAW ENFORCEMENT HOW TO TREAT TRANSGENDER PEOPLE DURING TRAFFIC STOPS AND OTHER ENCOUNTERS
The US Department of Justice has released a video (above) for the nation's law enforcement officers explaining transgender terminology and how to have respectful, kind interactions with transgender people with whom they come into contact.