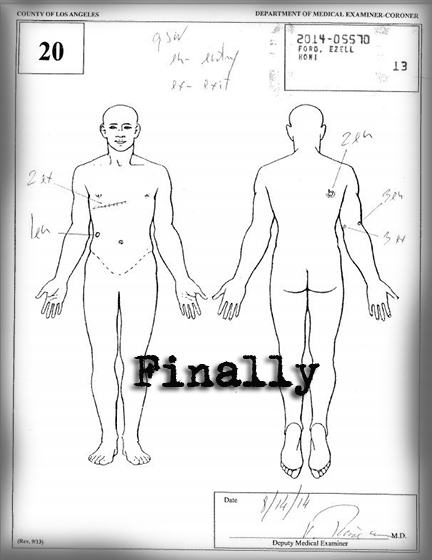 The autopsy report for Ezell Ford's death was released Monday after months of delay. It showed that Ford, 25, a mentally ill black man, was shot three times, once in the back, once in the side of his abdomen, with a third, non-fatal wound in his right arm. The shot in the back had a "muzzle imprint," according to the coroner's office, which suggested that the shot was fired at very close range.
Ford was killed on the evening of August 11, in the Florence area of South LA, by two LAPD officers from the department's Newton Division gang detail. The shooting took place a few days after teenager Michael Brown had been been shot and killed in Ferguson, Missouri, by Ferguson PD officer Darrin Wilson. The proximity of the two events added to the growing tension over the issue of fatal police shootings this past summer that resulted in multiple protests in Los Angeles and elsewhere in the nation.
LAPD officers Sharlton Wampler and Antonio Villegas, who both fired shots, reported that Ford was trying to remove the service weapon from the holster of one of the officers. It was not clear why Ezell was stopped by the officers, and what triggered the physical altercation.
According to LAPD Chief Charlie Beck, the information in the just-released coroner's report does not conflict with the two officers' account of the shooting.
Although the report has been complete for months, Beck asked that it be withheld pending further LAPD investigation into the shooting, in order to avoid the risk that the information contained in the report would taint the account of witnesses to the events of August 11. (LAPD investigators were, at the time, having trouble getting community witnesses to come forward and cooperate.)
Mayor Eric Garcetti, however, set a time clock on the report's release, promising that it would be made public before the end of the year—-hence its public distribution on Monday.
"Transparency is key to the trust between LAPD and the people they serve," said Garcetti in a statement Monday, adding that a full and impartial investigation was still ongoing. "As we end 2014″ he said, "I am proud that Los Angeles is home to the finest police officers in the nation, and my heart continues to go out to the grieving family."
Chief Beck promised to "find out the truth of what happened that August night."
Ford's family has filed a $75 million wrongful death lawsuit.
For further information see accounts from Kate Mather and Richard Winton at the LA Times. The KPCC news staff has a series of ongoing updates on the story.
---
EDITOR'S NOTE: Yes, we're still dark. But breaking news, is breaking news.