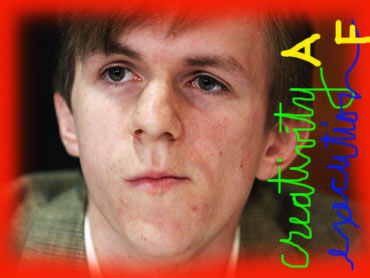 My dear Mr. O'Keefe,
Your message explaining why you will miss your scheduled interview with us has, I believe, demonstrated yet another reason why we feel you cannot help but benefit from obtaining our Master's Degree in Journalism. While we admire your go-getter spirit (love the pimp outfit you used for the ACORN sting), we feel sure your native talents would shine brighter if burnished by the rigorous kind of critical thinking we encourage.
For instance, regarding this most recent unpleasantness, had you been matriculating through our program, our professors would have uniformly advised you against (allegedly) committing a felony that carries with it a 10-year prison jolt. We understand that you were after what certainly sounded like an intriguing story. But our profs would have brainstormed with you to find another route to getting the information you sought. (See, for example, our 2-credit FOIA Lab.)
Speaking personally, I always firmly advise my students not to do anything that will get them either arrested or shot at. And, if unsure about the aforementioned, I tell them to simply avoid acts that will stand in the way of their future Supreme Court confirmations. And really, as I'm sure you now agree, those are handy little, easy-to-remember rules to fall back on in a pinch….
---
From CBS:

O'Keefe and three others — including the son of an acting U.S. Attorney, are accused of trying to manipulate the phones in Democratic Sen. Mary Landrieu's office in New Orleans. According to an release from the United States Attorney's Office, witnesses say O'Keefe was in Landrieu's office when two co-conspirators came in "dressed in blue denim pants, a blue work shirt, a light green fluorescent vest, a tool belt and a construction-style hard hat" and pretended to be there to repair the phones. (Here's the affidavit.)

O'Keefe allegedly filmed the men handling the main reception-area phone in the senator's office with a cell-phone camera. The faux-repairmen, who are believed to have been attempting to tap the phones, then asked for access to the telephone closet to work on the main telephone system; asked for identification after being directed there, they said they had left their credentials in their vehicle.

The four men — O'Keefe, the two fake telephone repairman, and another alleged co-conspirator — are now "charged in a criminal complaint with entering federal property under false pretenses for the purpose of committing a felony, announced the United States Attorney's Office for the Eastern District of Louisiana." They could face up to ten years in prison and a fine of $250,000.