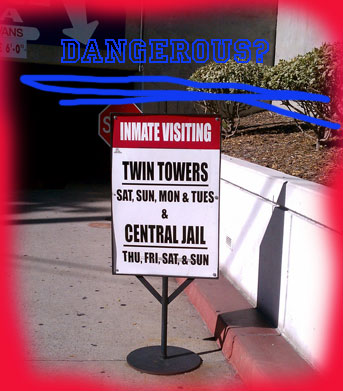 The ACLU has filed dozens of complaints over the years alleging that sheriff's deputies inside LA County jail have beaten or otherwise mistreated inmates. As recently as May of last year, they released a 64-page report on the LA County jail system charging that it fostered a "culture of fear and violence." However, according to Peter Eliasberg, the managing attorney for the Southern California branch of the ACLU, in most cases, the only witnesses to incidents of alleged mistreatment by deputies are the deputies themselves who say the beatings et al never happened, and prisoners whose accounts are chronically disbelieved. Thus the complaints almost never go anywhere.
Then on January 24 of this year, Esther Lim, the ACLU's newest jails coordinator, said she witnessed two deputies brutally beating and tasing an inmate named James Safari Parker, a 35-year-old who was awaiting trial on a nonviolent marijuana charge. At the time of the incident in question, Lim was visiting another inmate, a man named Christopher Brown, who also witnessed the alleged beating.
In Part 1 of this story you can read Esther Lim's account of the incident.
Part 2 below covers Brown's account of what happened:
---
Christopher Brown was in one of the cubicles at the Twin Tower jail facility that is reserved for attorneys who need to meet with their clients. He was talking to ACLU jails monitor Esther Lim who was sitting in the twin of his cubicle, right across from him, separated by a glass window. All at once, Brown said, he heard loud "cussing" outside the attorneys' room. Someone said the word, "motherfucker." Then Brown heard what he later described as scuffling noises, boots squeaking and various thumps and thuds. A fight, he thought.
Brown stood up and strode to the locked door that separates the attorneys' room from the "staging area," a large space that contains the jail module's recreation area. The door featured two windows—one in the top half of the door, the second in the lower half— that allowed Brown to peer out at the staging area to see what it was that was causing all the scuffling noises.
"I saw an inmate who looked African-American, who I later learned was Parker," Brown stated in his signed declaration about the events of that day. "He had big braids that were sticking out from his head and [he] was standing next to the water fountain in the staging area with his hands covering his face, with two deputies punching him."
At that point, Brown said, he could only see the deputies backs, but he could see their punching motions clearly. He glanced at Lim, who by that time, was also standing at the windows on her side of the attorney's room. "See, it's happening now," he said.
Brown then said he looked back out the windows in time to see Parker stumbling forward, then falling to the ground between the two deputies, his hands out in front of him. However, according to Brown, when Parker hit the ground, he stopped moving. "He looked like he was knocked out," said Brown. "He appeared limp." The fall brought Parker right up to the door nearest to where Brown was standing.
It was at that point that Brown got an angle on the deputies, whom he identified as Hirsch and Ochoa, both officers who had worked on the module. To his surprise, both deputies began punching the prone and unmoving Parker, according to Brown. Then one of the deputies, whose name Brown happened to know, Hirsch, began "kneeing" Parker. Finally, the other deputy—Deputy Ochoa— got out a taser gun and, according to Brown, tased Parker first in the leg several times, then in his back.
Brown saw Parker's body convulse each time he was tased, he said, but otherwise the man with the deputies appeared to be out cold.
Like Lim, Brown said that Deputy Hirsch kept yelling "Stop fighting! Stop resisting!" even though Parker was in no condition to resist anything, according to Brown.
At this point, said Brown, Deputy Ochoa pointed a finger at him and yelled, "Lay down on your stomach and face the fucking wall."
Brown scurried back to the cubicle and did what he was told to do. He laid down on the floor—which is where Esther Lim found him when she went back to the cubicle before leaving the building.
After Lim was gone, more deputies came into the attorneys' room and into the staging area. Someone took pictures. A jail trustee arrived with a mop to swab down the floor where Parker had been lying and, according to Brown, had bled some on to the ground.
A sergeant asked Brown what had happened. Brown said he told him what he had witnessed. But while he talked, Deputy Ochoa appeared nearby and give him a hard look, said Brown what he took to be a threat, The sergeant escorted Ochoa away then left to get a video camera, at which point Brown spoke to Deputy Ryan Hirsch, the second of the deputies who had allegedly beat James Parker, who complained that he had injured his hand.
Brown said he told Hirsch that "a lady from the ACLU was here and saw what happened."
"My advice is to stay out of it," Hirsch said, according to Brown. "It doesn't have anything to do with you."
Brown did, however, give a statement on video about the incident. That much was verified by Sheriff's Department spokesman, Steve Whitmore.
Brown also detailed the sequence of events in a signed declaration for the ACLU, in which Brown said he was interviewed on video by a second sergeant named Ramos who, he said, told him several times that he didn't have to give a statement if he feared for his safety—or words to that affect.
"I felt very intimidated by this comment," said Brown, "like he was trying to discourage me from saying anything."
According to Brown, the same sergeant told him that he looked uncomfortable. "It looks like you don't want to say anything." Again, he said, he felt intimidated and thought that Sergeant Ramos was suggesting that perhaps he should not talk about what he had seen.
Brown said he gave the statement anyway. "I thought, if someone had seem me being beat up by deputies like the way it happened to Parker, I'd want that person to stand up for me and tell what happened."
Brown also told Sergeant Ramos about Esther Lim having witnessed the eventl. According to Brown Ramos said that he knew who Lim was and where she was from and that it would "not change" his report.
---
BACK AT THE ACLU OFFICE, Peter Eliasberg said he assumed that someone would also want to interview Esther Lim—the sole outside witness to the Twin Towers incident. But, according to Eliasberg, no one from the sheriff's department attempted to contact Lim.
Lim, however, checked on Parker and learned that he had stitches in his face and bruising in his facial area and his ribs.
By the end of the week, criminal charges had been filed —against James Parker. He was charged with with a felony assault on an officer and obstructing an officer in his line of duty.
When asked why no one from LASD had interviewed Lim before filing charges against Paker, Steve Whitmore said that they had attempted to reach Lim. "And she could have called us. I mean if she was so concerned about Mr. Parker's safety, why didn't she immediately report what had happened to the Sheriff's department."
As for Brown's account in the declaration?
"It's a fabrication," Whitmore said. Both Brown and Parker were interviewed on video. "And they both said nothing happened."
When Eliasberg and Lim hear what Whitmore has said about the sheriffs trying unsuccessfully to contact Lim, they are emphatic. "That just isn't true. No one has called us," said Eliasberg.
As to why Lim didn't reported the alleged beating to the sheriffs, she said it was simple.
"I was scared," she said. "If you see two police officers beating up a man on the street, would you go flag down the nearest police car?"
I've read reports of this kind of thing," said Lim. "But I've never seen deputies viciously beating up an inmate. Nothing compares to the brutality of seeing it in person. It was scary."
---
ON FEBRUARY 3, JAMES PARKER WAS SET TO BE ARRAIGNED IN IN DEPT. 30 OF THE DOWNTOWN CRIMINAL COURT, but he didn't show up. According to court records, he wouldn't come out of his cell. The unofficial word is that he was too spooked. The court records show that the same thing happened on Feb 4.
On Monday February 7, an article appeared in the Los Angeles Times about the alleged beating and the fact that Lim had witnessed it. That same day, the ACLU filed an official complaint about the incident.
On Tuesday February 8, following the appearance of the Times' story, the Los Angeles Sheriff's Department launched an internal criminal investigation into the alleged beating.
In the meantime, Parker is on what is called "keep-away" status, said Steve Whitmore, meaning he is separated from all other inmates and accompanied at all times by a sheriff's department sergeant.
On Feb. 9, James Parker was again set to be arraigned. Again he refused to come out of his cell.
When he was once more not present in court on Feb. 10, Superior Court Judge Upinder S. Kalra got fed up and ordered the sheriff's department to "extract" Parker from his cell and get him to court, "by all means necessary."
On February 14, Valentines Day, he was a no show.
On February 15, extraction was presumably successful and James Parker was finally arraigned.
He pleaded not guilty to both felony counts
His preliminary hearing is set for February 28.
---
Photo by 888bailbond.