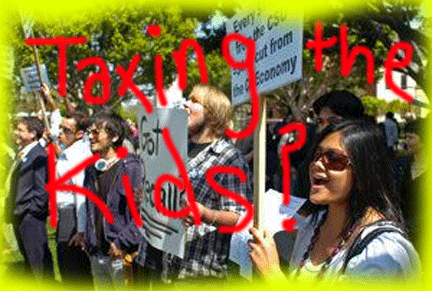 Two thousand students, administrators and education advocates gathered at Cal State Long Beach on Wednesday afternoon to send a message to Governor Arnold Schwarzenegger that the proposed $313 million dollar cut out of the California State University system will not only do harm to students, but it will have an adverse affect on the economy.

Among other things, say CSU officials, the cuts are set to feature a ten percent student fee increase, and could reduce planned CSU enrollment by up to 10,000 students.

The University of California system is targeted for a similar hit.
Republican lawmakers don't want to raise taxes, said one speaker, but students are "are swimming in taxes, which we call fees."
Other CSUs like San Diego State and Sacramento State have also held rallies.

In Sacramento, 900 Sacramento State administrators, faculty, staff, students and alumni packed the University Theater and several additional rooms to listen to speakers.
California Faculty Association President Lila Jacobs led a chant of "Stop the cuts," and then outlined the stakes. "We graduate teachers, nurses, engineers, police, state workers; we graduate the infrastructure," she said. "When we can't do our job, the whole state is negatively impacted."

California State University Employees Union President Pat Gantt added that cuts to the CSU budget will harm all Californians. "CSU is part of the American dream because without a prepared workforce, California cannot move forward," he said.

Arnold and both Dem and Repub state lawmakers would be wise to listen.