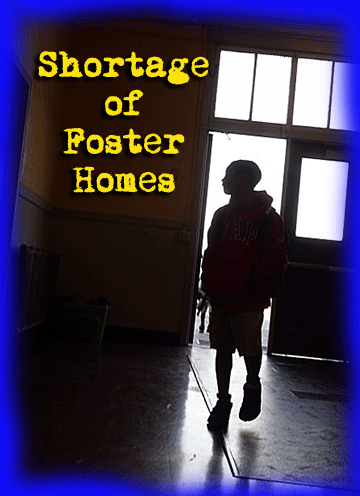 KIDS TAKEN INTO FOSTER CARE OFTEN PUT IN OFFICE CONFERENCE ROOMS WHILE AWAITING PLACEMENT
In an increasingly nightmarish situation that youth advocates say has been building over some years, due to a chronic lack of adequate foster care beds, LA children taken into the county's care are languishing in what amount to holding rooms for longer than state regulations allow, after they are already struggling with the trauma of being yanked from their homes.
The LA Times' Garrett Therolf reports. Here are some clips:
…Between May 28 and July 5, nearly 600 children were diverted to holding rooms as social workers scrambled unsuccessfully to find them homes, according to data obtained under the California Public Records Act.

Stays exceeded a state-imposed 24-hour legal limit in 117 cases, and dozens of children spent multiple nights in the holding centers before being placed in foster homes. By comparison, last August only one child remained in a holding room longer than 24 hours, and overall about a third fewer children were diverted to the centers.

Typically, children who become stuck in the government-run way stations are the hardest to place: infants, large groups of siblings, children returning from failed placements and the mentally ill or those afflicted with lice, ringworm, chickenpox, respiratory problems and other infectious diseases. Placing a child often requires more than 100 calls by social workers, records showed.

California regulators have given the county until Wednesday to fix the problem or face possible daily financial penalties.

[SNIP]

Children younger than 12 typically go to the Children's Welcome Center on the campus of the Los Angeles County-USC Medical Center. A large open space with cribs for infants and cots for other children, it can have as many as 29 children sleeping over on some nights.

Officials acknowledged they don't always have enough personnel to promptly feed children or change diapers. The department recently issued an emergency plea for community volunteers to help in the holding rooms.

Older children who can't be quickly placed in foster homes typically are sent to a conference room in a high-rise building south of downtown Los Angeles, where they sleep on the floor or cots, according to social workers staffing the facility.
---
JERRY BROWN PLANS BIG BUCKS DEAL WITH COMMERCIAL PRISON INDUSTRY & CCPOA POPULATION REDUCTION
Yes, yes, we all understand that the governor's in a bind because he has to somehow lower the state's prison population by another 9400 inmates by the end of the year.
And for the moment we will forgo harping on the fact that Jerry and the state legislature had every opportunity to engage in intelligent sentencing reform, say, 4 years ago, when everyone knew this crisis was looming and could have taken additional steps to address it, thus avoiding the mess we're in now.
But, of the various options open to Brown at this juncture, does he really want to choose getting in bed with the for-profit prison business, at the same time, expanding the state's already massive system—particularly when it is so costly? And how much of this for-profit prison partnership is being done to placate the CCPOA, the prison guards' union? We know the union will be facing layoffs if the governor puts into place some of the suggested formulas involving a certain number of early releases, and some additional prisoners sent out of state. But surely those concerns, while understandable, cannot be allowed to drive decisions here.
Saki Knafo from the Huffington Post reports on the issue. Here's a clip:
California Gov. Jerry Brown (D) has no intention of releasing state prisoners convicted of nonviolent drug offenses, despite a federal court order requiring the state to reduce its prison population by the end of the year, sources told HuffPost.

Instead, Brown and legislative leaders are discussing a proposal to create an unconventional partnership between the state's powerful prison guard union and the nation's largest private prison corporation — an alliance that may permanently expand California's prison system while curbing nascent efforts to reduce the state's mass incarceration of nonviolent offenders.

Under the plan, one of several the governor has proposed in conversations with legislative leaders in recent weeks, the for-profit prison giant Corrections Corporation of America would lease one or more of its prisons to the state, which would in turn use California prison guards and other public employees to staff the company's facilities.

By transferring state prisoners to these privately owned structures, the state would have enough space to comply with an order by a panel of federal judges in 2009 that said overcrowded state prisons were jeopardizing the health and safety of inmates. The order, which the U.S. Supreme Court this month refused to review, requires the state to reduce the population of state prisons by about 10,000 inmates by Dec. 31.

Critics of Brown's proposal include prison reform advocates and champions of the state's beleaguered social safety net programs, who may lose funding as state payments for the prison expansion rise. The governor's proposals, which also include sending California inmates to out-of-state prisons and county jails, could cost the state $300 million to $800 million each year, by various estimates.

"We're gonna basically blow our whole reserve fund in the budget on fixing the prison problem," said Mike Herald, a legislative advocate at the Western Center on Law and Poverty, a California group. "It just seems like the numbers keep getting bigger and bigger, and the bigger that number gets, the more difficult it is going to be for us to get money for people who are on welfare, childcare for working moms and things like that."
About those exorbitant costs: We spent quite a while on the phone last week with a CDCR spokeswoman, doing the math on the cost of sending prisoners out of state—which, as it turns out, is about the same price or less than the cost of keeping inmates where they are. So why are we planning to do something that will cost, to quote the governor, "hundreds of millions of dollars" extra? What's the deal?
Naturally, we're going to continue to track this issue.
---
RIGHT ON CRIME SUPPORTS CALIFORNIA'S PROPOSED BILL TO GIVE JUVIE'S WITH BIG SENTENCES A CHANCE AT PAROLE
While many of California's legislative Democrats again dither over whether or not to do the right thing on sentencing reform, the high profile and very effective Right on Crime movement weighs in with clarity and facts on an issue that their fellow conservatives would traditionally oppose.
In this case the weigh-in comes in the form of an op ed by Newt Gingrich and Pat Nolan for the Fresno Bee on the topic of SB 260, the bill [tk]
(Gingrich was Speaker of the U.S. House of Representatives from 1995 to 1999 and a candidate for the Republican presidential nomination in 2012. Pat Nolan was Republican leader of the California Assembly from 1984 to 1988 and was president of Justice Fellowship from 1996-2012.)
Here's a clip from their essay:
…Scientific studies show that teenagers' abilities to understand the consequences of their actions are not fully developed until they are young adults. Parents don't need studies to understand this; and our laws take this into account. We don't let young people drink until they are 21; they can't sign contracts, marry without their parents' permission, vote or serve on juries until they are 18.

However, there is one area in which we don't consider teens' youth and impulsiveness: our criminal laws. Our laws often ignore the difference between adults and teens, and some youngsters commit serious crimes and are sent to prison for so many years that they end up serving what are, in effect, life sentences. Currently, if a juvenile commits a serious crime and is prosecuted as an adult, he or she has no opportunity for judicial review outside of the ordinary appeals. This provides no opportunity for rehabilitation.

The California Assembly will soon vote on SB 260, a bill that takes the potential for change into account by providing the opportunity for review hearings.

In order to be eligible for such a hearing, offenders must pay their debt to their victims by serving 15-25 years of their sentence (depending on the gravity of the offense). That is no "easy stretch." In fact, it is more than half of their lives….
Go, Right on Crime!
---