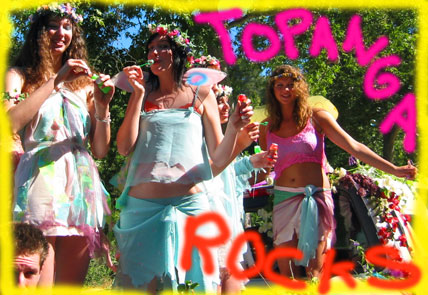 Posting will be light over the next three days. (Back in full force on Tuesday.) In addition to grading the first drafts of stories from my fabulously smart UC Irvine students, it's…..TOPANGA DAYS weekend!
For those of you who don't live in LA (or if you do, but you're citified types who consider the out-of-doors to be the distance between your house and the car)….a quick rundown:

Topanga Days is the yearly 3-day, sorta weird, semi-post-hippie country fair/music festival held every Memorial Day weekend in the chaparral-covered, coyote and rattlesnake-haunted hills of Topanga Canyon.

Along with the fair, on Saturday there's the Tough Topanga 10K, which—due to its uphill/downhill nature—lives up to its name.Then on Monday at 9 am, there's the Topanga Days Parade. Everyone in town turns out for the thing—either to be in the parade or to watch it.

Topanga Days parade floats are…..peculiar. Often they're the result of someone waking up early on parade morning, turning to their spouse or S.O., and saying "Fred, how about we prune some'a those overgrown vines in the yard and duct tape 'em to the kids and to the pick-up…."
.
In the years when my now-21 year old could still be embarrassed by his mother, I used to rollerblade the parade route with another middle-aged Topanga mom—each of us wearing snazzy tie-dyed get ups, plus fairy wings and tiaras. Now I just watch others make blissful fools of themselves.

So come on up to the hills. And leave your sensible adult judgment at home. You won't be needing it.
PS: The beautiful young women in the parade day photo are kids I've known since before they could walk. Now they're graduating college.
Community—where ever and however you find it—is a very good thing.