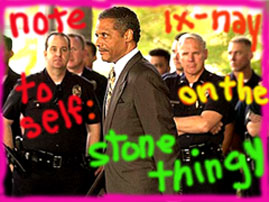 As we head into a few days of (hopefully) no dramatic LAPD news, here are a few wrap ups on this week's remaining department issues:

BRATTON NAMES CROWD WRANGLER

At yesterday's City Council meeting, Bill Bratton said that he is making Deputy Chief Michael Hillman the head of a newly-created Critical Management Bureau—which will now be the entity called out to do future crowd control instead of those Metro guys. Hillman who, despite his vaguely militaristic vibe and his penchant for gee-whiz gadgets (the man loves helicopters), is earnest, likable and very well-regarded by the troops. Plus he's something of a national expert in crowd management.

Whatever functional difference the Hillman appointment does or doesn't make, it's another signal that Bratton takes the various intricacies of the May Day problem seriously.

POT MEET KETTLE

The LA Times reports that, at that same meeting, former Chief and present day City Council member, Bernard Parks brought his own show-and-tell set up to play after Bratton and Assistant Chief Jim McDonnell repeated the May Day Power Point that they'd give the day before to the Police Commission:
Some council members suggested that a long-term problem with Los Angeles Police Department culture was involved. Councilman Bernard C. Parks showed a video from community members suggesting that the melee was the latest in a series of excessive-force incidents during Bratton's nearly five-year tenure.
Now we all know that Bernard Parks is genuinely powerless in the face of his Katrina-sized hatred of Bill Bratton. (Keep coming back, Bernie. It works, if you work it.) Still, how Parks managed to say this stuff with a straight face is, in itself, an accomplishment—since, to counter the accusations, all Bratton had to do is turn around to the video-wielding Councilman and utter a single word: RAMPART

Note to Bernie: Try following the lead of Rudy Giuliani, who famously loathed Bill Bratton too, yet in a KFWB interview this week, Rudy couldn't have sounded more kissy-kissy. Disingenuous? Probably. But also practical. And far less tedious for the rest of us.

IT'S THE MATH, STUPID


One last thing: Yes, the LAPD needs to take a hard look at some of the subtle—and not so subtle— mindsets still favored by too many of its officers that, when given free rein, lead to incidents like May Day melees…..BUT..


….Whatever it takes, as a city, we've got to give the department money for more cops. (By the same token, the department has to also get more creative with its recruiting so that, if we give them the money, they can get enough good men and women into the academy and out on the streets.)

I was reminded of this yesterday afternoon when I got the newest press release from the LA Police Protective League (which has, by the way, been on remarkably good behavior after weeks of being extremely huffy about anything relating to May One).
LAPPL REACTS TO INTERNAL MAY 1ST REPORT

"One of the lessons of the May Day incident is that we have sacrificed training in order to have enough officers available everyday to protect the city. This is a real cost of being understaffed. We need the flexibility to be able to keep our communities safe and at the same time to be able to rotate officers into training modules. While recruitment will help us down the road, we also need to be realistic about the need for overtime now to maintain constant staffing and crowd control, and to allow us to provide adequate training for all of our officers."
Not having enough officers to go around doesn't excuse cops from unseemly behavior, but the ratio of officers to residents is key if this department is ever going to break its hardcore addiction to Command and Control.