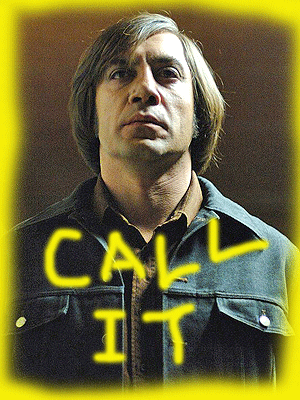 UPDATE: NOW THAT THE Oscars are over, and in honor of the…um…spirited discussion that's taken place on this thread, it seemed only right to make sure you all have had a chance to see the following post-Oscar video. (My favorite moment was at 4:45 minutes. J.G., all is forgiven.)


An extremely intellectual friend of mine who lives in DC and is not overly given to popular culture, told me he might break down and watch the Academy awards this year. I was stunned that Academy viewing was a new thing for him and told him so. (I think I also might have mentioned that NOT watching the Oscars means that you hate America.)
I tried to explain that that one could skip the Super Bowl, and still be a good citizen. But not the Oscar broadcast. "And TiVo-ing doesn't count," I said. "You have to watch it in real time. And you have to comment on the dresses."

The dress thing unnerved my friend and he attempted to change the subject by mentioning the new article about China by James Fallows that's in the most recent Atlantic Monthly. I sensed some dark implication about the Chinese pulling ahead of us economically because we watch stupid awards broadcasts instead of keeping our eyes on the economic ball.

"The Chinese watch the Oscars," I said. "Hell, they've probably found a way to trade Oscar film futures on the Shanghai stock market." And speaking of futures, I mentioned that this years awards show featured the added frisson of wondering if Jon Stewart's going to do or say anything unscripted and extremely political that will freak out the conservative members of the audience. "Oscar audiences like funny but they don't like edgy funny," I said. "Plus, because of the writer's strike, Stewart's had only three days (or may 10 days, but not long) to prepare for his host gig, whereas when Billy Crystal hosts, he prepares for nearly six months." (No, I'm not kidding. Crystal once told me this in an interview.) "So anything could happen."
"But I haven't seen most of the movies," my friend wailed. "Doesn't matter," I said. "Picking winners when you have no solid basis for your opinions is a time honored Hollywood tradition. It's how studio heads decide which pictures to green light."

Which brings us to…..

WITNESSLA'S 1ST ANNUAL KNOWLEDGE-FREE OSCAR PROGNOSTICATIONS:
(I'll show you mine, then you have to show me yours.)
Okay, here they are….
BEST PICTURE:

No Country For Old Men
I got into a discussion with one of my journalism classes about this category and a lot them thought it ought to be Juno, No chance, I said. Juno, which was far too impressed with its own cleverness, will get best original screenplay. But not best picture.
There Will Be Blood could get it and surprise us. But No Country is the better all round package. Wonderful acting. Great directing. A script that's based (very skillfully) on the work of one of the true masters of American prose writing, Cormac McCarthy. There's not a false move in this film. Whereas, There Will Be Blood, as good as it was, made me curl up in a fetal position toward the end. Not that this a bad thing, artistically speaking. But, as a rule, Oscar voters don't give their top prize to a film that induces in its viewers either PTSD or noticeable twitches.
BEST ACTOR
Duh....! Daniel Day-Lewis. Yeah, I suppose there could be an upset and Tommy Lee Jones could get it because he arguably deserves it for both No Country and the Valley of Elah. And Mike Huckabee could theoretically still get the Republican nomination. But neither one is likely to happen. Lewis gave the kind of unforgettable, barn burner of a performance that haunts your psyche for years after. In the end, no real competition. He's the guy.
For the record, Viggo Mortensen's steam bath scene in Eastern Promises was pretty damn good. And someday we've got to give Johnny Depp the award. (But it's probably not going to be for a role in either a musical or a movie based on a theme park ride.)
BEST ACTRESS

Julie Christie in Away From her (Yeah, yeah, yeah, I know. Lots of people like the that smart little Ellen Page from Juno.. But it's gonna be Julie Christie's year.)

BEST SUPPORTING ACTRESS
Tough one.
Cate Blanchette was fabulous in her crossing-dressing take on the one, the only Robert Zimmerman, but she already got an Oscar, like, recently.
Ruby Dee (American Gangster) wasn't on screen long enough, although it'd be great to see her get it.
If the Oscar voters want to give Michel Clayton an award for something, which many do, Tilda Swinton's their best shot…so the smart money might be on her.
But, hey, screw it. I'm going with Blanchette.

BEST SUPPORTING ACTOR
Javier Bardim (Like there's a question???)

BEST SCREENPLAYS – Juno (original), No Country (adapted from another medium)

BEST DIRECTOR

The Coens. No Country For Old men
*************************************************************

Okay, your turn.