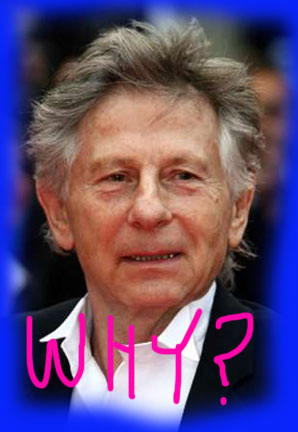 What can Steve Cooley's office be thinking? First Deborah Peagler, then Bruce Lisker, and now this bizarre, off the rails chase after Roman Polanski.
---
But before we talk about the great public safety threat posed by film director Polanski, here are some of the threats to public safety that actually occurred Los Angeles over the weekend:
A six-month old baby and his mother were shot in the head on Sunday in Van Nuys. The father was wounded too, but not as seriously. The baby died.
A 26-year old man hit and killed a pedestrian in a Woodland Hills crosswalk after the man took off following an attempt by CHP to pull him over on a routine traffic stop. The man also fired on officers and was eventually taken into custody by SWAT.
There was a double murder in Canoga Park on Saturday morning.
There was a fatal hit-and-run in Boyle Heights on Friday night in which a woman was killed.

A 25-year-old South LA man was shot and critically wounded at his birthday party on Saturday.
Sunday morning a dead person was found hanging from a tree at Hollenbeck Park.
And this was a comparatively quiet weekend.
---
So, in this bad budget season when every city, county and state agency is in a fiscal crisis, where is our city's prosecutorial effort and money going?
Obviously, you know the answer: The DA's office is spending the big bucks extraditing Polanski from Switzerland on a 31-year-old U.S. warrant charging that he had sex with a minor, a case that has already been badly compromised by alleged judicial misconduct and possibly by prosecutorial misconduct. Moreover the victim, Samantha Geimer—now a mother of two in her 40's—has asked publicly and repeatedly for the charges to be dropped—not for Polanski's sake, but for her sake.
Just to remind you of the facts: in 1977 Polanski allegedly drugged and raped then 13-year-old Samantha Geimer.
However, in order to avoid putting the young teenager through any more of the invasive media circus that a celebrity rape trial would have brought, her family agreed that her interests would be best served by the plea bargain that had been worked out between Polanski's attorney, Doug Dalton and the Assistant DA prosecuting the case, Roger Gunson. Polanski would be sentenced to a 90-day psychological evaluation at the state prison at Chino. In return, Polanski agreed to plead to the lessor charge of "unlawful sexual intercourse with a minor," and all seemed ready to move ahead toward a resolution.
But then Judge Laurence Rittenband thought things overand decided that the plea bargain wasn't what he had in mind—and rescinded the deal. The judge also reportedly talked over possible sentences with a reporter, and supposedly made public remarks about his intention to see that Polanski was locked up for the rest of his life. It is also alleged that an LA prosecutor who was not on the case, pressured Rittenband to yank back the deal.
In reaction, to what appeared to be a life-sentence coming his direction. Polanski fled the country.
In the years since, several efforts have been made to settle the case by dismissing the charges. Gunson, the original prosecutor, and Samantha Geimer, Polanski's victim, both pushed for dismissal of all charges so that the matter could be put behind everyone.
There was one unsuccessful attempt at a settlement in 1997.

In 2003, Geimer wrote an impassioned Op Ed for the LA Times asking for an end to the case.
Again, in early 2009, Geimer filed a very strongly worded declaration that urged the charges to be dropped in the clearest of terms—for her sake.
What does the DA's office imagine is going to be accomplished for the public good with this expensive spectacle it has triggered?
What Roman Polanski did was morally reprehensible and a crime.
But the DA's Javert-like pursuit of the director across the world all these years later—when the victim has pleaded for him not to—is starting to seem worse.
---
PS; As I was preparing to post this material, I read Patrick Goldstien's Column One story for the LA Times on this same subject.
He writes:
"….at a time when California is shredding the safety net that protects the poor and the unemployed, not to mention the budget of the public school system, you'd hope that L.A. County prosecutors had better things to do than cause an international furor by hounding a film director for a 32-year-old sex crime, especially one that Polanski's victim wants to put behind her."
Yes, we would hope.