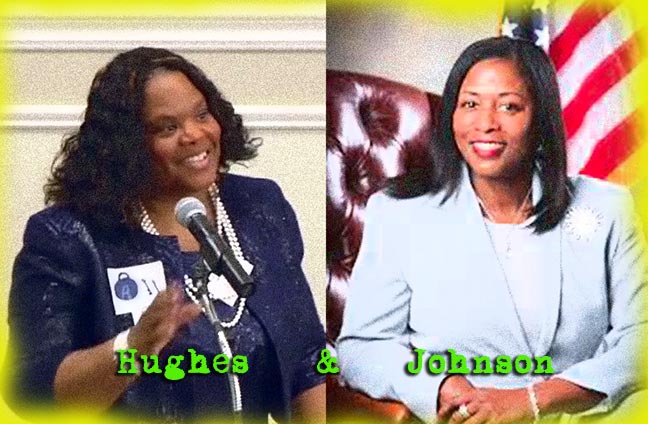 ON THE SAME DAY, RETIREMENTS ANNOUNCED FOR WARDENS AT BOTH CA WOMEN'S PRISONS
Both of California's only all-female prisons—which have been under investigation by the state Department of Corrections and Rehabilitation—are reportedly undergoing changes in leadership. On Friday, the CDCR sent out two memos announcing the retirement of Central California Women's Facility (CCWF) Warden Deborah "DK" Johnson and California Institution for Women (CIW) Warden Kimberly Hughes.
A CDCR representative has said that the timing of the two wardens' retirements is merely a coincidence, but prisoners' rights advocates say the corrections department is cleaning house, and likely forced the retirements. And the CDCR spokeswoman, Krissi Khokhobashvili, confirmed that other higher-ups at CCWF have been reassigned.
We at WitnessLA have been closely following the situation at CIW, in particular. The prison has experienced an alarmingly high number of suicides (6), and suicide attempts (73), since at least 2013. In fact, the facility has the highest suicide rate–five times the state average—among all 34 prisons. (Read the story of Erika Rocha, who committed suicide in April, in the mental health unit at CIW, just one day before a scheduled parole hearing.)
Both prisons have struggled with serious overcrowding issues. The overflowing population at CCWF, one of the largest women's prisons in the nation, has reportedly exacerbated problems with medical care at the facility, as well as "a culture of fear and retaliation…and a general lack of respect on the part of the guards toward the women," according to Don Spector, executive director of the Prison Law Office.
LA Weekly's Hillel Aron has more on the issue. Here's a clip:
Department of Corrections spokeswoman Krissi Khokhobashvili says the timing of the dual retirements is merely a coincidence.

"They both put in for retirement, as far as I know," Khokhobashvili says.

But according to Khokhobashvili, a number of other top officials at CCWF have been reassigned, including its chief deputy warden, chief executive officer and chief medical executive.

Observers of the prison system see the personnel changes as a move by Department of Corrections Secretary Scott Kernan, who was appointed by Gov. Jerry Brown on Dec. 28, to clean house.

"I'm relieved that there's any response at all that indicates they see a problem," Lenz says. "But I don't feel optimistic, given their track record of investigating themselves."

Spector agrees.

"We're grateful that the department has made some changes to the leadership of both of those institutions," he says. "But that's only the first step. There needs to be intensive work to change the culture and practices at both prisons."
---
VIOLENCE AGAINST WOMEN AND THE NEED FOR (WAY) MORE FEMALE POLICE OFFICERS
There are over 3 million incidents of domestic violence reported to police each year, according to the US Bureau of Justice Statistics. Out of the reported assaults on spouses or ex-spouses, 95% were acts of violence by men against women.
Of the more than 4.5 million reported violent crimes committed against women every year in the US, 500,000 are sexual assaults—although rape and other sexual assaults are wildly underreported. Female rape victims—whose stories are often discredited by law enforcement—are statistically more likely to report sexual assault if female cops are present.
Yet, nearly 90% of law enforcement officers nationwide are male.
At the local level, the Los Angeles Police Department—which, interestingly, hired the nation's first female police officer with arrest powers—had 1,855 sworn female officers and 8,046 sworn male officers, as of June 2016. (For comparison, the department employs 1,676 women and 1,129 men in civilian roles.) According to LA County's open data website, the sheriff's department is composed of 11,360 men and 6,349 women. (The county data is not broken down into sworn versus civilian.)
By telling the harrowing story of her grandmother—a victim of domestic abuse who became a police officer—author and journalist Sarah Smarsh discusses the gender disparity in policing, and the need for more female cops, who are no less capable than their male peers, and who bring to the table more empathy and respect toward the citizens they serve.
Female cops are also less likely to use excessive force or engage in misconduct. Smarsh argues that "toxic masculinity," bias, and a culture of overly aggressive law enforcement (and even sexual assault) within troubled departments would be mitigated by having an even number of men and women wearing badges. "There is no greater agent of positive disruption than a female cop," Smarsh says.
Here's a clip from Smarsh's not-to-be-missed Longread:
Men thus compose the immense majority of both women's assailants and women's official protectors…

"The history of police is the history of state power," political theorist Mark Neocleous wrote in The Fabrication of Social Order. State power for millennia belonged mostly to men, of course, societal beneficiaries of a biological evolution in which size meant control. Modern policing thus centers on armed males trained to subdue civil disruption—most recently and notably, mass killings by male shooters with histories of violence against women—with physical force. The 20th century was a crescendo of militarization, first by the state and then by a fearful populace. It brought us to our current, boiling-point moment in which mostly male cops kill innocent civilians and mostly male civilians kill innocent cops. Racism is often the undercurrent, but toxic masculinity is the force that makes it lethal.

Meanwhile, a modern officer's work more often involves driving a homeless person to a shelter than it does tackling a perp or drawing a weapon. For a society that in recent decades has dismantled many of the public institutions that once cared for citizens in need—mental health care, welfare, after-school programs—today's American cop is among the few remaining tax-funded administrators of public wellness. He is less called upon to be a soldier than a caretaker.

Often the person who needs his care is a woman. In that process, gender can be a detrimental divide.

One result of that divide is that women are often disbelieved when reporting assault. In a 2014 study published in the Journal of Interpersonal Violence, ten officers in a Michigan police department—seven of whom were male—described their personal approaches to evaluating rape reports: "If there is no physical evidence and you said you got raped, did you get raped? …No," one cop said. Other officers described giving alleged victims "a light interrogation" in the event that "there's any inclination that there might be another motive" for the report. Such scrutiny of sexual assault victims deters reporting, of course. Unsurprisingly, the presence of female cops makes women more likely to report, according to United Nations research.

A police department's treatment of domestic violence in its own ranks is telling of the culture it brings to work. In the Los Angeles Police Department's handling of domestic violence claims against its own officers from 1990 to 1997, 227 complaints were filed, 91 were determined to be worth investigating—and just four resulted in a criminal conviction. The validated claims weren't mentioned in performance evaluations more than three-quarters of the time, and over a quarter of accused officers were promoted while under investigation. Calling out bad cops is risky business, of course. When a legal consultant in a civil lawsuit noticed these scandalous mishandlings in LAPD personnel files and leaked the story to the press, he became the first person in U.S. history to serve prison time for violating a judge's protective order.

An even more sinister outcome of a gender-lopsided police force: Sexual assault of female civilians by male cops. Last year, the Associated Press reported that, over a six-year period, about a thousand officers lost their badges for rape, propositioning citizens and other sex crimes. Victims—mostly young, poor females compromised by addiction or criminal records and unlikely to file complaint—included "unsuspecting motorists, schoolchildren ordered to raise their shirts in a supposed search for drugs… women with legal troubles who succumbed to performing sex acts for promised help, and prison inmates forced to have sex with guards." The study doesn't capture the size of the problem, as it only counted revoked licenses, thus leaving out untold reported and unreported offenses that went unpunished. (Nine states and Washington, D.C., including highly populous California and New York, didn't provide numbers or have no state-level system for dealing with officer misconduct to begin with.)

High-profile cases of serial-rapist officers leveraging the power of their badges to assault women have brought recent arrests in Los Angeles and convictions in Oklahoma City. In March, an Alabama state trooper who raped a woman when responding to her call for help after a car accident was sentenced to just six months in jail. In June, Oakland, Calif., Mayor Libby Schaaf said of a scandal involving over a dozen male officers accused of having sex with a teenage girl and supplying her with money and information, "I'm here to run a police department, not a frat house." In 2009 and 2010, sexual misconduct was the second most frequent complaint against officers, according to the Cato Institute.

The most frequent complaint: excessive force. This topic of broad public discussion for the last couple years has rightly centered on the race of victims, but relevant too is the gender of cops: Female officers are, in general, far less brutal. They are over eight times less likely than male officers to face sustained charges of excessive force, and two to three times less likely to receive complaints. This data, compiled by the National Center for Women and Policing (NCWP) in a 2002 report, also shows that female police officers favor—and succeed with—non-physical means of interaction with suspects, though they still use force when necessary. In 1991, an independent commission formed after the videotaped beating by white officers of black motorist Rodney King highlighted similar findings to little public notice.

Preference for nonviolence does not constitute physical weakness. The NCWP report cites studies indicating that women's typically smaller stature doesn't hurt their survival in the field. When physical force is required, training—not brute strength—better predicts success. Meanwhile, communication skills important for defusing dangerous situations, commonly measured as higher among female officers, are under-emphasized in officer-selection standards—hiring criteria that would encourage less violent male recruits, too. In these ways, a police force over-fueled by testosterone endangers not just women but people of any gender most likely to come into contact with police, including people of color or in poverty.

As someone who grew up with cops for family and friends, I'm sensitive to reactive discourse that casts every officer in a negative light—especially concerning so harrowing a job that I doubt most critics would perform any better. As recent killings of innocent black civilians by white male cops reveal, though, our police departments reflect the unjust power paradigms of our country.