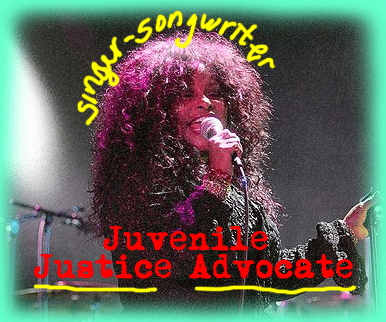 CHAKA KHAN LAUNCHES JUVIE REHABILITATION INITIATIVE
"Queen of Funk" Chaka Khan recently launched the "No Excuses National Initiative" in an effort to fight juvenile recidivism through community business mentors. The program partners with Avis Ridley-Thomas (wife of LA Supe. Mark Ridley-Thomas) whose program "Days of Dialogue" helps youth recently released from detention facilities reenter the work force.
You can read about No Excuses on the NC WFJA radio station website. Here's a clip:
"In Los Angeles County, more than 60 percent of all incarcerated youth return to custody after their release," Khan says in a statement. "These kids need our help."

As part of the No Excuses National Initiative, local business leaders mentor youngsters upon their release from juvenile detention. A handful of businesses have stepped up to provide support, so now young people throughout Los Angeles will have an opportunity to learn basic skills that will help them land jobs and move ahead.
---
FOUR CA STATE PARKS TEMPORARILY SAFE FROM SHUT-DOWN
Four CA State parks that were expected to be shut down Sunday have gotten a reprieve, although not likely for long.
LA Times' Chris Megerian has the story. Here's a clip:
But the revised plan means four sites expected to close on Sunday — Benicia State Recreation Area, the California Mining and Mineral Museum, Gray Whale Cove State Beach and Zmudowski State Beach — will keep operating for the time being.

"We had the time over the last 24 hours to review operations and were able to determine they could stay open in the very short term, likely a few weeks," said Richard Stapler, a spokesman for the California Natural Resources Agency.

Stapler said lawmakers created some breathing room by appropriating an additional $10 million in the budget signed by Gov. Jerry Brown on Wednesday.
---
SAVVY LAW STUDENT TEACHES OFFICER ABOUT RIGHTS DURING ILLEGAL STOP
A Maine law student, illegally stopped by an officer for carrying a firearm, videotaped the incident and quoted his rights until he was told he was free to go.
The Police State Journal has the story. Here's a clip:
In a remarkable exchange that shows exactly why it pays to know your rights, a law student in Portland, Maine backed down a police officer who had stopped him for no reason other than he was carrying a gun.

After clearly stating that he did not consent to any searches or seizures, the student asked the officer what crime he had been suspected of committing.

The officer stated that he had received calls about a man carrying a gun.

"That is not illegal. Can I have my gun back and be on my way?" the student notes during the incident while filming it on his phone. "In order to stop me you have to suspect me of a crime." the man notes.

As Maine is a traditional open carry state, it is perfectly legal and acceptable to carry a firearm openly.
---
Photo courtesy: Dwight McCann/Wikimedia Commons