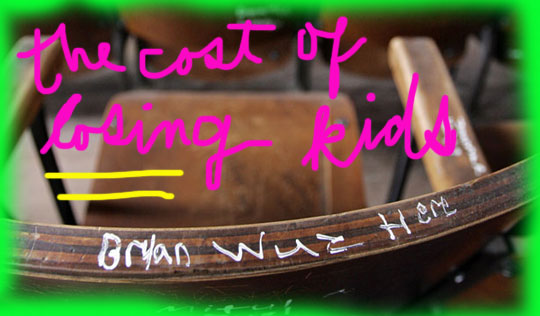 According to a new study released Thursday by the California Dropout Research Project, dropouts cost the state of California $1.1 billion annually in juvenile crime costs alone. The study also concludes that cutting the dropout rate would prevent thousands of juvenile crimes in California.
Los Angeles County has a dropout rate of 21 percent—higher than the state average of 18.9 percent, according to data from the California Department of Education. And in 2007, there were more than 60,000 juvenile arrests in Los Angeles County.
In today's economy when our undereducated young are the most likely to be unemployed, the drop out/crime connection cannot help but worsen.
As Thursday's LA Times notes:
The California Dropout Research Project at UC Santa Barbara found that cutting the dropout rate in half would prevent 30,000 juvenile crimes and save $550 million every year.

"This study demonstrates the immediate impact dropouts have on both public safety and the economy," said project Director Russell W. Rumberger. "If California could reduce the dropout rate, it could subsequently reduce the juvenile crime rate and its staggering impact on the state budget."
With these numbers in mind, State Senator Gloria Romero cosponsored a bill—SB 651—which provides what is basically a diagnostic tool that makes smarter use of existing student data in order to "shine a spotlight on dropout prevention, promote public accountability, and encourage timely interventions for students showing early warning signs of dropping out."
SB 651 would also make it harder for schools to mask their dropout rates (and raise their by shoving low-performing or at risk kids into continuations schools, then failing to track them, as many school districts presently do.
While it is not a complete solution, the bill is a great jump start. And what is even better, it costs exactly zero in its first year. For every year thereafter, it costs $150,000.
(In other words, it will set back the state approximately the amount that Arnold Schwarzenegger allocates for his annual cigar budget.)
A string of local law enforcement leaders who were shown the research—including Sheriff Lee Baca and a list of So Cal police chief's—have signed on to the campaign under the banner of a group called Fight Crime: Invest in Kids, California to persuade the governor to sign AB 651, which flew easily through the California state legislature with strong bipartisan support.
Unfortunately, those I spoke with in Sacramento report that Mr. Schwarzenegger is still in the throes of a girlie-man hissy fit (although I don't believe they used those precise words). It seems that state lawmakers didn't pass some of the recent bills he wanted passed. So he has vowed (again) to veto any and all legislation that lands on his desk—even if it's legislation he likes.
This means SB 651 is right now in limbo.
Let's hope the governor stops his tantrum soon.

(Honestly, is this really the only negotiating tool the man has in his repertoire? So, far, by my count the threatening-and-fit-throwing ploy has worked exactly zero times.)
In a conference call on Tuesday, Fresno Police Chief Jerry Dyer spoke in strong terms about the pressing need for the bill's passage. "So often we look at the numbers," said Dyer, "we don't look at what drives those numbers. Kids are allowed to drop out of the educational system and be forgotten about. We need to do more. Unfortunately we start remembering them when they commit crimes in our communities.
"We need to do more than count our children as casualties," Dyer said.